Plusnet 'totally' honest about broadband
PLUSNET say they're going to remove all references to their broadband being "totally" or "truly" unlimited, following complaints that the words were misleading.
The Advertising Standards Authority is investigating the way Plusnet use the words in relation to their broadband, to see if the few complaints that have been received have any merit.
It's true that while there are no download or upload limits on Plusnet customers, the ISP has a pretty detailed traffic management policy which could be taken as somewhat limiting.
Completely, absolutely, wholly...
We first became aware of the change when we were asked earlier this week to remove the "truly" part of the "truly unlimited" text from our comparison tables.
When we asked for a statement, this is what Plusnet told us:
"At Plusnet we're always looking at how we can be as straight talking as possible. So we're shortening some of our sentences. Nothing's changed, it's the same great value product."
At Plusnet we're always looking at how we can be as straight talking as possible. So we're shortening some of our sentences. Nothing's changed, it's the same great value product.
Spokesperson, Plusnet
They told us that nothing has actually changed - it's simply the case that as the claim has been challenged, they've decided to remove it.
But they did draw attention to the fact that their service is traffic managed - as it always has been - and that details are available on their site.
We've explained this a little further in our review of their broadband - and as we said there, Plusnet's aim seems to be trying to provide the smoothest possible service for users.
All that said, however, at the time we were writing this article, the broadband product pages on Plusnet's own site still looked like this: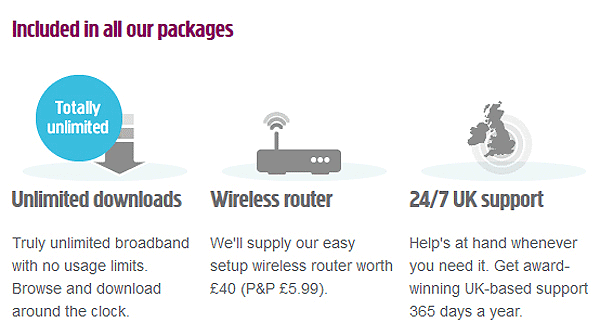 SOURCE: Plus.net
So what is "unlimited"?
Unlimited is one of those words that people tend to question when it comes to broadband, and with good reason sometimes.
For example, Virgin Media - they of the superfast fibre - only sell unlimited packages. Customers can download as much as they like, even at peak time.
But upload too much in one go, and their fair use policy dictates that they'll throttle further uploads for at least an hour.
Meanwhile, other ISPs offering unlimited broadband have been known to have "soft limits" of varying amounts.
Before March 2011, BT had two different soft limits, of 100GB and 300GB for their unlimited customers - and when they removed their traffic management and fair use policies for non-capped customers, they made quite the fanfare.
Primus - now Fuel - also had a soft limit of 100GB on their unlimited package; anyone who went over this limit found their connection seriously slowed at peak times. However, in August 2014 they told us they'd removed that limit, making them "truly unlimited".
ISPs are supposed to be very careful in communicating this kind of information to us; there's a voluntary code of practice from the Broadband Stakeholders Group, and there are also the much more binding rules from the Committee of Advertising Practice (CAP).
Good honest broadband?
But perhaps it's also worth bearing in mind that Plusnet didn't always offer "totally unlimited" broadband. In fact, it's pretty new.
Their first unlimited package was launched at the end of 2012, and they only stopped selling their Essentials package, which came with a monthly data limit of 10GB for standard broadband and 40GB for fibre customers, in June 2014.
Given the intricacies of explaining traffic management, issues with connection speed and so on in a short snappy way, "totally unlimited" may be over-egging it slightly.
But equally, given the examples above, it's fair to say that plain old "unlimited" doesn't get across the whole picture either.
13 October 2017
11 October 2017
10 October 2017
Follow us or subscribe for FREE updates and special offers