Ofcom have published their latest 'league tables' of complaints about telecoms and pay-tv providers.
The report considers complaints lodged against the UK's largest providers between April and June this year.
Although the overall picture is an improvement industry-wide, Ofcom say they are still dealing with more than 300 calls per day from disgruntled customers of telecoms companies.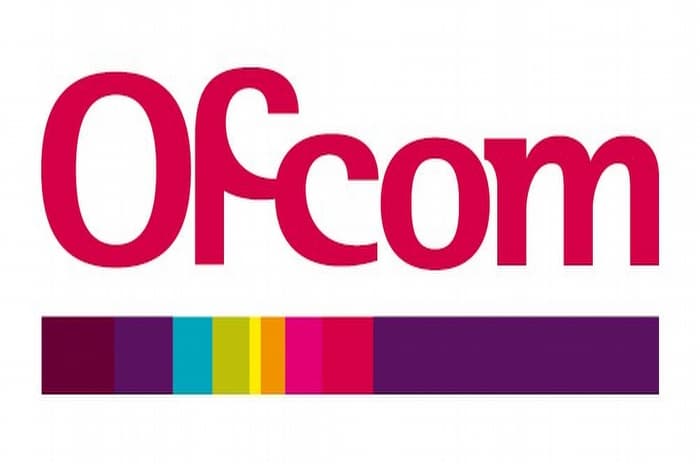 Source: Ofcom
An industry-wide improvement
Current complaints figures suggest that, in general, broadband providers are working to improve their services. The current level of complaints is the lowest it has been since data began recording in 2010.
Ofcom's Director of Consumer Policy, Jane Rumble, commented that Ofcom were 'encouraged' at this low level of complaints.
However, she also noted that 'some telecoms and TV companies are still falling short'. She said that Ofcom expect them to deliver better service in future.
TalkTalk still the most complained about broadband service
Ofcom's league tables for broadband complaints showed that some companies had made improvements while others were still falling short.
Notably, BT has reduced its complaints figures significantly, down to 15 per 100,000 customers from 23 last period. This puts them ahead of Plusnet and just a couple of points short of the industry average.
Although Virgin Media had one less complaint this time than they did in the last report, efforts by EE to improve service have seen them shave their complains to seven from 13, putting them ahead of Virgin in the table.
Once again Sky have been crowned the least complained about broadband service.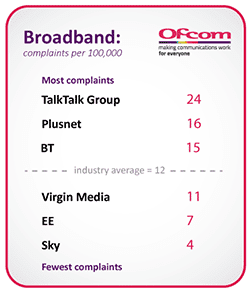 It's the fourth time in a row that TalkTalk have been highlighted for its poor customer service. According to Ofcom, 24 subscribers out of every 100,000 found reasons to complain in the last three months.
Believe it or not, this is actually an improvement, as their complaints figure in the first quarter of 2018 stood at 29 per 100,000.
A spokesperson for TalkTalk described the figures as 'disappointing'. They said that these figures were 'historical' and didn't necessarily reflect the current situation.
They went on to say that TalkTalk are investing in service improvements, and hope that the next Ofcom report will reflect that they're currently experiencing their 'lowest ever number of complaints'.
Improvements are paying off
Since BT's poor service record started losing customers to other providers, they've been making some significant changes to their service to improve customer experience. As well as bringing call centres back to the UK, they've introduced self service apps to help customers resolve issues themselves.
They have also launched their 'Keep Connected' promise, which means customers will receive a free 4G WIFI hub if their service is out for any reason. Their efforts seem to be having the desired results.
In Q3 of 2016, BT was the most complained about broadband provider, with 36 complaints per 100,000 customers. That number has been dropping ever since, and it's good to see that today they are almost achieving the industry average.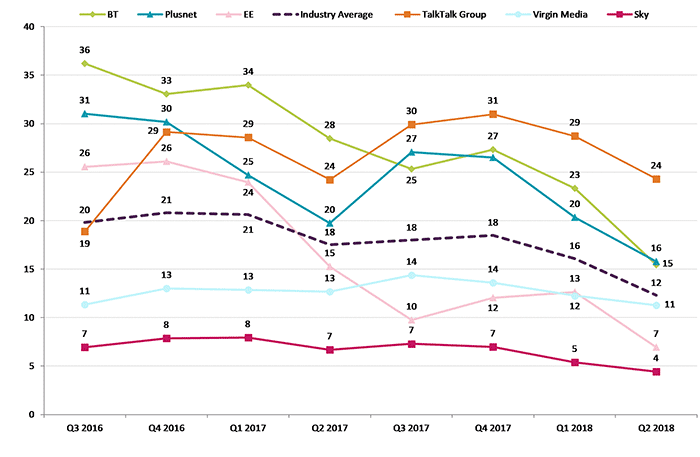 Source: Ofcom.
Seeing EE pull their socks up is welcome news too, after they were fined two years ago for poor complaints handling. They maintained a spot above the industry average until the second quarter last year, when they dropped to 13 complaints per 100,000.
The record low achieved in this report is welcome news for customers of EE and shows how their efforts at improving customer service are starting to pay off.
However, it's disappointing to see Plusnet rising up the table, Although their absolute number of complaints has dropped, they're still harvesting significantly more than the industry average.
As the company named as having the highest satisfaction rating in 2017, it's disappointing to not see them do better.
Driving down complaints numbers
The drop in the industry average complaints from 15 to 12 is significant. It's important to remember that these are complaints to Ofcom, which have gone a step further than just discussing the issue with their provider.
Ofcom is keen to empower the consumer when it comes to broadband services, which means more people are aware of their rights and more likely to escalate their complaint.
Customers are already allowed to cancel their contract with no penalty if their broadband speed is slower than expected. They also get more help with complaints thanks to revisions to the alternative dispute resolution (ADR) services.
They have stated that anyone with problems with their service should discuss it with their provider in the first instance. However, should the outcome not be satisfactory, they can take it to an independent ombudsman who can make a judgement.
Historically the telecoms industry has always been a hotbed of complaints. Over the course of 2017, it was identified as the second most complained about industry by the Ombudsman Services. But, with improvements such as these, perhaps that trend will change.