Vodafone's mid-year financial report shows 61,000 customer additions, with a total of over 1.1 million broadband customers.
The first half of Vodafone's 2023 financial year has seen strong growth for the provider, adding 61,000 fixed line broadband customers, 76,000 pay monthly mobile customers, and 72,000 new customers for their VOXI brand.
Vodafone's home broadband service uses both the Openreach and CityFibre fibre broadband networks, so their current coverage is around 9.8 million premises.
The financial report also reiterated Vodafone's intention to continue discussions around a possible merger with Three UK, with Vodafone holding onto the majority stake.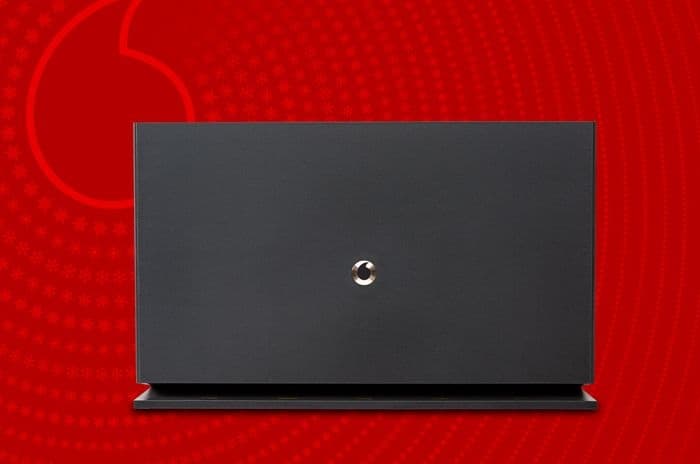 Vodafone's growth
Vodafone have successfully managed to offer both competitive pricing, making their broadband deals some of the cheapest on the market, while also offering a premium option in the form of Vodafone Pro.
This multipronged approach has clearly stood them on solid ground, attaining both budget customers, as well as those wanting extras including mesh router systems and a 4G mobile back-up service.
In fact, Vodafone even single out their Vodafone Pro package reporting that it's seen "good growth", alongside continued take-up of their full fibre service.
Adding 61,000 fixed line broadband customers in the first half of their financial year, Vodafone now has over 1.1 million customers, which places them around fifth in the ranking for UK broadband market share.
TalkTalk for example have around 2.8 million customers, and Virgin Media O2 has 5.8 million according to their latest financial report.
Yet it's worth pointing out Vodafone only launched fixed line broadband in the UK in 2015, so has had some catching up to do amongst more established players like BT, Virgin Media and TalkTalk.
Vodafone's service revenue for their UK business has grown from 2% in the last quarter of the previous financial year, to 6.9% in the second quarter of this year.
Strong consumer momentum, alongside Vodafone's business broadband services has contributed to this. Vodafone also reported VOXI had their best ever trading month in September 2022 as well.
Consumer pricing
While Vodafone remain one of the cheapest broadband providers in the UK today, their report does confirm their intention to retain inflationary linked mid-contract price rises.
This could be concerning news for Vodafone customers both on the broadband and mobile side of their business. With inflation currently around 10%, a CPI + 3.9% methodology for annual price rises would amount to an almost 14% rise in prices next April, and this includes customers within minimum terms who can't switch away without incurring additional costs.
The call to ban mid-contract price rises is growing however, with Labour's recent manifesto including it for the first time.
While Vodafone used to offer a premium Pro Xtra package which fixed prices for the duration of the contract, this has recently been removed. And it doesn't look likely to return either, as the upcoming Vodafone Pro II replacement fails to list a fixed price guarantee within its benefits.
Social conscious
Despite this, Vodafone are far from a company with a lack of social conscious, undertaking a range of digital inclusion initiatives with both their fixed line broadband product and VOXI mobile service.
In October 2022, Vodafone launched their first social broadband tariff aimed at helping people struggling with their bills to avoid digital exclusion and stay connected.
Vodafone Essentials Broadband costs just £12 per month, which makes it the cheapest social broadband tariff in the UK.
It's available to both new and existing Vodafone customers, but eligibility criteria means customers must be in receipt of certain means-tested benefits including Universal Credit, Jobseekers Allowance, Employment and Support Allowance, Disability Living Allowance (DLA) and Personal Independent Payment (PIP).
We're pleased to see Vodafone including the DLA and PIP benefits in their elgibility criteria here, especially considering these were dropped by the Government in the latest update to the Warm Home Discount scheme, which hass since received much criticism for doing so.
Vodafone Essentials Broadband offers 38Mb broadband speeds and there no is setup fee.
One questionable caveat we did spot however was that existing Vodafone customers can't access the social tariff unless at least six months have passed on their contracts, and Pro or Pro Xtra plans could be subject to early termination charges, as assume even after the six months has passed.
Vodafone's youth mobile brand VOXI also offer the UK's only social tariff, costing just £10 per month for unlimited data, minutes and texts. Means-tested benefits also apply.
As the cost of living bites, while Virgin Media O2 don't offer a mobile social tariff, they do offer two social broadband tariffs, Essential and Essential Plus, and have also begun offering free mobile data top-tops in O2 stores as well as online over the Christmas period to help ensure people can stay connected to friends, family, and essential services.
Source: Vodafone's H1 FY23 financial results.