It uses the Dimensity 1200-AI processor to offer a solid performance with a 4500mAh battery and fast charging to 100% in 30 minutes.
The display on the Nord 2 is a Fluid AMOLED display featuring a 90Hz adaptive refresh rate to maintain brightness and maximise battery life.
Customers may be disappointed by the lack of an IP rating and the inferiority of the two extra camera lenses, however.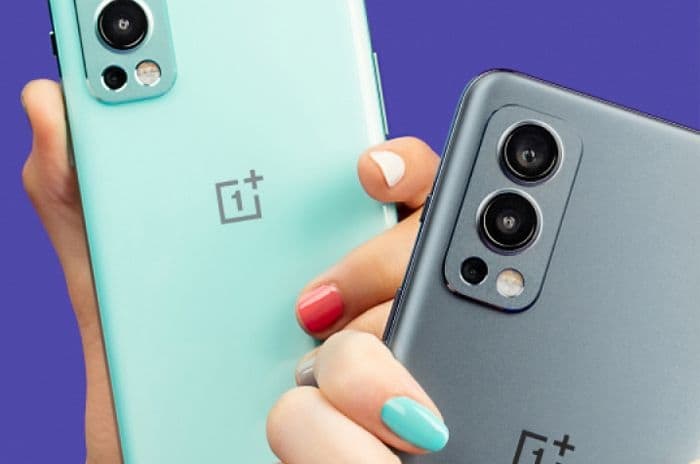 © OnePlus
---
At a glance
| | OnePlus Nord 2 |
| --- | --- |
| Price from | £399 |
| Dimensions | 6.26 x 2.88 x 0.33 inches |
| Weight | 189g |
| Display | 6.43-inch Fluid AMOLED |
| Resolution | 1080 x 2400 (409 ppi) |
| Chip | MediaTek Dimensity 1200-AI |
| RAM | 6GB, 8GB |
| Storage | 128GB |
| Battery | Li-Po 4500mAh |
| Rear camera | 50MP + 8MP + 2MP |
| Front camera | 32MP |
| Resistance | No IP rating |
| Colours | Gray Sierra, Blue Haze |
| 5G ready | Yes |
---
Price
The 128GB storage option for the OnePlus Nord 2 is the most commonly available in the UK and customers would look to pay around £399 if they bought the device outright.
For those looking at contracts, the handset is currently stocked by two major UK mobile networks: Three and O2.
Here are some options from them:
Provider
Minutes
Data
Initial price
Monthly price
OnePlus Nord 2 (128GB)
O2
Unlimited
30GB on 5G
£10
£29.98
36 month term
Get deal
OnePlus Nord 2 (128GB)
Three
Unlimited
30GB on 5G
£19
£35
24 month term
Get deal
OnePlus Nord 2 (128GB)
Three
Unlimited
Unlimited on 5G
£19
£39
24 month term
Get deal
OnePlus Nord 2 (128GB)
O2
Unlimited
Unlimited on 5G
£10
£40.99
36 month term
Get deal
The key difference between plans on O2 and Three is length, with O2 preferring customers to sign up to a 36-month O2 Refresh tariff and Three going with the traditional 24-month contract term.
Customers can choose to pay for their handset with O2 over a shorter period, but be aware that will increase upfront costs or monthly fees.
For OnePlus Nord 2 special offers, keep an eye on the Choose mobile comparison pages.
---
Camera
| | |
| --- | --- |
| Main lens | 50MP |
| Ultrawide lens | 8MP |
| Monochrome lens | 2MP |
| Front camera | 32MP |
The OnePlus Nord 2 borrows the triple camera setup from the OnePlus 9, although the specs on the more budget friendly Nord 2 are more suited to this price point.
There are three lenses on the rear camera: a wide lens, an ultrawide lens and a monochrome lens. Here are the specs:
| | Main | Ultrawide | Monochrome |
| --- | --- | --- | --- |
| Megapixels | 50MP | 8MP | 2MP |
| Type | 24mm wide | Ultrawide | Monochrome |
| Aperture | f/1.9 | f/2.3 | f/2.4 |
The main 50MP wide lens comes with optical image stabilisation (OIS) and Phase Detection Autofocus (PDAF) to improve performance in tricky conditions like low light, meaning some decent night shots can be taken using the camera.
However, the ultrawide lens does diminish the overall experience and switching to that may result in pictures that lack depth and intensity.
The third lens on the Nord 2 is a 2MP monochrome lens to take photos directly in black and white. As this effect can be filtered afterwards on social media, it's unclear how much use the typical user will get out of it, but it's good to play around with.
On the front of the handset, the 32MP selfie camera is a decent lens in this price range, although it won't be winning any awards.
Video recording on the main camera is available in 4K quality at 30 fps or 1080p quality at 30 fps, 60 fps or 240 fps. Meanwhile, the front camera can record in 1080p quality at 30 fps.
---
Display
| | |
| --- | --- |
| Screen size | 6.43" |
| Display | Fluid AMOLED |
| Refresh rate | 90Hz |
The display on the OnePlus Nord 2 is a Fluid AMOLED display measuring 6.43" across. It has Full HD+ resolution and HDR10+ compatibility which essentially means it's a bright display with vivid colours that looks good during everyday use.
For customers who find the default mode a little too oversaturated, the screen can be recalibrated into Gentle mode and colour temperature can be adjusted. Overall, customers should find a setting that works for their eyes.
It's a drawback that the refresh rate on the OnePlus Nord 2 is only 90Hz (meaning the display refreshes 90 times per second). Other devices, even those in the mid-range like the Samsung Galaxy A52s, are introducing 120Hz displays for even brighter and smoother displays.
However, the OnePlus Nord 2 display offers something the A52s display doesn't - adaptive refresh. While Samsung users must set the 120Hz and use it for everything (unless they go to the hassle of changing it regularly), the dynamic refresh rate on the Nord 2 adapts to what customers are doing and helps to preserve battery life.
It still doesn't have the benefits of a 120Hz refresh rate, but it's a bonus for many users.
---
Aesthetics
| | |
| --- | --- |
| Colours | Gray Sierra, Blue Haze |
There are no design innovations on the OnePlus Nord 2. It looks very similar to the OnePlus 9 with slight alterations to the camera setup on the rear panel.
In terms of materials, the Nord 2 has Gorilla Glass 5 on both the front and rear panels. This is an area where mid-range devices tend to economise by combining a glass front with a plastic rear panel, so it's nice to see OnePlus offering up a more premium experience.
However, the frame of the handset is made from plastic rather than the aluminium we see in premium models. This isn't something many customers will notice or pay attention to, but it's one reason why OnePlus are able to make the Nord 2 a mid-range device rather than selling it at a premium price point.
One thing to note is that the Nord 2 is a slighter thicker body than customers might be expecting. It's only a few millimetres bigger than the body on the OnePlus 9, but it could be an adjustment for customers coming from thinner handsets. To make the phone seem thinner, the edges are curved and this means it sits in the hand more comfortably.
Two colour options are available for the OnePlus Nord 2 in the UK: Gray Sierra and Blue Haze.
---
Battery
| | |
| --- | --- |
| Battery | 4500mAh |
| Charging rate | Up to 65W |
The battery on the OnePlus Nord 2 has a 4500mAh capacity with a rapid charging rate of up to 65W.
The Nord 2 should easily last through a day of typical use, although heavy users will need to take a charger along with them. That's true of most smartphones, however.
While there is no wireless charging capability on the Nord 2, the good news is that the device comes with 65W Warp Charge. OnePlus say this can charge the handset to 100% in 30 minutes and testing shows it lives up to the promise.
Another plus point is that the 65W power adaptor comes in the box with the phone. Sometimes we see manufacturers forcing customers to buy it separately if they want faster charging, but not in this case.
Overall, the battery and charging capabilities on the OnePlus Nord 2 will be more than adequate for most users, even if the headline capacity of 4500mAh is no match for some flagships.
---
Storage
| | |
| --- | --- |
| Internal storage | 128GB, 256GB |
| MicroSD | None |
Although the OnePlus Nord 2 is available in two storage options (128GB or 256GB), the two major networks stocking the device are only offering the 128GB version.
So, while customers may be able to purchase the 256GB version elsewhere and use it with a SIM only deal from a UK mobile network, it's unlikely to be an option for many who need to buy their phones on contract instead.
It's also worth highlighting that the Nord 2 does not offer expandable storage. This can feel limiting for customers used to plenty of storage space, but it will be more than sufficient for most users and there's always the option of adding cloud storage through a third party provider if it really is an issue.
---
Performance
| | |
| --- | --- |
| Processor | MediaTek Dimensity 1200 5G |
MediaTek Dimensity processors are not as well-known as their Qualcomm Snapdragon counterparts, but the Dimensity 1200 processor found in the OnePlus Nord 2 is impressive for this price range.
The chip promises to be the equivalent of the Snapdragon 870. To everyday users, that probably won't mean much so, to put it another way, the mid-range Samsung Galaxy A52s uses an older Snapdragon processor (the 778) and OnePlus's premium 9 Pro handset uses the latest Snapdragon 888 chip.
So, the Dimensity 1200 is appropriate for this price range and seemingly offers a better experience than the chip in its main Samsung mid-range rival.
Most customers coming across to the OnePlus Nord 2 from older Snapdragon processors will see a performance boost, even if it doesn't match up to the high-spec handsets at the top of pricing tree.
---
Protection and resistance
The OnePlus Nord 2 does not have an IP rating, meaning it is not certified to be either dust or water resistant. For some customers, this may be a deal-breaker or at least cause for concern.
An IP rating isn't as common on mid-range devices like the Nord 2, but it's something the Samsung Galaxy A52s has, for example, and even the Xiaomi Mi 11 Lite has a rating for splash protection.
As we explain in our guide to the best waterproof phones, no smartphone is going to be 100% water resistant and this type of protection is something customers usually only miss once they've experienced it, but it's still worth knowing about.
The OnePlus Nord 2 is protected on the front and rear by Gorilla Glass 5. It isn't the highest level of protection on the market, but it's still good for a phone at this price point.
With any handset, we wouldn't recommend deliberately submerging it in water or dropping it, so protection and resistance should hopefully be features customers never need to put to the test.
---
Verdict: Is the OnePlus Nord 2 any good?
The OnePlus Nord 2 has plenty going for it, not least the affordability factor. Whereas its more premium siblings in the OnePlus 9 range are too expensive for most customers, the Nord 2 offers a high-quality everyday experience at a more affordable price point.
There are some important things to like about the OnePlus Nord 2:
Good main 50MP camera lens
Good processor performance
Rapid charging in 30 minutes
Gorilla Glass on front and back
Adaptive refresh rate
On the other hand, the handset may not be right for everyone because:
The ultrawide and monochrome lenses don't add much
No wireless charging on offer
Refresh rate tops out at 90Hz
No IP rating for waterproofing
In the mid-range of smartphones, these economies aren't unexpected and they still mean the OnePlus Nord 2 matches up favourably against rivals like the Samsung Galaxy A52s, Oppo Find X3 Lite and Xiaomi Mi 11 Lite.
For customers looking for an affordable 5G handset with a decent main camera, good battery life and effective performance, the OnePlus Nord 2 might be just the right smartphone for you.