Get free broadband technical support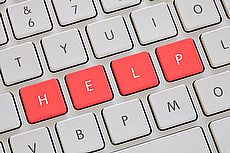 ©iStock.com/aydinynr
EXPENSIVE technical support numbers have long been a way for the budget broadband providers to make quick cash from their customers.
Amazingly few broadband providers have so far cottoned on to the fact that paying £15 an hour to get your £6 a month broadband up and running is blood boilingly irritating.
Or rather, they have cottoned on to it but figure it probably won't make or break them.
Prove them wrong with our guide to the heroes, and the villains, of ISP technical support, and how to cut the cost of calling.
Free technical support
Almost all broadband providers now claim to offer free technical support of one sort or another.
As we'll see, they do that in most cases by making the line free for those who have their landline: those who have chosen to pay another provider for line rental or call from a mobile have to pay.
Tech support heroes: free numbers
However, there are a few exceptions to that rule.
The following providers offer free technical support from a BT landline, the landline most people are likely to have.
In addition, the cost from other landline call providers is likely to be roughly similar (i.e. free or cheap during inclusive call periods) but there is a limit to the ISPs' largess: the cost from a mobile is likely to be much higher.
| | Number | Available |
| --- | --- | --- |
| BT | 0800 111 4567 | 24/7 365 days |
| Plusnet | 0800 432 0200 | 24/7 365 days |
| John Lewis | 0800 022 3300 | 24/7 365 days |
| Primus | 0800 036 3839 | - |
Free from their own landlines
However, the largest group, as we noted above, offer 'free' technical support to those customers calling from their own landline.
That's great if you have their landline and you are highly likely to. In the case of TalkTalk, for example, you must have a TalkTalk landline to get their broadband.
However, if you don't take your home phone service from your ISP then you're in for a shock.
You'll have to pay.
To give you a flavour of just how much we've set out cost examples below, assuming that calls are made from a standard BT landline with inclusive weekend calls.
Variations on that formula may have different costs, this is a guide only.
Number
Cost from a BT landline
Cost from the ISPs landline
Sky
03442 411 653
Free with inclusive UK landline calls
otherwise, 9p/min + 15p fee
Free
TalkTalk
0870 444 1820
8.7p/min
Free
Virgin Media
0845 454 1111
4.03p/min
Free: dial 150
EE
0844 873 8586
5.1p/min
Free from EE mobile: dial 150
A 13.87p set-up fee applies to all chargeable calls from a BT landline.
Cheaper calls from mobiles
In April 2008 when we first wrote this article, BT had just started offering free technical support.
At the time, BT estimated that broadband customers were paying out on a cool £70 million a year in extra calling costs.
The situation has improved considerably for two reasons.
First, because broadband providers are now much more likely to offer their own landlines, which makes it much cheaper for them to offer free technical help.
Second, because we're now much more likely to call from a mobile especially since it's more likely than ever that the problem is your landline. And that is still very expensive.
Again, however, some providers are better than others.
For example, the following broadband providers have started offering alternative numbers which are much cheaper for those calling from mobile phones.
Here are the ISPs offering a free, 01, 02 or 03 number for mobile callers.
Note that 01, 02, and 03 are included within inclusive call minutes for most mobiles, but will be chargeable outside of allowance or on PAYG tariffs.
Number
Available
Virgin Media
150
Free from Virgin Mobile only
24/7 365 days
EE
150
Free from EE mobile only
-
BT
0330 123 4567
24/7 365 days
Plusnet
0345 140 0200
24/7 365 days
Primus
0207 195 6607
-
TalkTalk
0203 441 5550
24/7 365 days
Eclipse
01392 330 296
8am - 2pm Mon-Fri,
9am - 5pm Sat
Zen
01706 902 009
8am - 8pm Mon-Fri,
9am - 5pm Sat-Sun
Making technical support cheaper
Here are three ways.
1. Make or break them
As you can see from the above, there is considerable variation in the price of technical support and some providers who are notably fairer than others.
Signing up to one of the best providers above or choosing to take line rental from your broadband provider is one of the easiest ways to ensure that you'll pay a free or fair rate for help with your service.
2. Look for a cheaper number
On the other hand, you could get around high cost numbers with a few sneaky tricks...
It's sometimes the case that broadband providers make their customer support line free and the technical support a premium rate number in order to advertise 'free support'.
In this case, call the free support or sales number and ask to be put through to the correct department.
Alternatively, you could try - Say No to 0870, 0800 Buster or WeQ4U - that cut the cost.
With No to 0870 and 0800 Buster users enter an 0800 number and get a standard UK landline number to call within inclusive minutes, or at standard UK rates if not.
WeQ4U is basically the same thing except that the app dials the alternative number and sits in the queue for you, calling you when it connects to an actual person.
If you're a BT or Virgin Media customer for landline calls, you could use the BT SmartTalk app for iPhone and Android or Virgin Media that allows customers to access their landline plan from their smartphone.
It's worth noting that not all mobile networks charge for 0800 calls. GiffGaff is one low cost network that offers these calls for free and, as of March 2014, these premium rate numbers are also free for many Three customers.
3. Call at the best time
One sure fire way to cut the cost of calling technical support is to cut the length of the call.
By phoning during the quietest times of the day, you can avoid or at least reduce the time spent waiting in a queue.
BT say the best time to call their technical support is between midday and 4pm.
Zen actually offer an online queue reporting system, so you can see how many people are waiting in line before you even dial.
They also offer two neat graphs displaying queue length and the number of people waiting over the past 24 hours. It's a useful way to see which periods of the day are the quietest.
For example, in this typical Wednesday (from January 2013), 11am and 3pm were easily the worst times to call (although note that Zen are also a business ISP).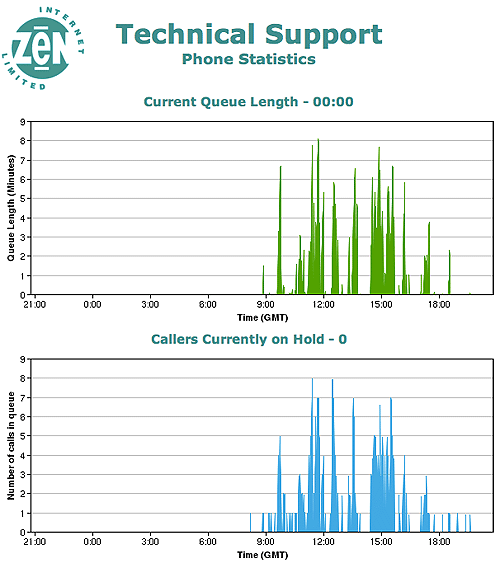 Technical support without a phone
Note that, to relieve pressure on technical support lines and circumvent their many annoyances, most ISPs now offer technical support in help guides, through email, live online chat, through social media such as twitter in particular, and on open discussion forums.
Live chat
A fairly recent addition to the ISPs' technical support portfolio is the advent of live chat.
While not a new concept in itself, it's fairly new to the broadband world and currently only offered by just a few ISPs.
Those that do offer live chat, include:
| | Available |
| --- | --- |
| BT | 7am - 10.45pm |
| Sky | - |
| Eclipse | - |
| Zen | 10am - 4pm, Mon - Fri |
Help forums
The following broadband providers have help forums policed by technical support staff to answer customer queries and allow users to compare notes on the advice they've been given:
These forums are laudable for the surprisingly free reign they give they their most angry customers, in particular one featured Sky forum post we noticed was declaring that they were the "WORST BROADBAND PROVIDER. EVER." right in the post title.
Forum staff are on hand to answer questions or at least signpost relevant information but, often, even clearer answers are forthcoming from other customers who are on the hunt for the same information or trying to solve a similar problem.
O2 Gurus
At the end of 2011, O2 employed 350 'O2 Gurus' to offer technical support in stores and, as we update this article in 2014, they're still going and have hundreds of self help videos up on YouTube. As far as mobile and home broadband goes, however, it's pretty elementary fare.
The melodramatically named gurus offer advice to customers of mobile broadband on subjects such as coverage, balance checking, data usage and how to use your dongle as a memory stick among other things.
Here's one of our favourites from 2011. It features Hemingway the squirrel and is set on a barge.