BT TV packages: get the best deal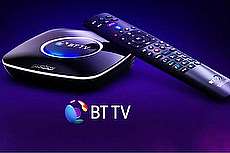 © BT.com
BT TV can pause, rewind, record, catch up and offers on demand and exclusive sport content, as well as Netflix, Sky Sports and Sky Cinema.
But the service is heavily biased towards BT's fibre offering, Infinity. Only Infinity customers can get a Youview+ box or the Entertainment Plus and Total Entertainment packs, which offer at least 30 extra channels and come with add-on options for Sky Sports, Sky Cinema and HD channel package.
More than 90% of the UK can now get BT Infinity, and 98% of Infinity customers can get all the services available on BT TV.
But regardless of whether Infinity's available or not, we've got all the information necessary to get the best BT TV deal.
Get the best deal
Youview, the platform through which BT offer their TV service, offers up to 80 Freeview channels with seven-day catch up.
Youview's big selling point is seven-day scrollback, an on demand content service of live TV from the past week:
BBC iPlayer
iTV player
All 4
My 5
Milkshake
Now TV
Quest
STV (only Scotland)
UK TV (includes Dave, Really and Yesterday)
There are three types of Youview box available to BT TV customers: the standard Youview box which can pause and rewind live TV for up to 30 minutes but can't record TV, and two bigger Youview boxes.
The Youview+ box also allows users to pause and rewind live TV, but comes with a bigger, 500GB, hard drive that enable users to record up to 300 hours of live TV.
While the Youview Ultra HD box, which again enables the pausing and rewinding of live TV, has a larger hard drive still, and can record up to 600 hours of SD TV, 250 hours of HD content or 60 hours of Ultra HD recordings.
Both the Youview+ and the Youview Ultra HD boxes possess dual tuners. Meaning it's possible to record one show while watching another, or two shows while watching a third from the on demand library or stored on the hard drive. They also have a remote record app.
However, unlike the other two boxes, and as the name suggests, this is the only Youview box that is compatible with ultra HD viewing.
BT also offer Netflix as a bolt-on from £5.99 a month.
Bear in mind that BT TV is only available to those who take BT broadband and phone, so in this review we'll always include the cost of those to give a real idea of the price.
Keep an eye out for special offers too: BT often offer prepaid MasterCards as 'BT Reward cards' with their broadband packages. Here are the latest deals available:
What's on offer?
When you join online for:
Need to know:
£80 BT Reward card with BT Unlimited Infinity broadband.
Sorry, this offer ended 15 August 2017
BT Infinity broadband, with or without BT TV.
Upfront costs and 12 month minimum term applies.
£40 BT Reward card with BT Unlimited broadband.
Sorry, this offer ended 15 August 2017
BT Unlimited Broadband , with or without BT TV.
Upfront costs and 12 month minimum term applies.
Free phone line installation or reconnection worth £130
With any BT Broadband package
Minimum term applies.
TV with Infinity
As we said above, Infinity customers can get more with their TV service, but it's not available to everyone. Anyone who's not sure can check using the following search:
Enter your postcode above to check availability in your area.
Find out more about this faster fibre broadband in our review of Infinity here.
So what can Infinity customers get in terms of BT TV?
The cheapest deal - TV Starter with Infinity 1 - now has an unlimited monthly broadband usage limit and up to 52Mb speeds. However, this option only comes with the basic 80 Freeview channels, 7 days of catch up TV and the basic Youview box, meaning no recording ability.
Infinity customers are, however, given the option of adding another 20 premium channels to this package, which include Discovery MTV, Comedy Central and History, to take the total count to 100 channels. This upgrade version of the Starter TV package is known as Entertainment Starter.
The slightly more expensive deal Entertainment Plus with Infinity 1 also comes with up to 52Mb speeds and unlimited data usage, as well as the more advanced Youview+ box so you can record live TV.
Package
Broadband
Contract term
Upfront price
Monthly price
TV Starter + Unlimited Infinity 1 + Weekend calls
Up to 52Mb
Unlimited
12 months
£69.99
£35.49
for 12 mths,
then £35.49
TV Entertainment Plus + Unlimited Infinity 1 + Weekend Calls
Up to 52Mb
Unlimited
12 months
£69.99
£39.99
for 12 mths,
then £48.99
The good thing about getting BT TV with their unlimited broadband packages is that customers can watch as much on demand content, through the Youview box, as they like and don't have to worry about exceeding any data allowances.
Even so, these packages don't really take advantage of all that's on offer with a fibre connection.
Alternatively, and probably more attractively, are the Entertainment Plus and Total Entertainment packages.
Making the leap to one of these two deals means viewers will get a more advanced Youview box: the Youview+ with Entertainment Plus or the Youview Ultra HD box with Total Entertainment.
They also get extra channels - over 20 more on Entertainment Plus and over 60 more on Total Entertainment.
Total Entertainment customers will also get 21 HD channels as well as the UK's first ultra HD channel, included in their deal. The excitable and impatient can click here to see what they are.
Subscribers on these two plans will also get access to BT TV Everywhere,, which allows them to use up to two mobile devices to control their Youview+ box, and to watch the channels they're subscribed to, on the go.
Here are the prices for the Entertainment bundles with up to 52Mb and up to 76Mb fibre:
Package
Broadband
Contract term
Upfront price
Monthly price
TV Entertainment Plus + Unlimited Infinity 1 + Weekend Calls
Up to 52Mb
Unlimited
12 months
£69.99
£39.99
for 12 mths,
then £48.99
TV Entertainment Plus + Unlimited Infinity 2 + Weekend calls
Up to 76Mb
Unlimited
12 months
£69.99
£52.99
for 12 mths,
then £59.99
TV Max + Unlimited Infinity 1 + Weekend calls
Up to 52Mb
Unlimited
12 months
£59.99
£46.99
for 12 mths,
then £56.99
TV Max + Unlimited Infinity 2 + Weekend calls
Up to 76Mb
Unlimited
12 months
£59.99
£59.99
for 12 mths,
then £67.99
There's one more thing we should mention about the Total Entertainment package: customers interested in getting it will need a connection with a minimum speed of 44Mb.
Regardless of the selected TV package all customers are eligible for some add-on channel packages, but these vary from package to package.
For more on the add-on channels and services available, skip to the Extra channel costs section further down.
As we reported when BT announced the details of the new package, that's a faster connection than other Ultra HD providers recommend - and at the time was faster than the 38Mb speed capability of Infinity 1.
Since April last year, however, Infinity 1 customers have seen the overall speed of the serviced increased to up to 52Mb - plenty high enough to support a couple of Ultra HD streams at a time.
Existing Infinity 1 customers should have seen their speeds boosted over the following months.
Yet this doesn't mean that everyone with Infinity 1 will suddenly be able to get BT Total Entertainment - but it should help widen its availability.
To be on the safe side customers should check they are in an area where speeds higher than the required 44Mb are possible prior to signing up.
TV without Infinity
People who can't get BT Infinity, or don't want it, can still get the basic Starter package or the Essentials package with unlimited broadband up to 17Mb.
Both offer the basic Freeview channels, but the difference between Starter and Essentials is that the latter comes with the Youview+ box, the one that can record - and it costs £6 a month.
Package
Broadband
Contract term
Upfront price
Monthly price
TV Starter + Unlimited Broadband + Weekend calls
Up to 17Mb
Unlimited
12 months
£59.99
£30.49
for 12 mths,
then £31.99
TV Essential + Unlimited Broadband + Weekend calls
Up to 17Mb
Unlimited
12 months
£59.99
£35.99
for 12 mths,
then £38.99
While their choices are rather limited, standard broadband customers can still add some extra channels or services from those we list below.
At least taking Infinity is no longer a requirement for those who want to be able to watch BT Sport on a decent sized screen.
All BT TV customers should be able to add the BT Sports channel pack to their TV plan, depending on what services are available in the local area.
However those without Infinity still can't get anything in the way of the extra Entertainment channels, Sky Sports, the live Sky Cinema channels, or extra HD channels.
Extra channel costs: Sky Sports, movies and more
Entertainment: As mentioned earlier Starter subscribers with Infinity can add 20 of the 28 premium channels available to Entertainment Plus customers, upgrading their package to Entertainment Starter, for extra monthly charge.
Here's the full list of premium channels, separated according to whether they're in the Starter bolt-on or only available with Entertainment Plus:
Entertainment Starter
Alibi
Animal Planet
British Eurosport
British Eurosport 2
Comedy Central
Crime and Investigation
Discovery Channel
Discovery: Investigation (ID)
E!
Gold
History
Lifetime
MTV
National Geographic
Nat Geo Wild
Sony
SyFy
TLC
Universal
W
Entertainment Plus
Comedy Central Extra
Eden
Good Food
H2
MTV Music
Movies 24
TCM Movies
Watch
HD: For £5 a month, Entertainment Plus customers can get HD versions of the BT Sport channels and 17 of the channels included in the Entertainment pack - marked in bold in the table above. These are included as standard with Total Entertainment.
Total Entertainment also includes the nine kids' channels listed below - and, of course, BT Sport Ultra HD.
As already mentioned, regardless of whether they have Infinity or not, customers can add sports channels, movies, kids' shows, or music on demand to their BT TV deal for an extra monthly cost, or on a pay as you watch basis.
Sports: BT Sports 1 and 2, BT Sport Europe, and ESPN, are no longer free for all BT TV customers, or BT Broadband and Mobile customers. As of August 2017 the channel pack will cost £3.50 a month.
People who only take broadband can watch online or through the app - for £5 a month.
A temporary ruling made in 2014 means Youview customers have been able to get Sky Sports 1 and 2 on their existing boxes - although a later decision from Ofcom could have some impact on that access as time goes on.
In the meantime, however, there are a couple of options available for those who want to add Sky Sports to their package:
Add Sky Sports 1 and 2 in SD for £22 extra a month
Add Sky Sports 1 and 2 in HD for £27 extra a month
Find out more about BT Sport, from BT and elsewhere in our full guide here. We also have a guide for Sky Sports here.
Movies: Sky Cinema, previously known as Sky Movies, is available for £13.50 a month.
That's cheaper than over at Sky, and depending on whether we have standard or fibre broadband, it's one of the better price options available.
That's because while fibre broadband customers get all 11 live movie channels plus the on demand channel, those with standard broadband only get the Sky Cinema on demand channel - which isn't quite such a bargain.
Pay as you watch movies - including Curzon Home Cinema movies - are available on demand in the BT Store from £2 a pop, while there's also the option to buy movies to keep - and download to another device - from £3.99 a go.
Kids' TV: This add-on is £4 a month for all TV subscribers. For customers with the Starter or Essential pack, it includes thousands of episodes of on demand children's shows.
Those with one of the Entertainment deals also get Kids Extra, which includes nine channels:
Disney Channel
Disney Junior
Disney XD
Cartoon Network
Boomerang
Cartoonito
NickJr
Nickelodeon
Nicktoons
Music: While MTV and MTV Music are only available to Infinity customers, anyone can add the Music bolt-on for £4 a month, giving them access to music videos, recordings of concerts, and complete albums - with extra features - on demand.
Netflix: Available from £5.99 a month for an SD subscription viewable on one screen at a time, up to £8.99 a month for Netflix's Ultra HD / four screen service.
It's worth noting that when BT's Ultra HD service was revealed in mid-2015, it wasn't compatible with Netflix - but those wrinkles have been ironed out, meaning the streaming service is now available to everyone from Starter subscribers up to those with Total Entertainment.
Existing subscribers simply log on via the app to watch on their TV; new users can sign up via their TV.
Want to upgrade?
Existing BT Vision customers can upgrade to Youview by paying £35 for the box - but they'll also need to enter a new contract.
Unique to BT TV
Actually, that title's a little bit cheeky: the BT TV services don't have a lot that's not available elsewhere.
Even Youview is available to buy in the shop, or from TalkTalk, and since May 2015, Plusnet; our guide to the differences is here.
And now that EE are owned by BT, their TV service is starting to offer bolt-on channel packs that look somewhat familiar.
So in this section we'll take a quick look at what BT TV does offer that's different.
BT TV only channels
All BT TV customers get up to 80 Freeview TV and radio channels, and now that Plusnet offer an almost identical TV service with almost identical bolt-ons, the only channel that's truly exclusive to BT is AMC.
This is a small but significant addition to the provider's line-up, being the home to Fear The Walking Dead, Manhattan, and other quietly impressive US dramas. There's a limited amount of catch-up content available, however - usually in the form of the most recently shown episodes or season.
Otherwise it's possible to find the same shows on Netflix or Amazon Prime Video.
BT Everywhere
People who want to watch BT TV in more than one room are catered for via the catchily named "TV Everywhere with Extra Box" subscription.
For £5 a month, plus a one-off fee of either £49 or £99, Infinity customers can watch BT TV in another room with another Youview box. The £49 fee gets customers a basic, non-recording mini box; for £99 they'll get another all-singing, all-dancing, Youview+ one.
The TV Everywhere component of the package allows them to stream their subscription services to up to four different devices, and use two of those devices to remotely control their Youview+ boxes.
The downside of BT's Extra Box service is that anyone interested in taking it must go without Sky Sports and Sky Cinema - or find another way of getting their fix.
17 August 2017
15 August 2017
14 August 2017
Follow us or subscribe for FREE updates and special offers