They registered 30 complaints per 100,000 customers, compared with the industry average of 13.
Virgin Media's showing on complaints across broadband, landline, mobile and pay TV was also concerning with increases in all four categories.
Plusnet have improved their broadband complaints performance slightly following the implementation of a new billing system which has been causing problems since the second half of 2018.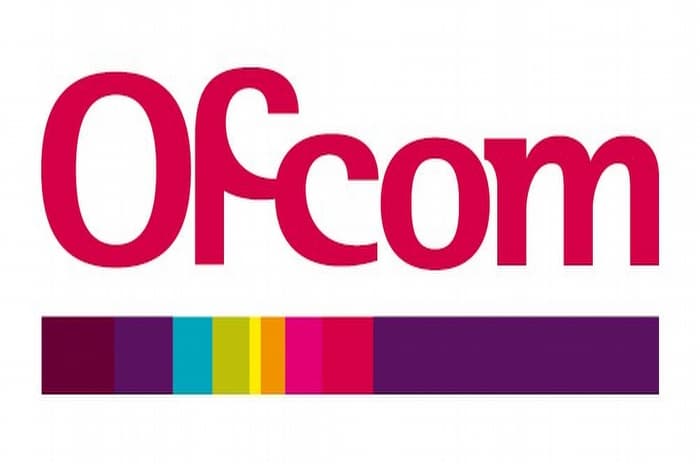 Source: Ofcom
No movement on broadband
Vodafone's figure of 30 complaints per 100,000 customers isn't the highest we've seen recently (that dubious honour belongs to Plusnet), but it does show that Vodafone continue to struggle with customer complaints.
They only entered Ofcom's quarterly complaint reports in Q3 2018 when they reached a stable market share of over 1.5% for the first time and promptly shot to the top of the rankings.
Landline complaints are barely more encouraging. Although they dipped to a low of 14 in Q4 2018, they have now risen back to 17 per 100,000 customers, although both Plusnet and TalkTalk have higher complaint figures in this category.
With Vodafone recently hitting a record high of 667,000 fixed broadband customers, they'll need to improve their customer service if they want to keep their new customers.
Virgin Media deterioration
Virgin Media are generally one of the least complained about providers for broadband and landline services, but this latest set of complaints figures has shown a marked increase.
With 16 complaints per 100,000 customers, they have risen above the industry average for broadband complaints, and their landline complaints have increased from nine to 13 per 100,000.
They have risen back to being the most complained about of the four pay TV providers, although their current figure of 11 is lower than their peak of 19 back in Q3 2019.
In addition, after a brief respite of two quarters, they are again the most complained about of the pay monthly mobile providers, with eight complaints per 100,000 customers compared to the industry average of just three.
Virgin suffered a major service outage in May 2019 which likely accounts for the increase in complaints, so these may well return to previous levels when Ofcom release the figures for Q3.
Read our review of Virgin Media broadband here.
What about other providers?
The repercussions of Plusnet's new billing system are still in evidence in this latest release, with 26 complaints per 100,000 broadband customers in contrast to the figure of 15 recorded in Q2 2018 before the implementation of the new system. Their figure for landline complaints currently stands at 20 compared to the high of 33 recorded in Q4 2018.
TalkTalk continue to perform poorly with 23 broadband and 18 landline complaints per 100,000 customers, their lacklustre record hidden partially by the difficulties Vodafone and Plusnet have been experiencing. On the positive side, however, they have reduced the number of pay TV complaints from 14 to 9.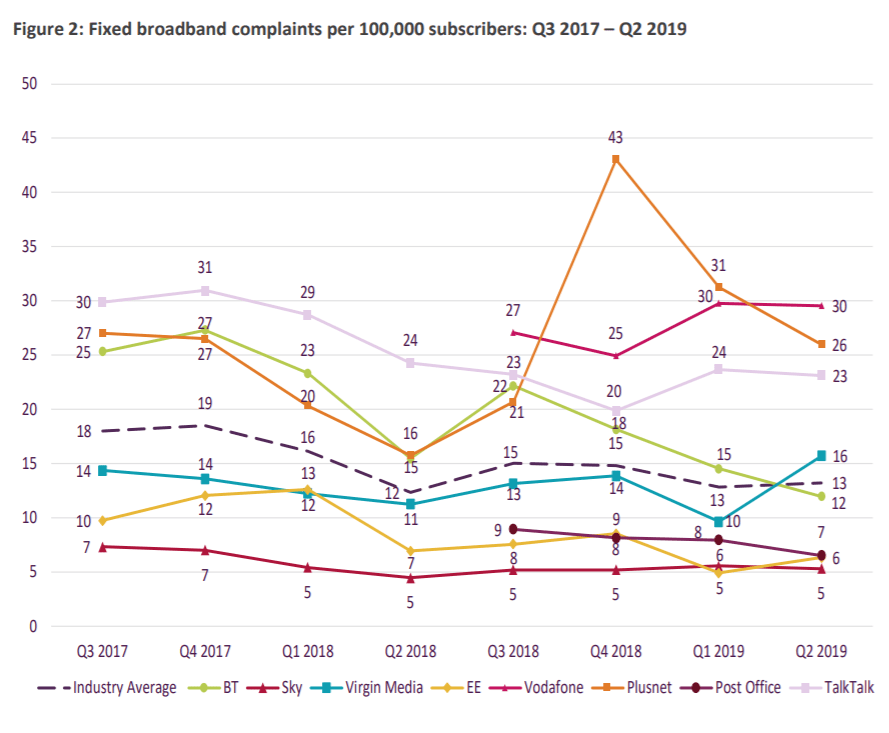 Ofcom home broadband complaints for Q2 2019. Source: Ofcom.
Complaints figures aren't the only marker of customer service, but they are a readily available one which shows how many complaints providers are receiving. In turn, this is a good window into the customer experience at that provider - fewer complaints usually means fewer customers with a reason to complain.
Search the Choose website for reviews and guides to all major broadband providers or search for a cheap broadband deal using our free comparison tool.