| Overall Winner | giffgaff |
| --- | --- |
| Tariffs | giffgaff |
| Handsets | Three |
| Price | giffgaff |
| Coverage | giffgaff |
| Speed | Three |
| Customer Service | giffgaff |
The SIM only mobile plans offered by giffgaff are generally cheaper than Three unless we're looking at unlimited data plans.
giffgaff also offer 1-month contracts as standard and have one of the best customer service records in the business.
However, Three offer traditional handset contracts while giffgaff do not and 4G speeds tend to be better on Three as well.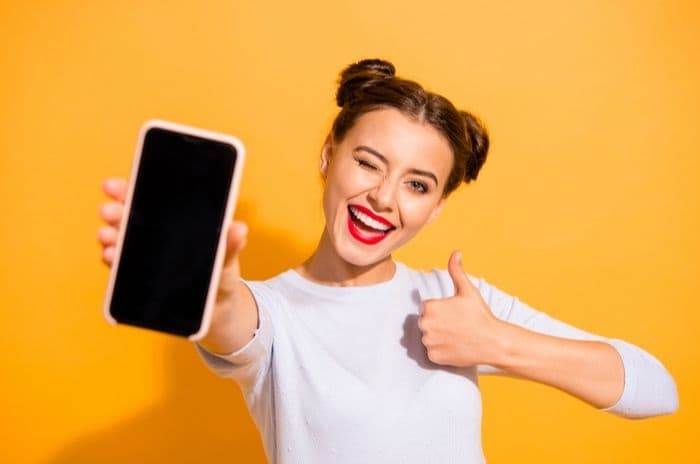 ---
At a glance
| | giffgaff | Three |
| --- | --- | --- |
| Price of contract | £6 - £35 | £6 - £28 |
| Length of contract | 1 month | 1 month - 24 months |
| Speeds | 17.1Mbps average | 25.2Mbps average |
| Unlimited data | Yes | Yes |
| Coverage (population) | 99% | 99% |
| Customer satisfaction | 93% | 86% |
---
Call plans
Winner: giffgaff are cheaper than Three for most plans.
The call plans offered by giffgaff and Three usually include unlimited minutes and texts alongside a set amount of data.
Both providers now supply customers with 5G-ready SIMs as standard, so if they have a compatible device they can automatically connect to the 5G network when it's available.
However, there are some major differences between the two providers when it comes to pricing, so let's take a closer look at their deals and contracts.
Pay monthly
Both giffgaff and Three offer a range of SIM only plans for customers to choose from.
The main difference between the two is that giffgaff mobile plans are all rolling 1-month deals while Three offer contract lengths of 1-month, 12 months and 24 months depending on how long a customer wants to commit for and how much data they want.
Here are some examples of 1-month deals from both giffgaff and Three at several data points:
| | Package | Minutes | Data | Monthly price | Contract term |
| --- | --- | --- | --- | --- | --- |
| | £8 Goodybag | Unlimited | 3GB | £8 | 1 month |
| | 4GB data | Unlimited | 4GB | £19 | 1 month |
| | 12GB data | Unlimited | 12GB | £22 | 1 month |
| | £15 Golden Goodybag | Unlimited | 30GB | £15 | 1 month |
| | 30GB data | Unlimited | 30GB | £24 | 1 month |
| | Unlimited data | Unlimited | Unlimited | £28 | 1 month |
| | Unlimited Golden Goodybag | Unlimited | Unlimited | £35 | 1 month |
On limited data packages on 1-month plans, giffgaff is substantially cheaper than Three, but this is reversed when it comes to unlimited data.
It's also true that Three mobile deals become much cheaper if we look at longer contracts. Here is a giffgaff SIM only deal alongside multiple contract options from Three:
| | Package | Minutes | Data | Monthly price | Contract term |
| --- | --- | --- | --- | --- | --- |
| | £10 Goodybag | Unlimited | 12GB | £10 | 1 month |
| | 12GB data | Unlimited | 12GB | £10 | 24 months |
| | 12GB data | Unlimited | 12GB | £12 | 12 months |
| | 12GB data | Unlimited | 12GB | £22 | 24 months |
It's clear from Three's pricing structure that they prefer customers to sign up for 12-month or 24-month deals, so customers looking for cheaper rolling contracts will be better going with giffgaff.
The flexible plans from giffgaff do have some caveats, however.
Customers looking at Golden Goodybags (generally these have more data) will need to be comfortable saving a debit or credit card to be charged each month when the Goodybag renews. Conversely, the standard Goodybags can be paid for using top-up vouchers or a debit/credit card.
There is also a quirk with the £25 Always On Goodybag from giffgaff that promises unlimited data but only offers 80GB data at full speed while anything above that is throttled to 384kbps between 8am and midnight.
While giffgaff do make this clear, it's worth pointing out that the small print of mobile deals can hide some important information.
Pay as you go
Three offer pay as you go (PAYG) mobile plans with credit able to be swapped for Data Packs to bundle minutes, texts and data together.
These work a little like giffgaff's plans and can be set up to auto-renew so a customer doesn't have to select a new data plan each month (although they can if they want to).
Here are a couple of Three PAYG Data Packs to illustrate:
| | Package | Minutes | Data | Monthly price | Contract term |
| --- | --- | --- | --- | --- | --- |
| | 8GB data PAYG | Unlimited | 8GB | £10 | PAYG |
| | 25GB data PAYG | Unlimited | 25GB | £15 | PAYG |
Taking these more flexible deals may be useful for some customers, although taking a rolling deal from giffgaff is just as flexible and may well be cheaper.
Roaming
Both giffgaff and Three offer roaming options - but the way they approach it is now different.
Three confirmed in September 2021 that they would be bringing back roaming charges in May 2022 and it will cost £2 for customers to use their data allowance in the EU and £5 for them to use it in other worldwide destinations.
There is also a fair usage cap of 12GB, meaning customers cannot use more than that amount of data per month while roaming, even if their plan includes more data.
Conversely, giffgaff has decided not to introduce roaming charges in the EU and selected destinations, so customers can continue to use their data as they would do at home.
The only restriction is that giffgaff impose a 20GB data cap while roaming (still higher than Three's). If customers go over that limit, they will be charged 0.36p per MB.
On roaming, then, giffgaff are a better option than Three, both because customers can use their allowance without incurring extra charges and because their overall cap is higher.
---
Handsets
Winner: Three offer a more traditional way of getting a new handset.
giffgaff offer a decent range of handsets on their website but they are mostly aimed at customers who can afford to pay the full amount of the device upfront. There are also refurbished devices for sale.
While giffgaff do have a credit arrangement with buy now pay later (BNPL) provider Klarna, any customers signing up for those agreements are signing up to a credit agreement with the BNPL provider rather than making an agreement with giffgaff.
These might be right for some customers, but it's more likely the traditional handset purchasing options offered by Three will be a better fit for customers.
Three provide a good range of handsets from big names like Samsung and smaller players like Nokia and Xiaomi. These can be taken in conjunction with a SIM deal for a single monthly fee.
---
Coverage
Winner: giffgaff has better coverage across the UK.
giffgaff operates on the O2 mobile network while Three mobile uses its own network to deliver services.
Ofcom look at the amount of 4G coverage networks have in their annual Connected Nations reports. Here are the latest figures side-by-side for giffgaff (O2) and Three:
| | giffgaff | Three |
| --- | --- | --- |
| Geographic | 80% | 79% |
| Indoor premises | 95% | 90% |
| Outdoor premises | 99% | 99% |
| Major roads | 88% | 82% |
| All roads | 83% | 78% |
So, giffgaff have better coverage than Three across most categories with Three only pulling level when we look at coverage outside premises.
Coverage of indoor premises is a key issue for many mobile customers as they want to understand whether they will be able to get a signal inside homes and businesses. While Three's 90% is respectable enough, it's the lowest of all networks and a full 5% below the coverage offered by giffgaff on the O2 network.
Mobile coverage can be a very localised issue and it's worth checking on the O2 and Three websites to see what it's like in a given area.
It's also worth noting that both networks continue to make improvements to their 4G networks and are part of the Shared Rural Network (SRN) agreement to improve coverage in hard-to-reach areas.
5G coverage
Both networks are continuing to expand their 5G services too, so customers in search of 5G mobile broadband will want to check whether O2 or Three have rolled out services to their area yet.
At last count, O2 had switched on 5G in 183 towns and cities while Three had reached 153. On this metric, then, the network used by giffgaff is ahead.
Learn more about 5G and what it can offer.
---
Speeds
Winner: Three 4G mobile services are usually faster than giffgaff's but the opposite is true for 5G.
While neither O2 nor Three are considered the fastest 4G mobile network (that title goes to EE), Three have pulled away from O2 in recent years and are often ranked second or third when it comes to 4G speeds.
Early analysis of 5G services, however, currently suggest the O2 network is the fastest, so giffgaff customers on 5G may experience faster speeds than Three customers on the 5G network.
Here are some recent average speeds recorded by researchers for giffgaff (O2) and Three:
giffgaff
Three
Opensignal (H1 2021)
17.1Mbps (4G)
91.2Mbps (5G)
25.2Mbps (4G)
80.2Mbps (5G)
RootMetrics (H2 2021)
15.6Mbps
19.1Mbps
Tutela (Mar to Aug 2021)
13.4Mbps (4G)
53.1Mbps (5G)
15.6Mbps (4G)
49.1Mbps (5G)
The methodology used to measure speeds varies for each testing company, yet there is a clear pattern of Three outperforming giffgaff's network on 4G speeds and giffgaff offering slightly faster speeds on 5G services.
Learn more about the fastest mobile speeds in the UK and who offers them.
---
Customer service
Winner: giffgaff's customer service record is better than Three's.
Ofcom don't yet publish quarterly complaint figures in the way they do for Three and other major mobile providers. However, we do have information from their annual Comparing Service Quality report published in 2021 to compare the two mobile networks.
Here's how giffgaff compared to Three in all the categories where both were covered:
| | giffgaff | Three |
| --- | --- | --- |
| Satisfaction with service overall | 93% | 86% |
| Satisfaction with value for money | 95% | 88% |
| Customers with a reason to complain | 5% | 13% |
| Overall satisfaction with complaints handling | 57% | 56% |
| Complaints completely resolved on first contact | 46% | 42% |
On every point, giffgaff have an advantage over Three. It's most pronounced when we're looking at customer satisfaction with service and value for money, but it's also noticeable that giffgaff had far fewer customers with a reason to complain than Three.
Ofcom also asked customers whether they would recommend their mobile provider to friends. giffgaff customers were more likely than average to recommend them while Three customers were less likely to recommend their provider.
So, overall, giffgaff's customer service is ahead of Three's and their customers are much happier with the service they receive.
Read more about mobile customer service and which providers are best.
---
Verdict: Is giffgaff better than Three?
Overall winner: giffgaff offer cheaper deals backed by a network with wider coverage.
There are some key differences between giffgaff and O2 that could help customers choose between the two providers.
While giffgaff have cheaper deals if customers are happy with flexible rolling plans, Three's longer deals are also good value. Conversely, Three's traditional method of selling handsets on contract to customers is better than using a third-party BNPL provider like Klarna.
There are some other points to consider too:
giffgaff has better coverage thanks to using the O2 network
Three has faster 4G speeds but giffgaff's 5G speeds are better
giffgaff has a much better customer service record
giffgaff's roaming deal is now better than Three's
However, giffgaff's value-based offer doesn't have much else in the way of extras while Three have recently launched their Three+ rewards app to bring offers and discounts to their mobile customers. These perks could make the difference for customers struggling to choose between the two.
Overall, while we'd recommend Three instead of giffgaff if customers are looking for a handset deal, giffgaff have more going for them in a straight battle.