How good is Vodafone as a mobile network?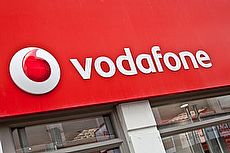 VODAFONE seem to be interested in doing things a little differently from some of their rivals.
They still offer 12 month contracts on their handset deals when two-year commitments are otherwise standard; they also have a quality versus quantity approach to expanding their network.
But while their signal is solid, their customer service has been somewhat shakier recently - so in this review we'll explore what's been behind the problems, and whether Vodafone are still worth it.
As in our reviews of the other big mobile network operators, we've focused on SIM-only plans to give a flavour of how much they charge compared with each other.
If the handset is the thing, visit our main mobile comparison table and filter the results by make and model to see who's cheaper.
SIM-only plans
Vodafone offer a choice of eight plans to those who only want a 30-day contract, and six tariffs for those happy to sign up for 12 months.
As usual, prices are lower and data allowances go higher for those willing to commit for longer - and only those willing to commit for a full 12 months get access to Vodafone's value-added Red and Red Value tariffs.
30-day SIM-only plans
| | Data | Calls and texts | EU roaming | Monthly price | |
| --- | --- | --- | --- | --- | --- |
| | 250MB | 250 minutes, unlimited texts | None | £11.50 | |
| | 500MB | 500 minutes, unlimited texts | None | £14 | |
| | 1GB | 1,000 minutes, unlimited texts | None | £17 | |
| | 2GB | Unlimited | None | £20 | |
| | 4GB | Unlimited | None | £24 | |
| | 5GB | 500 minutes, unlimited texts | None | £19 | |
| | 8GB | Unlimited | None | £29 | |
| | 10GB | 500 minutes, unlimited texts | None | £25 | |
Vodafone's mid-range plans and prices - from 1GB to 4GB - are identical in price to those offered by O2; their light use and 8GB plans are cheaper. That in turn means they're cheaper than their mutual rival EE.
Note, though, the 5GB and 10GB plans.
They each offer just 500 minutes of calls to UK numbers, which seems like something of an oddity in a world where text and call allowances tend towards unlimited once we're beyond what could be counted as a light use plan.
But look at the prices: they're considerably cheaper than plans offering less data but more in the way of calls.
For those of us who know we'd rather use WhatsApp than call someone, the extra data and lower calls allowance is a good way of getting more of what we actually use for our money.
Those who want more of everything for slightly less, however, should focus on Vodafone's 12-month SIM-only plans:
| | Plan type | Data | Calls and texts | EU roaming | Monthly price | |
| --- | --- | --- | --- | --- | --- | --- |
| | Standard | 250MB | 250 minutes, unlimited texts | None | £9.50 | |
| | Standard | 500MB | 500 minutes, unlimited texts | None | £12 | |
| | Standard | 1GB | 1,000 minutes, unlimited texts | None | £15 | |
| | Red | 8GB | Unlimited | Unlimited calls and texts, 500MB data | £17* | |
| | Red Value | 20GB | Unlimited | Unlimited calls and texts, 2GB data | £20* | |
| | Red Value | 25GB | Unlimited | Unlimited calls and texts, 4GB data | £25* | |
*Promotional price. Offer ends March 15th 2017.
Once we get beyond the smallest bundles, it's quite difficult to compare like with like as each operator offers different data allowances after this point.
This is also when the extras start to come into play - like EE, Vodafone throw in free calls, texts and some data within the EU, and their larger SIM-only tariffs also come with a choice of entertainment - free Sky Sports, or Now TV for example.
We'll come back to those extras, and the out of allowance costs, below.
Mobile phones from Vodafone
People looking for a phone as well as the SIM get more plans to choose from, filling some of the gaps in the tariffs listed above, and up to 30GB with most handsets.
As well as featuring the newest, most sought after devices, there's a decent range of budget and mid-range handsets to choose from.
At the budget end are a couple of decidedly old-fashioned looking phones from French manufacturer MobiWire, and some of Vodafone's own Smart touchscreen handsets; Samsung's Galaxy J series, the Sony Xperia XA, and the iPhone 5S head up the mid-range selection.
Vodafone are unusual in that they still offer pay monthly mobile phone plans on 12-month contracts as well as the more usual 24-month terms favoured by other providers in order to spread the cost of the newest handsets.
Interestingly, though, it's only certain handsets that are available on 12-month terms - and they tend to be the more expensive devices.
Presumably that reflects the increased likelihood of those after the more expensive, flagship, handsets to want to upgrade to the next version as soon as they can.
That can lead to a dizzying range of tariffs - and some even more dizzying upfront costs for those looking at shorter contracts with lower allowances.
The trick is to go in knowing how long we want to commit for, as that makes a huge difference to monthly and upfront affordability - here's how it affects the cost of getting the Sony Xperia X on three different data plans, for example:
Handset
Data
Upfront cost
Monthly cost
Sony Xperia X,
12 month contract
1GB
£65
£52
Sony Xperia X,
24 month contract
1GB
£28
£30
Sony Xperia X,
12 month contract
10GB
£55
£68
Sony Xperia X,
24 month contract
10GB
£10
£43
Sony Xperia X,
12 month contract
20GB
£55
£68
Sony Xperia X,
24 month contract
20GB
£10
£48
The difference is even greater when it comes to the likes of the newest iPhones and Samsung Galaxy S phones.
The extras
Whether buying a handset or just a SIM from Vodafone, the extra costs - and extra services available - are the same.
Red Value extras
As well as coming with the highest data allowances, Vodafone's Red Value plans also include one of a selection of streaming subscriptions.
The regular subscriptions include the Now TV Entertainment Pass, Spotify Premium or Sky Sports Mobile TV; occasionally another streaming service, like Netflix, will appear on the list.
The guest stars like Netflix tend to be offered for shorter periods, but the regulars (Sky Sports Mobile TV, Now TV, Spotify Premium) are usually offered free for the length of the contract.
It's worth noting that both the Spotify and Now TV subscriptions can be used on other compatible devices - although not at the same time as they're being used on our phones - but Sky Sports Mobile TV can only be watched on the phone containing the SIM registered to that Red Value account.
Out of allowance costs
The ideal with a pay monthly plan is that we get one that provides us with a little more of everything than we actually need, so that we don't incur excessive out of allowance usage costs while not paying for vast numbers of minutes or quantities of data that we don't need.
But very few providers include MMS picture messaging or video calls in their plans, and it's worth knowing just how much we'll be charged if we do somehow go over our carefully chosen ideal allowance.
All of Vodafone's pay monthly plans, whether SIM-only or sold with a handset, come with the following out of allowance usage charges:
| Usage | Cost |
| --- | --- |
| Calls to UK landlines, mobiles, and 0500 numbers | 55p/minute |
| Calls to 084, 087, 09, and 118 numbers | Access charge of 55p/minute |
| Voicemail | 55p/minute |
| UK texts | 35p each |
| Picture messages (MMS) | 55p each |
| Video calls | 55p/minute |
| UK data usage | £6.50 for every 250MB |
Coverage
Ofcom's data for mobile network coverage comes in part from the operators themselves, although with the introduction of their mobile signal checker in 2015, they started to add their own observations to those reports.
By the end of 2016, Ofcom say that Vodafone's percentage coverage of the UK looked like this:
2G and 3G voice coverage
3G and 4G data coverage
Indoor, premises
95%
92%
Outdoor
Premises
99%
97%
Geographic
82%
63%
SOURCE: Ofcom Connected Nations 2016. Available here.
Vodafone are proud of the fact that they're investing £1 billion in improving and expanding both their fixed and mobile networks, and that they're bringing better mobile and broadband connectivity to rural communities through their Open Sure Signal programme.
Vodafone's standard Sure Signal devices are femtocells that create a 3G signal for up to eight mobiles in a house or office; the Open Sure Signal devices do a similar thing on a grander scale.
But despite this, and despite sharing their masts with O2 in some areas, Ofcom's figures show the pair to be lagging behind Three and EE in terms of combined 3G and 4G geographic coverage, and previous years' figures have shown a serious lack of availability on motorways and A and B roads.
The good news is that where they do provide a signal, it's pretty reliable. Open Signal, who collate signal data from thousands of devices in use by normal people, say Vodafone's 3G network has 93% reliability - and their 4G network is 98% reliable.
Furthermore, they're second only to EE in the proportion of time their users actually have a 4G signal. Their network may not be available everywhere, but where it is, Vodafone have made a real effort to make sure customers get the best connection and signal they can.
Vodafone's other services
Mobile operators must get fed up of the constant comparisons to EE, but like their giant rival, Vodafone sell broadband and home phone bundles, and they have plans to go quad-play with the introduction of a pay TV service.
Broadband from Vodafone
Since June 2015, Vodafone have been selling home phone and broadband as well as mobile phones. They have three basic packages:
Package
Broadband
Contract
Upfront price
Monthly price
Unlimited Standard Broadband 17
Up to 17Mb
Unlimited
18 months
£6.99
£23
Unlimited Fibre 38
Up to 38Mb
Unlimited
18 months
£56.98
£23
Unlimited Fibre 76
Up to 76Mb
Unlimited
18 months
£56.98
£28
Vodafone mobile customers - both pay monthly and pay as you go - will get a £3 a month discount on the fibre deals for as long as they take both the provider's mobile and fixed line services.
New customers who don't have a BT-compatible line will need to factor in a £60 fee for a new line on top of the listed setup costs.
Contracts are all 18 months long, and it's not possible to get either broadband without landline, or a landline without the broadband.
Perhaps as we might expect from a provider who is primarily a mobile phone operator, there are no inclusive calls bundled with the landline.
Customers can add unlimited evening and weekend calls for £4 a month, or anytime calls for £8 a month; they can also add 300 minutes of calls to 46 international destinations for £5 a month.
For those who can get a good signal in their homes, Vodafone also sell mobile broadband for tablets and mi-fi devices, with SIM-only plans offering up to 50GB of data a month. We look into the service in more detail here.
TV switched off for now
s we reported when their broadband service first launched, Vodafone were hoping to be selling TV by the end of 2015, but they've had to postpone numerous times.
In September 2016 it looked like the wait might finally be over: the Telegraph reported that Vodafone were gearing up for a soft launch of the service before unleashing it fully early this year.
But it's been shelved once more, and indefinitely. Vodafone chief executive Vittorio Colao told The Telegraph in early February that while it's ready to launch in mere weeks if they wanted to, they've chosen to prioritise other issues for now.
Customer service
It's safe to say that Vodafone - and their customers - have come in for a bit of a bruising recently when it comes to customer service.
In the second half of 2015, the number of complaints Ofcom received about Vodafone shot up, from around 14 per 100,000 customers to a peak of 32 per 100,000: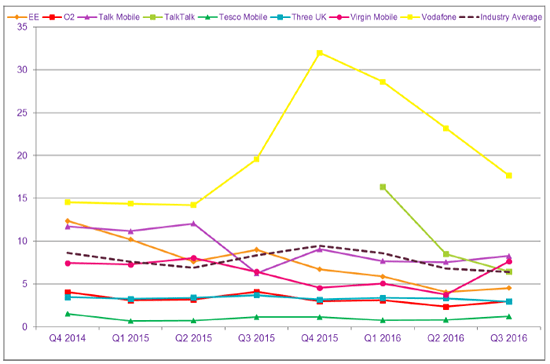 SOURCE: Ofcom Telecoms and Pay TV Complaints Q3 2016. Available here [pdf].
That rise coincided with the launch of two Ofcom investigations into Vodafone, including one looking into how the operator dealt with complaints.
In early 2016 Ofcom dropped part of one of those investigations, saying they were satisfied that Vodafone weren't making errors with customers' bills - but they may have spoken too soon.
Shortly after that Vodafone introduced a new billing system, and the issues began again. By last summer, the Consumer Ombudsman had even introduced a dedicated Vodafone option in their caller menu.
Vodafone say they know they have a problem here; like other companies that have had customer service issues, they're bringing call centres back to the UK and investing in staff training, improved computer systems, and they've created a new team dedicated to "complex complaints".
They have shown an improvement quarter on quarter, but they still provoke more than twice the industry average number of complaints. We'll keep an eye on their progress.
In conclusion
Their coverage may not be as widespread as that of some of their rivals, but where it exists, it tends to be solid. That's in keeping with the words of then Vodafone chief executive Jeroen Hoencamp, at the start of 2015, when he said they were "doing it right first time".
Their prices are competitive, they offer a good range of devices - including several of their own - and the streaming subscriptions they offer with their Red Value plans could be said to have inspired the bolt-ons now available from certain rivals.
They were even confident enough in spring 2016 to introduce a 30-day, no questions asked, return period.
It would be a shame if these positives were overshadowed by their current billing and customer service issues, and it's worth noting that plenty of people with them seem to have had no problem.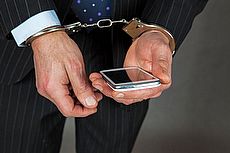 23 November 2017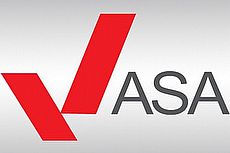 23 November 2017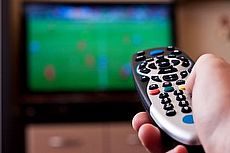 15 November 2017
Follow us or subscribe for FREE updates and special offers