Three mobile review: do they #makeitright?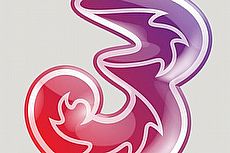 TO MANY people, Three are still the go-to network for big data allowances.
While the other networks have caught up with the kind of capped allowances that would suit some fixed line broadband users, they're the only major network to offer unlimited mobile data.
They were the first to bring in free roaming too - and as their rivals have started to offer inclusive EU allowances ahead of next year, Three still have the edge for those who want to travel a little further afield.
But how much does all that cost, and how good is their network and customer service? In this guide we aim to find out.
SIM-only plans
When Three's owners were trying to get the European Commission to agree to their proposed takeover of O2, they came up with various sweeteners to ease concerns about the impact on competition. One of them was a so-called "granny tariff", which would cost £5 a month in return for providing calls and texts - and no data.
The merger was blocked - but the "granny tariff" wasn't completely shelved as an idea, because Three now offer two kinds of tariff: Essential and Advanced.
Three Essential
The Essential plans come without the two features Three are famous for - the ability to use our mobiles as personal wi-fi hotspots, and free roaming; they're also limited in the amount of data they can offer.
But as this is Three, they still offer more data than any of their rivals' "basic" or "standard" tariffs, with the same choices available on both 30-day and 12-month contracts. The 30-day SIMs are, as ever, more expensive:
Data
Calls and texts
Contract length
Price per month
500MB
200 minutes, unlimited texts
30 days
£9
12 months
£6
1GB
600 minutes, unlimited texts
30 days
£12
12 months
£9
2GB
200 minutes, unlimited texts
30 days
£12
12 months
£9
4GB
Unlimited
30 days
£21
12 months
£18
8GB
Unlimited
30 days
£24
12 months
£21
Another unusual step Three have taken with their basic plans is to include them in their offers. At the time we were writing this review, for example, it was possible to get the 12-month 4GB Essential SIM for just £9 - the same price as the more limited 1GB and 2GB plans.
Three Advanced
There are a staggering 17 different Advanced plans available, and that's before we consider that they're each available on 30-day or 12-month terms.
The variety is down to the fact that rather like Vodafone, Three cater for people who don't necessarily want increasing amounts of everything: some of us are constantly updating Facebook and streaming Netflix but barely use our phones to talk, while others like unlimited calls.
So for those who'd rather pay for what they actually use, Three offer most of their different data packs with a choice of 200, 600 or unlimited minutes.
To try to keep things simple, we're only going to show the prices for the 12-month contracts - anyone thinking of getting a plan on 30-day terms should add £3 to the monthly prices listed below.
We'll also group the plans according to the number of minutes included. Those happy with 200 minutes keep reading; those after 600 minutes can skip ahead, and those who want unlimited minutes can click here.
| | Data | Calls and texts | Price per month | |
| --- | --- | --- | --- | --- |
| | 500MB | 200 minutes, unlimited texts | £8 | |
| | 2GB | 200 minutes, unlimited texts | £11 | |
| | 12GB | 200 minutes, unlimited texts | £17 | |
| | 30GB | 200 minutes, unlimited texts | £20 | |
| | All you can eat | 200 minutes, unlimited texts | £23 | |
Advanced SIM-only plans with 600 minutes
| | Data | Calls and texts | Price per month | |
| --- | --- | --- | --- | --- |
| | 1GB | 600 minutes, unlimited texts | £11 | |
| | 4GB | 600 minutes, unlimited texts | £16 | |
| | 8GB | 600 minutes, unlimited texts | £19 | |
| | 12GB | 600 minutes, unlimited texts | £22 | |
| | 30GB | 600 minutes, unlimited texts | £25 | |
| | All you can eat | 600 minutes, unlimited texts | £28 | |
Advanced SIM-only plans with unlimited minutes
| | Data | Calls and texts | Price per month | |
| --- | --- | --- | --- | --- |
| | 1GB | Unlimited | £16 | |
| | 4GB | Unlimited | £21 | |
| | 8GB | Unlimited | £24 | |
| | 12GB | Unlimited | £27 | |
| | 30GB | Unlimited | £30 | |
| | All you can eat | Unlimited | £33 | |
Again, it's worth keeping an eye out for special deals: we've seen Three offering 30GB with unlimited calls and texts for the price of the 12GB bundle.
Three's range of mobile phones
As we might expect, the newest flagships are all present and correct; there's also a good range of older or mid-range models from the likes of Samsung and Apple, with the very oldest flagship models available refurbished.
Among the usual suspects are a number of handsets from Huawei, who before they released 2016's P9 with its Leica-branded dual camera setup, were known for making solid, reasonably inexpensive Android devices.
Handset reviews on Choose
The Honor 8, for example, boasts similar specs to the flagship model - including an almost identical rear camera - but costs far less over the course of a standard 24-month contract, with no upfront bill.
We shouldn't be all that surprised by the presence of several Huawei handsets in Three's range, as the two companies have been partners in the UK since 2012, when Huawei won the contract to manage Three's core network here for five years.
But they add some much needed variety to the rostrum of devices available for those on a tighter budget - and for those looking for a little more for their money, Three have some real gems in their selection.
The extras
We've already touched on the most famous of Three's additional features: the ability to use our phones as personal wi-fi hotspots, and their Feel at Home free roaming plan.
Personal hotspots
Three have always allowed at least some of their customers to use their phones as personal wi-fi hotspots, but the extent to which they've allowed it has varied considerably in the past few years.
The tethering allowance has been getting more generous since early 2014, however, when Three restricted customers on their unlimited data plans to being able to use just 2GB a month for personal hotspot purposes.
Depending on when customers joined Three or changed plan over the course of 2014 and 2015, they've been able to use up to 4GB, 8GB, and then 12GB for tethering.
Since April 2016, when Three introduced their 30GB plans, all but those with All You Can Eat data have been able to use their entire allowance for tethering; unlimited data customers can still use up to 30GB a month for personal hotspot purposes.
Feel at Home with Three
As we describe it in our full review, Feel at Home is roaming as we've never seen it before, giving both pay monthly and pay as you go users the ability to use their phones in numerous other countries on pretty much the same terms as they do when they're in the UK.
All most customers will need to do is activate international roaming on their account, and make sure they're travelling to one of the 42 countries included in the scheme - which now covers pretty much the whole of Europe as well as destinations as far flung as Indonesia, the USA, and New Zealand.
Pay as you go customers will need to convert some or all of their credit to use abroad, but then they'll get the same rates as they usually would.
Even as the other operators bring in their own takes on free or reduced roaming charges for European use ahead of next year, the global nature of Feel at Home continues to mark it out as something special.
Out of allowance costs
Another feather in Three's cap is that they were the first UK mobile operator to make freephone numbers free to call from our mobiles, in March 2014.
It took until July 2015 - when new Ofcom rules regarding calls to non-geographic numbers came into effect - for most of the other mobile networks to allow customers to make supposedly free calls for free, or by using minutes from their allowance at the very least.
But given that Three make a point of offering plans with limited minutes, what do they charge when we go over that allowance, or use our phone for something else that isn't included in our tariff?
These rates apply to both Essential and Advanced pay monthly customers:
| Usage | Cost |
| --- | --- |
| Calls to UK landlines and UK mobiles | 35p/minute |
| Voicemail | 35p/minute |
| Calls to 0800, 0808, 0500 | Free |
| Calls to 084, 087, 09, and 118 numbers | Access charge of 45p/minute |
| Picture messages (MMS) | 40p each |
| Video calls | 51.1p/minute |
| UK data | Only available as an add-on |
Once we've used all the data in our monthly allowance, we'll need to buy an add-on if we want to continue using 3G or 4G data, or get by on wi-fi.
Whatever their pay monthly plan, everyone can buy another 250MB of data for £2.50; after that, they'll need to buy more data at a cost of £5 a time.
It's not quite this simple, but as a general rule of thumb, customers buying the £5 add-on will get data equivalent to their usual monthly data allowance. The extra will last until the end of that billing cycle, unless customers manage to use it all before then.
Coverage
So far, we've been quite positive about Three - but here's where it could change. They're the UK's smallest mobile operator, with just 12% of the market share, and the smallest allocation of mobile spectrum.
But not all mobile spectrum is equal, as we'll explain further below - and for all their small size, by the end of 2015 Three's percentage coverage of the UK looked like this:
Combined 2G and 3G
Combined 3G and 4G
Outdoors
Premises
98%
98%
Geographical
68%
68%
Indoor / in car
Premises
93%
93%
Motorways
98%
98%
A and B roads
73%
73%
Three have never had a 2G network - they launched as a purely 3G provider when that was something new and special, hence their name - so the figure for their combined 2G and 3G coverage is based purely on their 3G reach.
And while Three have the lowest geographical coverage of the big four operators, they do have better coverage indoors, on motorways and A&B roads than O2 and Vodafone. Basically, they appear to offer better coverage in the places we're most likely to need to use our phones.
This is partly down to the frequencies they use, particularly for their 4G signal. They use the 800MHz frequency, which is particularly good at covering wide areas and penetrating into buildings - even those with thick walls.
Combine that with the fact that they were the first big network to make 4G voice calling (VoLTE) work well enough to roll it out to customers.
It's not just available to people with the newest phones, either: customers who have one of a wide range of old and new Android handsets from Samsung, LG, Sony, HTC and more, can make voice calls over 4G via Three's inTouch app.
That means that as long as we're in an area where Three cover, we're far less likely to suffer from signal blackspots, or to lose calls (or our data connection) halfway through.
Customer service
Three seem to deal with their customers pretty well.
In Ofcom's last quarterly set of complaints figures, they provoked just one more grievance per 100,000 customers than the best of the big four mobile operators, O2: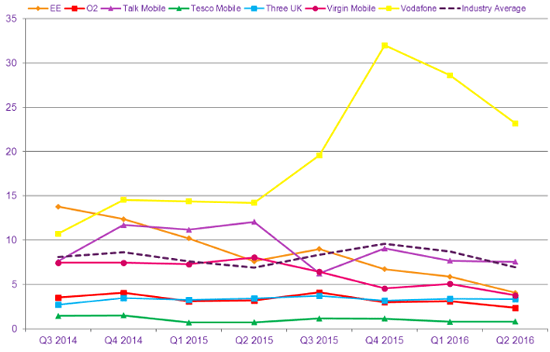 SOURCE: Ofcom Telecoms and Pay TV Complaints Q2 2016. Available here [pdf].
They also fare well in Ofcom's end of year customer satisfaction surveys.
At the end of 2015, the survey carried out by Savile Rossiter-Base found that Three had a better record when it came to resolving customer issues in one go than their biggest rivals, and that they'd improved significantly since 2014:
Proportion interviewed whose issue was completely resolved in one contact: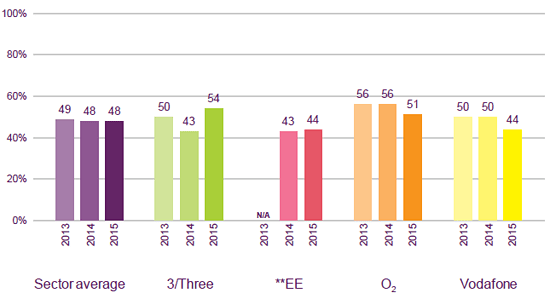 SOURCE: Quality of Customer Service, Savile Rossiter-Base, prepared for Ofcom January 2016. Available here [pdf].
They also performed well when it came to overall satisfaction with our mobile provider - of the big operators, only O2 outdid them: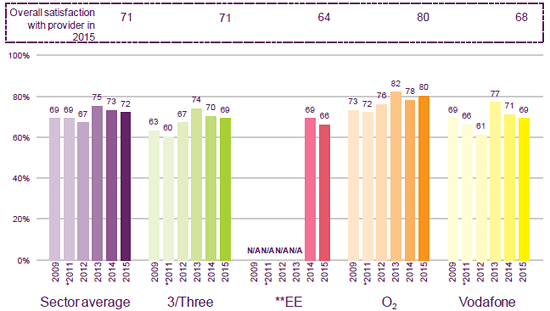 SOURCE: Quality of Customer Service, Savile Rossiter-Base, prepared for Ofcom January 2016. Available here [pdf].
In conclusion
As the other operators have realised just how important being connected is to us, Three's data allowances don't look quite as exceptionally generous as they used to.
But they remain one of just a few operators to offer unlimited data, and they're unusual in that they give users more choice regarding the amount of calls they want to make - or pay for.
Feel at Home and the very generous tethering limits they once again offer also mark them out as offering something a little bit different, and they're incredibly competitively priced.
They seem to have all the ingredients to #makeitright - as long as we're not too concerned about having coverage away from the main population centres.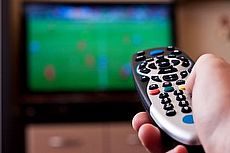 15 November 2017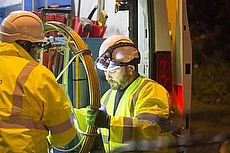 10 November 2017
9 November 2017
Follow us or subscribe for FREE updates and special offers