BT's superfast fibre broadband network: all you need to know
The BT Openreach fibre broadband network reached its target of connecting to two thirds of UK households by spring 2014.
The next big challenge is connecting 95% of premises by the end of 2017, and Openreach say they're connecting more than 100,000 new premises to the fibre network every week.
All the UK's biggest ISPs - apart from Virgin Media, who have their own cable network - and many of the smaller providers offer up to 38Mb and up to 76Mb fibre deals using the Openreach lines.
In this guide we take a closer look at:
If you're looking for information on which ISP using the BT fibre network is fastest, cheapest or best for broadband quality, you should be looking at our separate guide here, or for more on BT's retail fibre product - Infinity - you can find our review of that here.
Otherwise, let's start with the technical side.
How it works
The BT fibre network is a step up from the ADSL network we use for standard broadband, but it is subtly different from Virgin Media's fibre service.
VDSL fibre vs ADSL copper broadband
Fibre broadband delivers a connection through fibre optic cables which are made from glass or plastic, as opposed to copper.
Fibre optic cables carry light along an inner glass, or plastic core. Light is reflected within the core which allows for a much more efficient flow of data.
For example, one problem with copper wires is that as the length of the wire increases, the signal attenuates, or diminishes, so the speed of data transmission decreases significantly.
Because fibre is more efficient it can cover a much longer distance without experiencing the same degradation in speed.
So BT use fibre lines to carry their broadband over long distances to those green cabinets you may have seen on the street.
From the street cabinets to homes BT use Very-high-bit-rate Digital Subscriber Line (VDSL), which itself is almost always faster than an Asymmetrical Digital Subscriber Line (ADSL) connection.
In short, BT are using two forms of new technology to improve performance over that of their old ADSL network: fibre to the green street cabinet, then VDSL to the home.
This combination means BT's network is also referred to as Fibre to the Cabinet (FTTC).
BT FTTC vs Virgin Media cable
Theoretically, a fibre optic line can reach data transmission speeds of a staggering 111 Gigabits (Gb) per second.
In Megabits (Mb) per second, the measure we usually use to refer to speeds, that's 113,664Mb - just a bit better than the UK average of 18.7Mb.
The real world conspires to lower those speeds considerably, of course.
All sorts of factors, from the mix of technologies used to the number of users on the line, can make a big difference.
In the case of the BT and Virgin Media fibre networks, we've seen the following standard advertised speeds over time:
| | 2011 | 2012 | 2013 | 2014 | 2015 |
| --- | --- | --- | --- | --- | --- |
| BT | up to 40Mb | up to 40Mb and up to 80Mb | up to 38Mb and up to 72Mb* | up to 38Mb and up to 76Mb | up to 38Mb and up to 76Mb |
| Virgin | up to 30Mb through to up to 50Mb | up to 30Mb through to up to 100Mb | up to 30Mb through to up to 120Mb | up to 50Mb through to up to 152Mb | up to 50Mb through to up to 152Mb |
* this change came about because of new advertising regulations, which we explain here.
In reality, speeds are usually lower than those advertised. These are Ofcom's most recent figures, from May 2014:
| | Advertised speed | Ofcom average speed (over 24 hours) |
| --- | --- | --- |
| Virgin | Up to 30Mb | 28.9Mb - 30.7Mb |
| BT | Up to 38Mb | 31.7Mb - 34.1Mb |
| Virgin | Up to 60Mb | 58.1Mb - 60.0Mb |
| BT | Up to 76Mb | 60.6Mb - 63.5Mb |
| Virgin | Up to 152Mb | 136.9Mb - 146.9Mb |
Note these results refer to Virgin's old packages, before they were upgraded to up to 50Mb and 100Mb.
In short, we have really seen average broadband speeds increase as a result of both BT and Virgin Media fibre.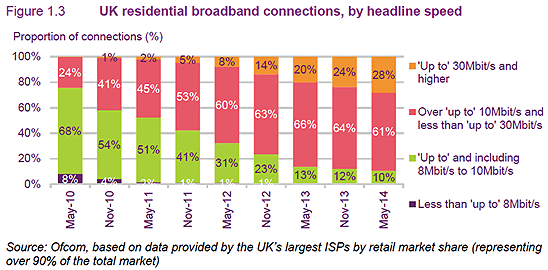 SOURCE: Ofcom, UK fixed-line broadband performance, May 2014.
So what's making the difference?
Primarily, it's that BT's fibre broadband network uses copper cables between the green street cabinets and homes while Virgin Media uses slightly more efficient coaxial cable.
You can read more about this in our guide to the technical differences between BT and Virgin fibre.
However, other factors also play a role.
For example, one major difference between the BT and Virgin Media networks is that Virgin's is closed to competing ISPs. They have a complete monopoly on their ex-NTL and Telewest fibre network despite the fact that they've regularly pressured BT to open up their own ducts and pipes to other operators.
The real impetus for BT to start expanding the fibre network came in 2009, when Ofcom ruled that BT themselves could decide how much to charge other companies wanting to use their network - enabling the provider to make a profit from wholesale transactions with other ISPs.
For more information about the service those different ISPs provide see this guide. But from a technical point of view, being able to make money from the network they built has given BT more money to expand that network - while also putting them under increased pressure to maintain it.
Investing in fibre: who's paying
To roll out fibre to two thirds of UK premises, BT invested £2.5 billion.
Meanwhile the Broadband Delivery UK (BDUK) fund mentioned below is worth more than £1 billion - £300 million of which has come from the BBC licence fee - with further funding potentially coming from the EU to support roll-out efforts in the most rural areas.
Where BT fibre is being rolled out
Fibre roll out by exchange area
In theory, BT roll out fibre by exchange area. You can see the status of your local exchange - enabled, under consideration or coming soon - using this Openreach map search.
However, unlike ADSL broadband, fibre doesn't map exactly on to the telephone exchange system.
By some estimates, an "enabled area" might actually only allow 40-50% of households to actually receive a fibre service.
This is for a number of reasons: BT don't actually install fibre throughout the whole area and they might not connect a premise because it's too far away from an exchange or, in the case of "exchange only" lines, more here, because it's too close.
Fibre for rural areas
When we first wrote this article the big debate about BT fibre was whether FTTC was ever going to reach the countryside other than through contests like BT's 'race to infinity' project.
A few years ago fibre was almost unheard of in more rural areas: Taffs Well and Calder Valley, near Halifax in West Yorkshire served as testing grounds; market towns such as Nantwich, Wimborne and Penrith were pleased to make the upgrade list, but small villages and hamlets were ignored.
BT say they've always intended to bring fibre to the countryside.
"We want to extend the fibre footprint and the benefits the technology brings to more rural areas... our roll-out plan firmly demonstrates our commitment to finding solutions for local communities," said Steve Robertson, CEO of Openreach in January 2011.
But BT weren't coming close to realising that ambition until, in 2013, they faced competition from the likes of Fujitsu over the Government funding for the roll-out.
Now, however, BT are accused of dominating the roll-out of superfast broadband in rural areas. The provider won all 44 contracts - and funding - for the Government's BDUK programme.
Regarding that decision, Communications Minister Ed Vaizey said: "I take a lot of brickbats for giving the contracts to BT but I have to say, I think the outcome has been pretty good."
He may also have been making a swipe at Virgin Media when he pointed out that other big national players "didn't want to share their networks".
In any case, BT has since been working with local councils to bring fibre to areas that weren't previously economically viable.
That will please some but, as you can see below, rural areas pose a new challenge for the BT fibre network.
SOURCE: Ofcom, UK fixed-line broadband performance, May 2014.
FTTC will be less effective in rural areas, a state of affairs that led small ISP Fibrestream to call BT a "digital drug dealer" in November 2010.
"To maximise profits, the enterprising... heroin dealer must find the least amount of active ingredient with which to just maintain the customer's habit and keep them coming back for more of the same, rather than seeking an alternative source and cutting the current supplier out of the loop," Fibrestream said on their blog.
Fibrestream aren't alone in thinking that FTTC is "copper make do and mend" but it looks like that's what rural areas are, largely, getting.
Some very rural areas will benefit from other technology, such as connections using white space, however.
This is what EE - being bought by BT - is aiming to do with smaller towns and villages; the mobile provider is proud of the fact that it has brought superfast broadband to places as small as Elvanfoot, a Scottish village with just 52 residents.
13 October 2017
11 October 2017
10 October 2017
Follow us or subscribe for FREE updates and special offers