EE Fibre Max 900, or Fibre Max Gigabit as its now known, is available as a standalone broadband only package or Apple TV can be added for those who also take EE mobile services.
The package doesn't come with the option of a phone line, although there is a discount for combining EE Fibre Max 900 with a mobile plan.
However, the service is only available to around six and a half million homes so far, meaning plenty of interested customers will miss out.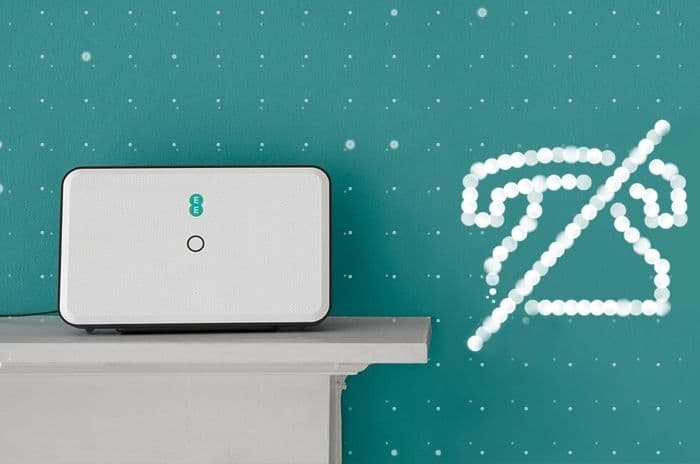 ---
At a glance
EE Fibre Max 900 offers:
Broadband
Full fibre
Download speeds
900Mb
Upload speeds
110Mb
Home phone
None
TV
Extra cost for Apple TV
Router
EE Smart Hub
Minimum term
24 months
Price from
£49
| What we like | What we don't like |
| --- | --- |
| Average speeds of 900Mb | No home phone line available |
| Competitive pricing | Non-symmetrical upload speeds |
| Upgrade to Apple TV | Limited availability |
| Discounts for EE mobile customers | |
| Great customer service record | |
EE special offers
---
EE Fibre Max 900: Gigabit
EE Fibre Max 900, now also known as EE Fibre Max Gigabit, is the fastest broadband package offered by EE broadband.
It brings speeds averaging 900Mb to customers on a 24-month contract with no upfront fees. Here are the monthly costs:
Package
Broadband
Monthly price
Upfront price
Contract term
Full Fibre Max Gigabit
900Mb average
£49
Free
24 months
Offer: 12 month free Xbox Game Pass Ultimate for EE pay monthly mobile customers + 10% off for EE pay monthly mobile customers + 20GB extra data for EE pay monthly mobile customers + Free setup
You don't have to take EE pay monthly mobile services to get EE Fibre Max Gigabit, but EE offer some generous perks to tempt customers to do so:
20GB data boost to a customer's EE mobile account
10% discount on their EE broadband bill
EE also introduced a 12-month Xbox Game Pass Ultimate for customers on their fastest broadband plan in January 2022. This gives customers the Pass and zero-rated data for gaming on their mobile contract.
These incentives could make it worthwhile for customers to combine EE's 900Mb broadband plan with a pay monthly mobile deal.
It's also important to be aware that EE Fibre Max Gigabit does not come with the option for a home phone line. Customers cannot add a landline to these packages and no call plans are available.
One further point on pricing: EE broadband prices will rise each year by the Consumer Price Index (CPI) rate of inflation + 3.9%. This is written into the contract and customers can't leave when this price increase is applied.
EE with Apple TV
Customers who also take EE mobile services are eligible to upgrade their Fibre Max 900 plan to add Apple TV 4K.
The package listed in the table below includes the 10% discount for taking mobile services mentioned above, although customers will still get a 20GB data boost to their mobile account with this plan.
Package
TV
Broadband
Monthly price
Upfront price
Contract term
Full Fibre Max Gigabit + Apple TV 4K
89
900Mb average
£64
Free
24 months
Offer: Apple TV 4K with BT Sport Ultimate for EE pay monthly mobile customers only + 12 month free Xbox Game Pass Ultimate for EE pay monthly mobile customers + 10% off for EE pay monthly mobile customers + 20GB extra data for EE pay monthly mobile customers + Free setup
The Apple TV deal comes with 4K set-top box that allows customers to stream content in UHD - as long as they have a compatible TV. If not, the box will stream in SD and HD.
One of the main attractions of taking the Apple TV plan is the fact they include the BT Sport Ultimate app as standard. This allows customers to watch certain fixtures in UHD through the Apple TV 4K box.
EE customers also receive a three-month subscription to Apple TV+ featuring on-demand shows and original series. If a customer wishes to continue the Apple TV+ subscription after the free period, it will be £4.99 per month.
The Apple TV box can access hundreds of apps, allowing customers to centralise their streaming services into one location. Popular apps include:
Apple TV 4K can act as a central hub for home entertainment, although any apps that require subscriptions will need to be paid for separately before they will work.
Ultimately, the extra costs of taking EE Fibre Max Gigabit with Apple TV will make sense for some households but not for others as we explain in our full review of EE TV.
---
How does EE Fibre Max 900 compare?
Ultrafast broadband deals are offered by many big name providers, with many also operating on the Openreach full fibre network used by EE.
Here is EE Fibre Max 900 in comparison with the top speed packages offered by some of their rivals:
Package
Broadband
Monthly price
Upfront price
Contract term
Pro II Full Fibre 900
910Mb average
£48
Free
24 months
Offer: New Ultra Hub with WiFi 6E + Super WiFi 6E Booster + Automatic 4G Broadband Back-Up
Full Fibre Max Gigabit
900Mb average
£49
Free
24 months
Offer: 12 month free Xbox Game Pass Ultimate for EE pay monthly mobile customers + 10% off for EE pay monthly mobile customers + 20GB extra data for EE pay monthly mobile customers + Free setup
Full Fibre 900
944Mb average
£45.99
Free
12 months
Offer: Money off for 12 months
Full Fibre 900
900Mb average
£57.99
£31.99
24 months
Offer: £50 BT Virtual Reward Card + 12 months Xbox Game Pass Ultimate

(Ends 04/01/2024)
Some of these packages aren't an exact match with Vodafone including a landline, for example, but they illustrate that EE's full fibre pricing is very competitive.
If customers then factor in a 10% discount and a data boost if they're also a mobile customer, EE starts to look like a very good option.
In terms of contract length, though, customers may not want to be tied in for 24 months and may see the 18-month contracts offered by Shell Energy Broadband or Virgin Media as a better bet.
---
How fast is it?
EE Fibre Max Gigabit is the fastest broadband plan available from EE and is among the fastest broadband deals in the UK.
The headline speed is 900Mb (hence the previous name EE Fibre Max 900), so this is the speed EE say can be attained by at least 50% of their customers at peak times.
However, we don't yet have any real-world testing to show how EE's ultrafast broadband performs in customers' homes, so it's tricky to tell whether customers are able to access the promised speeds.
One thing we do know is that BT's full fibre broadband packages using the same Openreach fibre to the premises (FTTP) network perform roughly in line with expectations.
Full fibre broadband technology has several advantages to the fibre to the cabinet (FTTC) broadband we see with superfast connections.
FTTP doesn't lose speed like old copper cables and because it's delivered directly into the home, the fastest speeds possible are being sent straight to the router. It also makes for more reliable broadband too - as we cover below.
So, while we don't have specific information analysing the EE Fibre Max Gigabit package, we know the technology produces faster speeds and that EE must comply with Advertising Standards Authority (ASA) rules on how they advertise the speeds customers can receive.
EE will also provide a minimum guaranteed speed when a customer signs up to the Fibre Max Gigabit package. If a customer's network connection drops below the speed on that guarantee, they may be free to leave without penalty.
One final point on download speeds: in line with other providers, EE only promise their 900Mb average speeds over a fixed (Ethernet) connection. The limitations of wi-fi means those high speeds can only be attained by plugging a device directly into the router.
Upload speeds
The advertised upload speed for the EE Fibre Max 900 package is 110Mb.
This is much higher than we see with FTTC packages but it isn't the same as the symmetrical upload speeds we seen with some other full fibre packages from the likes of Hyperoptic and Community Fibre.
Here are EE's average download and upload speeds compared with similar packages:
| Provider and package | Download speed | Upload speed |
| --- | --- | --- |
| EE Fibre Max Gigabit | 900Mb | 110Mb |
| BT Full Fibre 900 | 900Mb | 110Mb |
| Virgin Media Gig1 | 1130Mb | 52Mb |
| Hyperoptic | 900Mb | 900Mb |
| Community Fibre | 900Mb | 900Mb |
Along with other providers on the Openreach FTTP network, EE only provide average upload speeds of around 110Mb on their fastest package, although this is still double the upload speeds available on Virgin's Gig1 plan.
In reality, upload speeds of 110Mb are going to be more than sufficient for a busy household, yet it's worth knowing that other providers do things differently.
Reliability
The reliability of the full fibre technology EE use on their Max Gigabit plan is much better than the part-fibre connections most of us have been used to.
As we've already mentioned, the connection on EE Fibre Max Gigabit is fibre all the way into the home, so the speeds are kept high throughout. In addition, the latency, jitter and the number of daily disconnections are all much lower on FTTP connections.
Latency is the time it takes for an action to be completed when, for example, a user clicks on a link or starts to stream a song while jitter is the amount of inconsistency on the line or the amount of latency fluctuation. These are both measured in milliseconds (ms).
Meanwhile, the daily disconnection figure gathered by Ofcom looks at how many disconnections customers experience of longer than 30 seconds per day.
Again, we don't have figures for the EE Fibre Max Gigabit package itself but we can look at the differences between FTTC and FTTP packages offered by parent company BT to understand how the full technology improves on older part-fibre connections.
| Provider and package | Average latency (ms) | Average jitter (ms) | Daily disconnections |
| --- | --- | --- | --- |
| BT 50Mb FTTC | 11.66 | 0.21 | 0.06 |
| BT 67Mb FTTC | 9.46 | 0.29 | 0.06 |
| BT 145Mb FTTP | 6.94 | 0.07 | 0.03 |
| BT 300Mb FTTP | 6.36 | 0.07 | 0.00 |
As the table shows, the latency, jitter and disconnection rates of full fibre connections from BT are lower than on the part-fibre connections, suggesting EE customers will experience a similar uptick in reliability when they switch to EE Fibre Max Gigabit.
---
Router
EE Fibre Max 900 comes with the EE Smart Hub. This is EE's most advanced router to date and matches the technology found in the BT Smart Hub unveiled a few years earlier.
These are some of the specs for the EE Smart Hub:
| Feature | EE Smart Hub |
| --- | --- |
| Dual band | Yes (2.4GHz and 5GHz) |
| WiFi standard | Wi-Fi 5 |
| Ethernet | 4 x Gigabit Ethernet ports |
| Other ports | 1x RJ11 broadband port and 1 USB 2.0 port |
| Other features | WPS PBC, auto-channel selection, autosensing |
Overall, the EE Smart Hub is a very capable router that offers many of the features seen in the best routers offered by UK ISPs.
It's also worth highlighting the four Ethernet ports for wired connections - these are the only way to get close to the top speeds offered by EE on a single device.
Smart WiFi
EE Fibre Max broadband customers can also add Smart WiFi to their package.
This is a wi-fi boosting system that helps to eliminate wi-fi blackspots around the home through the use of wi-fi discs and it also includes 4G back-up in case the home broadband connection goes down.
EE Smart WiFi costs £10 per month and we look at it in more detail in our guide to broadband speed guarantees and booster systems.
However, it's worth noting that Smart WiFi doesn't come with an option to leave a contract or give a threshold that household speeds must meet - so, it's not a financial guarantee in that sense.
---
Customer service
EE has one of the best customer service records in the broadband sector, so customers signing up to Fibre Max 900 will get market-leading customer service.
Complaints figures published in November 2021 show EE registered only 4 complaints per 100,000 customers in Q2 2021, much lower than the industry average of 12. They registered the same figure in the following set of results too.
Other metrics in Ofcom's annual customer service report covering 2020 also demonstrate how good EE's customer service record is:
82% of their customers were satisfied with customer service overall
78% were satisfied were the speed of service
EE answered the phone faster than any other provider (1 minute 15 seconds) and they had the lowest rate of abandoned calls (5.1%)
Their record isn't perfect and they had higher than average levels of customers who had a reason to complain, plus they were middle of the pack for satisfaction with complaints handling.
However, EE is one of the top choices when it comes to broadband customer service with consistently low levels of complaints.
---
Availability
Perhaps one of the main problems with EE Fibre Max 900 is that it is only available to around six and a half million premises so far.
We've already mentioned that the package runs on the Openreach FTTP network. This is being gradually rolled out across the country but at present it only reaches 6.44 million homes and businesses according to Openreach's last official update.
That means many customers who might like the look of EE Fibre Max 900 won't be able to get it just yet in the same way that customers who like Virgin's fastest Gig1 package may be frustrated that their services are limited to 15.5 million homes.
The good news for fans of EE full fibre is that Openreach is planning to rapidly expand the network to 25 million homes and businesses by the end of 2026 and they're bringing services to hundreds of thousands more premises every month.
It might not be immediate, but many more customers will be able to sign up to EE Fibre Max 900 in the future.
In the meantime, here are a couple of snapshots of Openreach FTTP coverage at the time of writing.
This focuses on the deployment in the South of England, demonstrating how much the technology has expanded so far: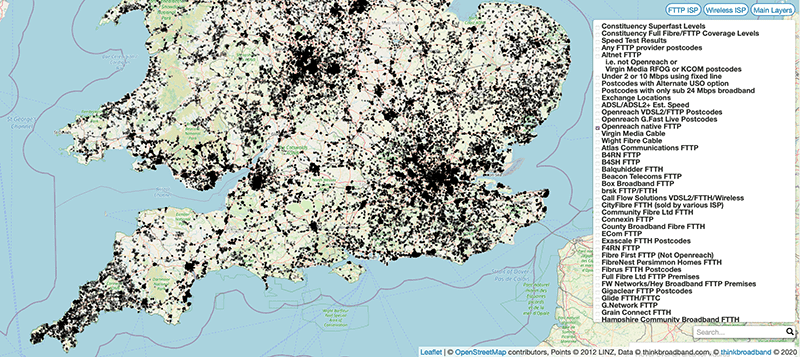 Meanwhile, a snapshot of the area above the Midlands and into Scotland shows deployment focused on major cities and towns: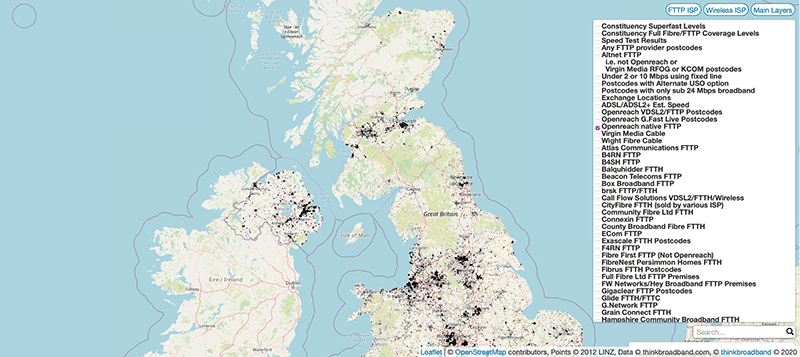 This means those in more rural areas may be waiting for a while yet before they can access EE Fibre 900.
---
Verdict: Is EE Fibre Max 900 worth it?
EE Fibre Max Gigabit (or EE Fibre Max 900 as it's sometimes known) is the best broadband available with EE and it comes with a hefty price tag too, especially if customers want to add Apple TV into the mix.
Yet the 10% discount for EE mobile customers and a 20GB data boost to their mobile are both excellent perks that add value for customers if they take broadband alongside mobile services and that may be a deciding factor for some.
In a straight battle on price, EE is not the cheapest full fibre broadband provider around, but they have other things going for them too, not least their tremendous customer service record.
We like EE Fibre Max Gigabit because:
It offers average download speeds of 900Mb
Reliability of technology is good
There are excellent perks for EE mobile customers
Good router with 4 Ethernet ports
Apple TV 4K can be added
On the other hand, we have some reservations:
Upload speeds are not symmetrical
Availability is limited so far
Adding Apple TV 4K doesn't bring much content
If customers have the option of EE Fibre Max Gigabit, they should look closely at what it offers and decide whether the ultrafast speeds are the right option for their household.
Plus, if the 900Mb speeds are a little too fast for a household's needs, EE offer several other Fibre Max plans with slower broadband for a cheaper monthly fee.
See how EE perform in a head-to-head battle with Virgin Media.