Sky report the lowest level of complaints for broadband, landline, mobile and pay TV for Q2 2022.
Sky have outperformed every major provider in Ofcom's most recent complaints report for the second quarter of 2022.
The provider had the least complaints in broadband, pay TV and landline markets, and was one of four mobile providers to have the fewest complaints, with just one complaint per 100,000 customers.
At the other end of the scale, Shell Energy Broadband performed the worst with the most broadband and landline complaints. While Virgin Media are continuing to show improvements in lowering their broadband complaint levels.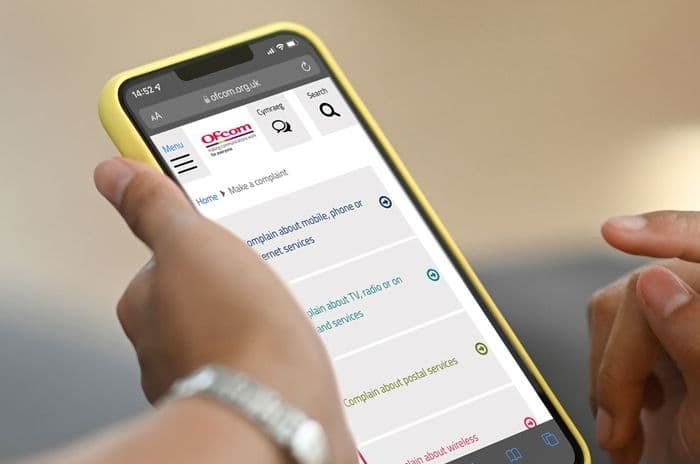 Source: Ofcom
Sky received the least complaints
Sky received just 3 complaints per 100,000 subscribers in the second quarter of 2022, with EE picking up 6 complaints. Both providers beat the industry average of 11 by some margin.
Sky and EE have been receiving some of the lowest complaint figures in Ofcom's reports for several years now, occasionally switching places as to who has the fewest complaints.
In Q1 2022 for example, Sky received 4 complaints per 100,000 customers, while EE had 3 complaints.
It's a trend both providers carry over into their other service markets, consistently receiving the lowest complaint figures for landline and mobile services. Sky also usually have the lowest complaint figures for pay TV as well.
Read more about Sky vs EE in our head-to-head.
BT and NOW Broadband are also continuing to perform well, reporting below the industry average of complaints for broadband, although BT has received higher complaints for their mobile and pay TV services.
Improvements
Both Plusnet and Virgin Media have been showing improvements in their customer service and complaint levels, and this has continued into Q2 2022.
However, neither provider is yet managing to consistently stay beneath the industry average level of complaints.
Virgin Media reported 16 complaints per 100,000 customers in Q2 2022. While they performed better than TalkTalk, Vodafone, and Shell Energy Broadband, they still reported more complaints than the industry average of 11.
Virgin Media have been struggling with their complaint levels as recently as Q1 2021, yet they also took action to begin improving their service levels, with a spokesperson at the time telling us they had hired an additional 500 care agents and had already reduced their complaints by 70%.
As a result of these improvements, Virgin's complaints did drop, and by Q2 2021, they reported just 15 complaints, less than half of the 33 complaints registered in the previous quarter.
Since then, complaints have been steadily decreasing for Virgin Media, although while they did see a minor increase at the start of 2022, this seems to be coming back down again.
Plusnet performed better than Virgin Media with just 12 broadband complaints in Q2 2022, yet they didn't quite manage to do as well as they have in the past. At the end of 2021, Plusnet registered just 8 complaints per 100,000 customers, which bought them below the industry average of 9 at the time.
Even despite the slight increase however, Plusnet are managing to stay at least broadly in line with the industry average on complaints, which is a solid achievement of their recovery from a billing system issue in 2018 that saw complaints sky rocket to 43 per 100,000 customers.
Shell Energy Broadband: a cause for concern?
Shell Energy Broadband had the highest number of complaints in Ofcom's Q2 2022 report, registering 31 complaints per 100,000 customers, considerably more than the second worst provider Vodafone with 18 complaints.
The previous Q1 2022 wasn't much better for Shell Energy Broadband either, which saw them receive 22 complaints per 100,000 customers, compared to the industry average of 10 for that period.
Shell Energy Broadband are a relatively new provider, while they launched in 2016, they didn't become big enough to be featured in Ofcom's reports until after they completed the purchase of the Post Office broadband in March 2021. Ofcom only reports on providers with at least a 1.5% market share, and the acquisition of the Post Office customers boosted their subscriber numbers by at least 450,000.
Since featuring in Ofcom's reports, Shell Energy Broadband's complaints have steadily been increasing however, rising from 13 in Q2 2021, to 17 in Q3 2021, and then 22 in Q1 2021, and 31 in Q2 2022. It's difficult to say then, that the complaints are entirely due to the acquisition as you would expect this to steady out over time, rather than continue to increase.
Ofcom's latest complaints report indicates complaints to Shell Energy Broadband are being driven primarily by poor complaints handling. This indicates it could be their customer call centre where most improvement is needed.
We approached Shell Energy Broadband for comment, and a spokesperson told us:
"Our position in the table is not where we want to be, and we are closely reviewing all the cases that went to Ofcom to learn the lessons and identify the areas for greater improvement.
"We are investing heavily in our customer service and complaint processes, as we strive to deliver the best possible outcome for every customer.
"We are committed to offering great customer support, and we have over half a million very happy customers using our broadband and landline services every day."
As we've seen from Plusnet and Virgin Media, broadband providers do take high complaint levels seriously, and are often keen to make improvements where they can.