Popular UK TV, phone and broadband provider, BT, have alerted Choose to some excellent new deals on their broadband and pay TV packages.
Their offers, running until close of business tomorrow (18th October), offer discounts on subscription costs, as well as customer cashback of up to £100. Cashback is paid by way of a prepaid reward card, accepted anywhere that Mastercard is a valid form of payment.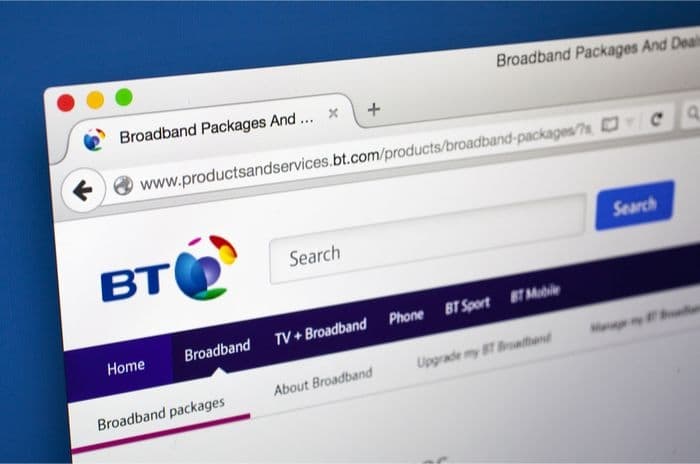 BT's new broadband offers
These exclusive offers for customers of Chose present significant savings over the direct price, along with tempting cashback offers on top.
The best deals to be had are most definitely on the Superfast Fibre and Superfast Fibre 2 packages. Monthly costs are reduced by £6 - £7 respectively, with cashback of £90 - £100 on offer too.
Superfast Fibre brings customers a connection speed averaging 50Mb, ideal for streaming and watching catch up TV. Monthly usage is unlimited and phone calls are also unlimited to UK numbers at the weekend.
Included in the package are BT Virus Protect for two devices, parental controls and 200GB of cloud storage.
Superfast Fibre 2 has a slightly higher average speed at 67Mb. Monthly usage and weekend calls are also unlimited, but BT Virus Protect is available on 15 devices. Cloud storage is also expanded to 1000GB, making this a great choice for gaming and HD watching on multiple devices.
The full details of all the packages and offers are:
Package
Broadband
Contract term
Upfront price
Monthly price
BT Reward Card
BT Superfast Fibre Essential
36Mb average
Unlimited
18 months
£29.99
£28.99
for 18 mths,
then £44.49
£70
BT Superfast Fibre
50Mb average
Unlimited
18 months
£19.99
£29.99
for 18 mths,
then £52.49
£90
BT Superfast Fibre 2
67Mb average
Unlimited
18 months
£14.99
£39.99
for 18 mths,
then £58.99
£100
For those looking for a low cost offer, Superfast Fibre Essential is a solid choice. With monthly cost £1 lower than published prices plus a £70 reward card, customers can expect an average of 36Mb from this value package.
All packages are subject to a £9.99 charge for postage and packing of the broadband equipment, which is included in the upfront price listed above.
BT's new TV offers
For customers looking for the full service from BT, their bundled deals of broadband and TV provide great value too. As well as reducing the price of these packages for everyone, customers buying BT through Choose can access valuable cashback deals when signing up to a package.
The starter package with BT Sport and Superfast fibre is an ideal choice for those not too concerned with accessing lots of premium channels. Featuring every Freeview channel, plus BT Sport for live sporting action, the package costs £35.99 a month and comes with £90 cashback.
For access to more TV channels, the Entertainment bundle offers BT Sport, all Freeview channels plus up to 20 premium channels including AMC, National Geographic and E!. New customers can get £90 cashback with this bundle, plus a YouView+ box, which includes Amazon Prime.
For the ultimate TV package, the Max 4K bundle provides BT Sport, 10 kids channels and up to 62 extra premium channels. The YouView+ box is included as are HD channels, plus £100 cashback. The service is UHD ready, so as 4K becomes more mainstream this is where the channels will be.
Package
Broadband
Contract term
Upfront price
Monthly price
BT Reward Card
BT Starter + Sport with Superfast Fibre
18 months
£69.99
£35.99
for 18 mths,
then £58.49
£90
Act now for reward card benefits
The offer for up to £100 reward card cashback is only available until close of business on the 18th October 2018. Customers will need to sign up as soon as possible to ensure they secure these deals.
Customers are reminded to compare offers not only between packages from BT, but also from other providers, to ensure they are getting a deal which is right for their needs.
As well as these limited time offers, customers can enjoy ongoing offers aimed at students and home movers. The Home Mover offer gives customers the first month free, with no setup costs and a £90 cashback card.
For students, the ongoing offer is for a shorter broadband package of just nine months to fit in with term dates, plus access to millions of BT hotspots and the BT Sport app for £35 - £40 a month.