A group of BT's rivals have called yet again for Openreach to be completely separated from BT, in an open letter to Ofcom.
They say that removing the infrastructure division from BT to operate independently needn't be as disruptive as Ofcom fear, and have put together a 10-point plan to show how simple it could be.
Sky, TalkTalk and Vodafone are the most recognisable names behind the 10-point plan "for a better Openreach" outlined in the letter, and which hinges on making the subsidiary completely independent of BT.
They're supported by the Independent Networks Cooperative Association (INCA) and the Federation of Communication Services (FCS).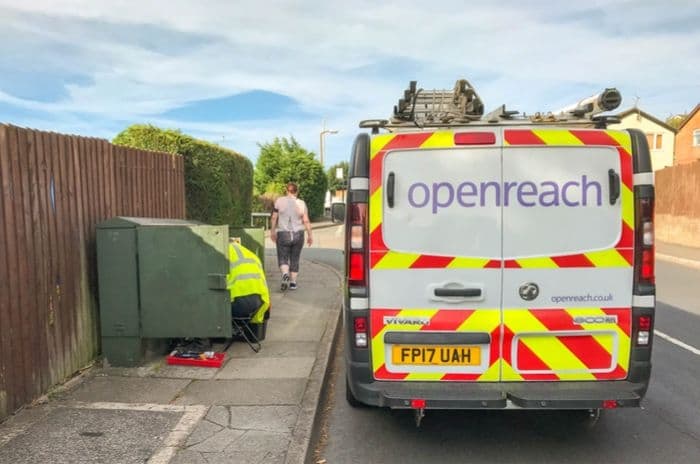 Credit: Ceri Breeze/Shutterstock.com
Who?
INCA is a group of organisations working to "promote, build and support the creation of next generation broadband networks throughout the UK".
Among their members are Sky, TalkTalk, Vodafone, Hyperoptic, and CityFibre, as well as several local authorities and local and regional broadband scheme operators.
The FCS, meanwhile, represent the business to business side of the voice and data communications industry - making sure the companies we rely on every day have the ability to communicate effectively.
Collectively, they agree with Ofcom's assessment, published in February's Digital Communications Review (more here) that "continuing the status quo is not an option".
Ofcom recognised in that review that while Openreach are supposed to be operationally distinct from BT Consumer (the part that sells broadband and phone services to us), there's not enough of a distinction to prevent "BT's ability to discriminate against competitors".
Even so, they held back from ordering that the two be split, saying that it would cause considerable disruption. Instead they chose to strengthen the model of "functional separation" that already exists.
Under their proposals, Openreach would become much more independent across the board, while remaining a part of the wider BT Group; only if that plan fails will they look at splitting the infrastructure division from the parent company all together.
Nothing dramatic
But in their open letter [pdf] to Ofcom, the "industry coalition" say that separation can be managed "quickly and cost effectively", without any "controversial or drastic" measures.
Six of the 10 points in the plan [pdf] to improve Openreach are about giving the division full independence.
Number one on the list is that Openreach should be made a legally separate company; points two and three call for the resulting company to have their own independent board, and for the creation of another independent body in order to oversee the split.
As a result, the group say, Openreach should gain full control of their assets and be able to operate with complete financial independence.
Once they've been made fully independent of BT, Openreach should then be made to consult with all of their customers on their future plans, and provide all their services to all their customers on the same basis.
Future proofing
Sky have been particularly vocal about their issues with how Openreach operate on these two points in recent years.
Last year the broadcaster submitted a dossier to Ofcom outlining their issues with the speed and level of service they received from Openreach, citing tens of thousands of installation appointments being changed every month, with thousands more missed all together or not completed.
More recently they've been scathing of BT's decision to use G.fast as the means of expanding ultrafast broadband nationwide, rather than using fibre to the premises.
Despite the UK's FTTP market growing by some 26,000 customers last year, fibre to the home/building subscriptions account for less than 1% of home broadband connections.
As that's the threshold for inclusion in the Fibre to the Home Council Europe's rankings, we don't even make it onto the chart - below Croatia, Germany and Poland, and way outranked by the likes of Sweden, Latvia and Lithuania, who all boast FTTH/FTTB subscriptions in more than 35% of households.
Our notable absence from those rankings may seem somewhat embarrassing, but BT have support from Ed Vaizey at least when it comes to their chosen method to deploy ultrafast broadband.
When speaking to the Commons Select Committee on superfast broadband coverage last month, the minister for the digital economy said we had to be "realistic" about the "potentially very expensive" cost of rolling out FTTP.
It may be future proof, he said, but "in five year's time it could be half the price" - and in the meantime he sees G.fast as allowing the UK to "use existing assets in a cost effective way".
More competitive
That brings us back to one of the other reasons Openreach should be divorced from BT, the coalition say.
If Openreach were truly independent, then BT Consumer would be more independent too, getting the chance to look at buying services from other network providers.
The coalition believe that if BT Consumer had a choice of providers, then they, like the rest of us, would be inclined to shop around for the best deal - which would force Openreach to be truly competitive, and to invest in and improve their service.
This, however, is tempered by the need for Openreach not to outcompete the existing alternative players - like the smaller FTTP networks built by INCA's members.
BT won all the contracts for the first phase of the superfast broadband rollout - which effectively means that Openreach have a foot in the door in many of the less commercially viable parts of the country already.
But where newer bids have gone to other providers, Openreach will need to show "sufficient commercial rationale" before they're allowed to overbuild with their own infrastructure.
If, however, that occasionally led to a situation where people found themselves with access to a couple or more genuinely competitive, truly fast broadband services, that might not be such a bad thing.