BT set to bring 500Mb broadband to homes
BT plans to roll out up to 500Mb ultrafast broadband to 'most' of the UK by 2025, pending a large-scale pilot this year.
The new technologies, fibre to the distribution point (FTTdp) and 'G.fast' copper wiring, are capable of speeds up to 800Mb under testing conditions.
Making use of the existing telephone network, BT will roll out the service nationwide, delivering real world speeds of up to 500Mb.
BT's CEO Gavin Patterson said deployment should start in 2016/17 subject to a successful pilot, and he expects it to be nationwide "within a decade".
[G.Fast] will transform the UK broadband landscape from superfast to ultrafast in the quickest possible timeframe.
Gavin Patterson, BT CEO
The service should offer speeds of a few hundred Mb by 2020, which will increase to 500Mb as infrastructure is improved.
The pilot will begin in summer 2015, initially offering the ultrafast broadband to 4,000 homes and businesses in Huntingdon, Cambridgeshire and Gosforth, Newcastle.
In the wake of the BT announcement, Virgin has pledged £3 billion worth of investment into its existing network, to bring 152Mb broadband to 4 million more homes and businesses.
Ultrafast vs superfast
The main difference between this new ultrafast broadband and BT's current superfast broadband technology, Fibre To The Cabinet (FTTC), is the design of the copper wiring.
The shorter copper wire needed for FTTdp is a big help because the longer the wire, the slower the connection speed. By attaching FTTdp equipment to telegraph poles and junction boxes, BT can get fibre a bit closer to homes than with FTTC.
Secondly the newer G.fast technology used to make the copper wiring maximises data capacity over the wire, resulting in a faster connection.
BT's been testing FTTdp in field trials and at a dedicated broadband research lab in Ipswich.
In initial field trials, BT achieved download speeds of 800Mb and upload speeds of 200Mb over a 19-metre length of G.fast copper wiring.
BT expects 80% of houses to be around 66 metres from distribution points. Over this distance it was still possible to achieve speeds of up to 700Mb down and 200Mb up.
Fibre to the premises
Fibre to the premises (FTTP) is seen as the next step in achieving the fastest broadband speeds. FTTP involves rolling out fibre optic cable right up to homes without the need for the copper wiring used with FTTC and FTTdp.
But BT is eager to make the most of its current infrastructure and to save money, therefore opting instead to use G.fast.
While much of the infrastructure is already in place BT will still need to invest in distributing FTTdp.
Additionally, once the basic framework is installed on UK streets, the broadband has the potential to be self-installed - an option that is likely to be explored during the pilot.
Good take-up
70-75% of households are in areas served by superfast - 30Mb - broadband. There are now 9 superfast connections per 100 people and average download speeds in the UK are now 23Mb.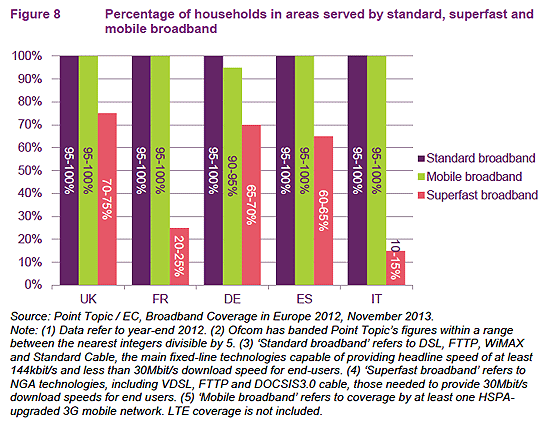 SOURCE: Ofcom, The European Broadband Scorecard, March 2014.
Ofcom said this high rate of take up is in part due to people automatically switched onto faster broadband by Virgin Media.
However, take-up of superfast broadband has increased overall as availability increased - suggesting there should be good take-up of BT's new ultrafast broadband should it become readily available.
Ultrafast for some
At present, 15% of buildings only have access to speeds of 10Mb or lower and only 22% of rural areas can access speeds greater than 30Mb.
The latest announcement from BT combined with a recent pledge to increase speeds in areas that are poorly served (see here for more detail) will be welcome news to many.
Even more so considering BT was the sole winner of the contracts for the BDUK programme.
Virgin Media is taking a similar stance, announcing last week its plan to increase accessibility to its own ultrafast broadband - although they'll be concentrating on filling in 'gaps' to their network rather than bringing access to new areas.
Virgin Media CEO, Tom Mockeridge said, "In virtually all of the areas we have identified for expansion, BT is the only option available right now."
As yet neither company has given firm plans for FTTP, however Patterson hinted at BT's plan to develop a "premium fibre broadband" service with speeds up to 1000Mb.
Cost unknown
BT has yet to mention how much the ultrafast broadband will cost, and Ofcom has no immediate plans to regulate pricing.
Clearly pricing controls are a sensitive issue though. Patterson made that clear in his comments that upgrading their network to G.Fast "will depend however on there continuing to be a stable regulatory environment that supports investment."
Luckily for them then, at this stage, Ofcom sees pricing regulation as unnecessary, worrying about not wanting to discourage BT from testing it out. They also believe BT will be pressured to keep prices low due to competition from Virgin.
13 October 2017
11 October 2017
10 October 2017
Follow us or subscribe for FREE updates and special offers