SOME 3% of buildings in the UK still don't have access to a "basic" broadband connection of 2Mb, according to Ofcom.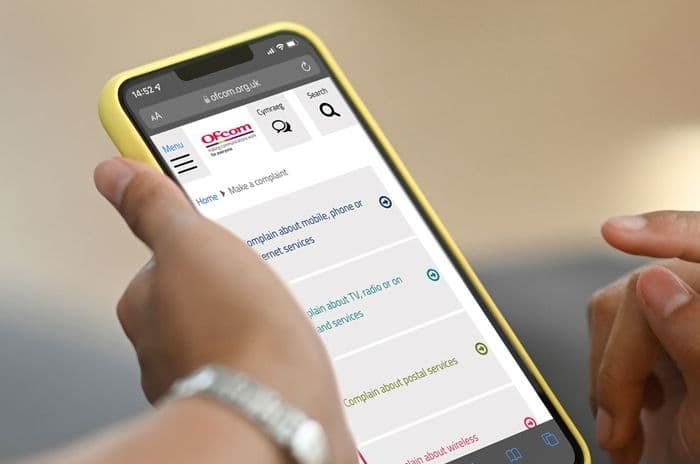 Source: Ofcom
And as many as 15% can't receive more than 10Mb, which the watchdog says is the minimum necessary download speed for a typical family.
Average download speeds across the whole of the UK have reached 23Mb, with superfast broadband of at least 30Mb available to 75% of premises.
But rural areas are still missing out. Just 22% have access to superfast broadband, and the average connection speed in rural parts of the UK is less than 10Mb.
Super-slow to ultrafast
The Government wants basic broadband of 2Mb to reach 100% coverage by 2016, and superfast broadband available to 95% by 2017.
To this end, a publicly funded roll-out is bringing speeds of 30Mb and above to roughly 40,000 new buildings each week - many of them in areas commercial providers aren't likely to reach.
Despite the push by both Government and providers, so far take-up of superfast broadband is at just 21%.
There's also a mammoth discrepancy between the top and bottom broadband speeds noted by the report - some premises were cruising on 350Mb while others receive just 0.1Mb.
Part of this is because of the limitations of using cables and wires to provide services. If the length of the connection from property to the nearest cable junction - a cabinet on the street, in most places - is too long, connection speeds suffer.
This is usually the issue with rural services.
But several urban areas, including parts of central London, have poor connection speeds as well - generally as a result of a lack of street cabinet to upgrade, or a direct connection between the customer's property and the telephone exchange.
ISPs and the Government are working together to look at ways of getting the fibre component of the connection closer to individual properties when there isn't a cabinet to connect to.
Not-spot to hotspot
In addition, the technology used to deliver superfast broadband is technically capable of delivering speeds of up to 1000Mb - or 1Gb - known as "ultrafast" broadband.
There are some steps towards this already, notably in York and Hull, where all-fibre networks, also known as "fibre to the premises" (FTTP) connections are being trialled.
FTTP is just one of a few options available for ultrafast's eventual roll-out - but with the existing technology there are issues around cost and "shared use" of the connection limiting speeds.
Meanwhile Ofcom says it wants to see the "basic broadband" requirement increased to 10Mb, in line with what it says is needed to support a typical household's internet activities.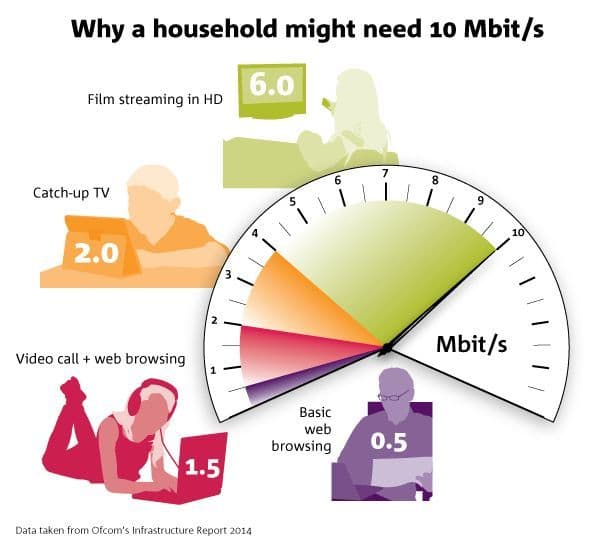 SOURCE: Ofcom Infrastructure Report 2014
Data hungry
The average household downloads around 53GB of data a month over its fixed broadband line - equivalent to streaming 35 movies, and an increase of 77% on downloads in 2013.
It's not just streaming movies and TV over services like Netflix and Now TV; games consoles with data-hungry download requirements have also played a part in the increase.
But with the arrival of Netflix on YouView for TalkTalk and BT customers, it's likely that even more people are going to be downloading even more data in 2015.
While many ISPs offer unlimited broadband, a number of them still make use of traffic management policies.
It'll be interesting to see which services they prioritise, and which they throttle back, in order to cope with the growing demand - or whether "unspoken" limits, like the 100GB limit Primus used to operate, come back.
Meanwhile we're uploading an average of 7GB of data a month - the equivalent of 3,500 digital photos per household - at an average speed of 3Mb, compared to the 23Mb average download speed.
Over superfast broadband, the average upload speed is 8Mb, compared to an average download speed of 56Mb.
Mobile phones
In addition, the report reveals that 27% of homes don't have a fixed broadband connection of any kind, while 16% of households have no fixed line any more.
Ofcom allow that a good proportion of the households that don't have a fixed broadband connection will be accessing the internet some other way - for example using their 3G and 4G mobile and tablet connections.
But Ofcom estimate that, going by outdoor coverage, 16% of UK premises have either no 3G coverage from any major mobile network operator (MNO), or coverage from just a few operators - and going inside to use the phone ups that figure to 29%.
At present, 4G is lacking or missing for 65% of premises based on outdoor coverage, while only 30% have full 4G indoor coverage. But Ofcom is optimistic these figures will improve, saying that 4G will quickly overtake 3G.
In part this is because O2's 4G licence states they must provide at least 98% indoor coverage by the start of 2018, and the other operators have said publicly they will match this coverage target.
In the meantime, mobile data usage is continuing to grow steadily. It rose by 53% between 2013 and 2014, with web browsing making up 42% of that traffic and video streaming accounting for a further 39%.
That said, mobile data use is still way lower than fixed broadband data use, with people using an average of 0.5GB of data a month on their handsets.
Ofcom say there's plenty of scope for growth in mobile broadband - but the high cost per month for services that include relatively small amounts of data, and high out-of-bundle charges may stifle that growth for a while.