British Gas have more renewable energy in their fuel mix, while EDF are focused on nuclear power and zero-carbon electricity.
On price, EDF is the cheaper, and their service is made more economical by lower exit fees than British Gas demand of customers.
Overall, EDF come out on top thanks to their cheaper prices and good customer service record.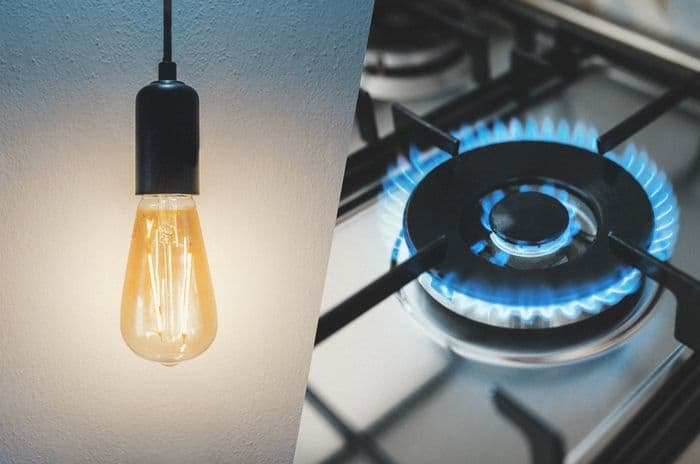 Credit: ALDECA studio/Shutterstock.com
---
At a glance
| | British Gas | EDF Energy |
| --- | --- | --- |
| Exit fees | £40 per fuel | From £0 |
| Cheapest fixed tariff | HomeEnergy Secure | Energy Direct |
| Variable tariff | Standard Variable | Standard (variable) |
| EV tariff | Yes | Yes |
| Electricity source | 100% renewable on some tariffs | Backed by some zero-carbon generation |
| Our green rating | Moderate | Moderate |
---
Tariffs
Winner: EDF's tariffs come with cheaper exit fees, as well as being cheaper per unit of energy.
British Gas and EDF Energy offer a range of fixed tariffs with prices usually set for two years.
We ran an energy price comparison on the same property using Ofgem's average usage guidelines and got the following quotes:
| Tariff | Monthly estimate | Length | Exit fees | Total |
| --- | --- | --- | --- | --- |
| EDF Energy (Energy Direct) | £90 | 24 months | £35 per fuel | £1,073.85 |
| EDF Energy (Easy Online 2 year fix) | £93 | 24 months | £15 per fuel | £1,105.04 |
| EDF Energy (Total Service 2 year fix) | £96 | 24 months | None | £1,140.07 |
| EDF Energy (Easy Online 3 year fix) | £100 | 36 months | £15 per fuel | £1,182.14 |
| British Gas HomeEnergy Secure | £101.94 | 24 months | £40 per fuel | £1,223.26 |
| British Gas Green Future | £104.94 | 24 months | £40 per fuel | £1,259.26 |
It's immediately clear EDF's tariffs are cheaper than British Gas's, but there are a couple of other things to note too.
Suppliers charge exit fees to customers to dissuade them from leaving a fixed deal, and BT's £80 exit fee (dual fuel) works out at more than 6% of the overall annual bill for the deals in the table above. That's definitely a deterrent to leaving early.
On the other hand, EDF's exit fees vary depending on the tariff, and there's even one option without exit fees. Looking at that tariff closely, customers pay a little extra every month for the privilege of being able to leave without penalty, but that flexibility might be worth it for some.
Learn more about fixed energy plans in our guide.
One final point: most of EDF's plans stipulate online account management only, so they aren't suitable for customers who want access to a call centre. SMS, WhatsApp and webchat are the options for Easy Online and Energy Direct tariffs - if customers want call centre access, they need to choose a different, usually more expensive, tariff.
British Gas and EDF also offer a variable tariff for customers who don't want to commit to a long-term deal:
| Tariff | Monthly estimate | Length | Exit fees | Total |
| --- | --- | --- | --- | --- |
| British Gas Standard Variable | £92.86 | Rolling | None | £1,114.30 |
| EDF Energy Standard (Variable) | £94 | Rolling | None | £1,114.08 |
As the table shows, there's very little difference between the two standard variable tariffs (SVTs) offered by these suppliers.
The price that energy companies can charge per unit of gas and electricity is capped by Ofgem in their bi-annual default price cap reviews.
What we've seen in the past is large suppliers like British Gas and EDF setting their variable rates very close to the price cap - this trend doesn't look set to change, so customers looking for variable tariffs may want to look elsewhere instead.
Other tariffs
The basic fixed tariffs we've discussed above are joined by more specialist options customers may want to consider.
For example, the Complete Protection tariff from British Gas includes Home Services Cover at no extra cost for the first year (there's more detail on this service later):
| Tariff | Monthly estimate | Length | Exit fees | Total |
| --- | --- | --- | --- | --- |
| British Gas Complete Protection | £101.96 | 24 months | £40 per fuel | £1,223.56 |
Meanwhile, EDF have their own version of boiler protection with BoilerCare and customers can bundle six months of that in with their Easy Online tariff as seen in the table below.
Essentially, these plans from British Gas and EDF are enticements for customers to sign up for longer term boiler cover, but if customers are likely to buy the service anyway, they're certainly worth a look.
EDF also offer a Bright Bundle which includes the following smart technology which has a RRP of £199:
Amazon Echo Show 5
Philips Hue Colour Ambience Lightstrip V4
Philips Hue Bridge
Again, this might be worthwhile if a customer was planning on buying the technology separately, but we'd always advise shopping around on deals like this.
| Tariff | Monthly estimate | Length | Exit fees | Total |
| --- | --- | --- | --- | --- |
| EDF Energy (Easy Online + BoilerCare Gold) | £91 | 24 months | £30 per fuel | £1,082.26 |
| EDF Energy (Easy Online + Bright Bundle) | £97 | 24 months | £50 per fuel | £1,152.20 |
For more details about making a smart home, read this guide.
EV tariffs
Like most energy providers, British Gas and EDF offer electric vehicle tariffs: British Gas have their Electric Drivers plan while EDF offers several GoElectric tariffs.
Electric Drivers gives customers cheaper off-peak electricity between 12am and 5am, costing around 6.25p per kWh.
Meanwhile, EDF has a couple of options:
Go Electric - single-rate tariff for all day fixed costs (from 13p per kWh)
Go Electric 35 - 5 hours of cheaper charging overnight (4.5p per kWh)
Go Electric 98 - half-price electricity on weekday evenings and all weekend (9p per kwh)
In terms of choice, then, EDF have more varied options, plus their cheapest overnight rate is more economical than British Gas's.
Find out more about how to save money on electric vehicle charging.
---
Price
Winner: EDF's tariffs are cheaper than British Gas's.
There's a clear winner on price when we look at the tariffs in the table above: EDF Energy.
It's true EDF's tariffs are cheaper, whether customers are looking at residential tariffs or considering an EV tariff.
Yet there are other factors customers should consider too, namely whether they're happy to manage their account solely online or whether they'd prefer access to a traditional call centre.
It's worth noting neither of these suppliers are the cheapest around. Read our guide to the cheapest energy deals for more information.
---
Fuel mix
Winner: Draw - depends on customer preference between renewables and nuclear.
One area where the two providers are truly different from each other is their respective fuel mixes.
British Gas are pushing hard on renewable electricity while EDF have huge investments in nuclear. This is how their fuel mixes looked in 2020 alongside the UK averages:
| | British Gas | EDF Energy | UK average |
| --- | --- | --- | --- |
| Coal | 0% | 3.5% | 3.9% |
| Gas | 0% | 9.3% | 39.4% |
| Nuclear | 24.0% | 66.6% | 16.6% |
| Renewable | 76.0% | 20.5% | 37.9% |
| Other | 0% | 0.1% | 2.2% |
As we can see, British Gas's electricity now comes from just two sources (nuclear and renewables) while EDF still have a wider mix, albeit with a much larger focus on their specialty of nuclear power.
Yet that doesn't mean British Gas are matching 76% of all customer electricity with renewable energy - customers need to be on specific tariffs to be guaranteed British Gas are matching their energy use with Guarantees of Origin (GoO) or Renewable Energy Guarantees of Origin (REGO) certificates.
HomeEnergy Secure tariffs offer those assurances for 100% of electricity, while the Green Future tariff goes further and offers:
100% of electricity matched with renewables
10% of gas matched with renewables
Carbon offsetting for 90% of gas
Supporting growth of up to 5 trees per fuel for each year a customer is on the tariff
British Gas say this is the greenest a customer can go with them, and it broadly matches the greenest tariffs on offer from some other big-name suppliers.
EDF say all their home energy tariffs are backed by zero-carbon electricity as standard, and they were the largest supplier of zero-carbon electricity to the National Grid in 2019.
For some customers, the choice between British Gas and EDF may be solved by asking whether they want a focus on renewables or nuclear power.
Learn more about green energy plans or find out which green tariffs are the best.
---
Customer service
Winner: EDF beat British Gas on several measures, although their complaint levels are higher.
British Gas and EDF have similar medium-term complaint trends, as the graph below illustrates: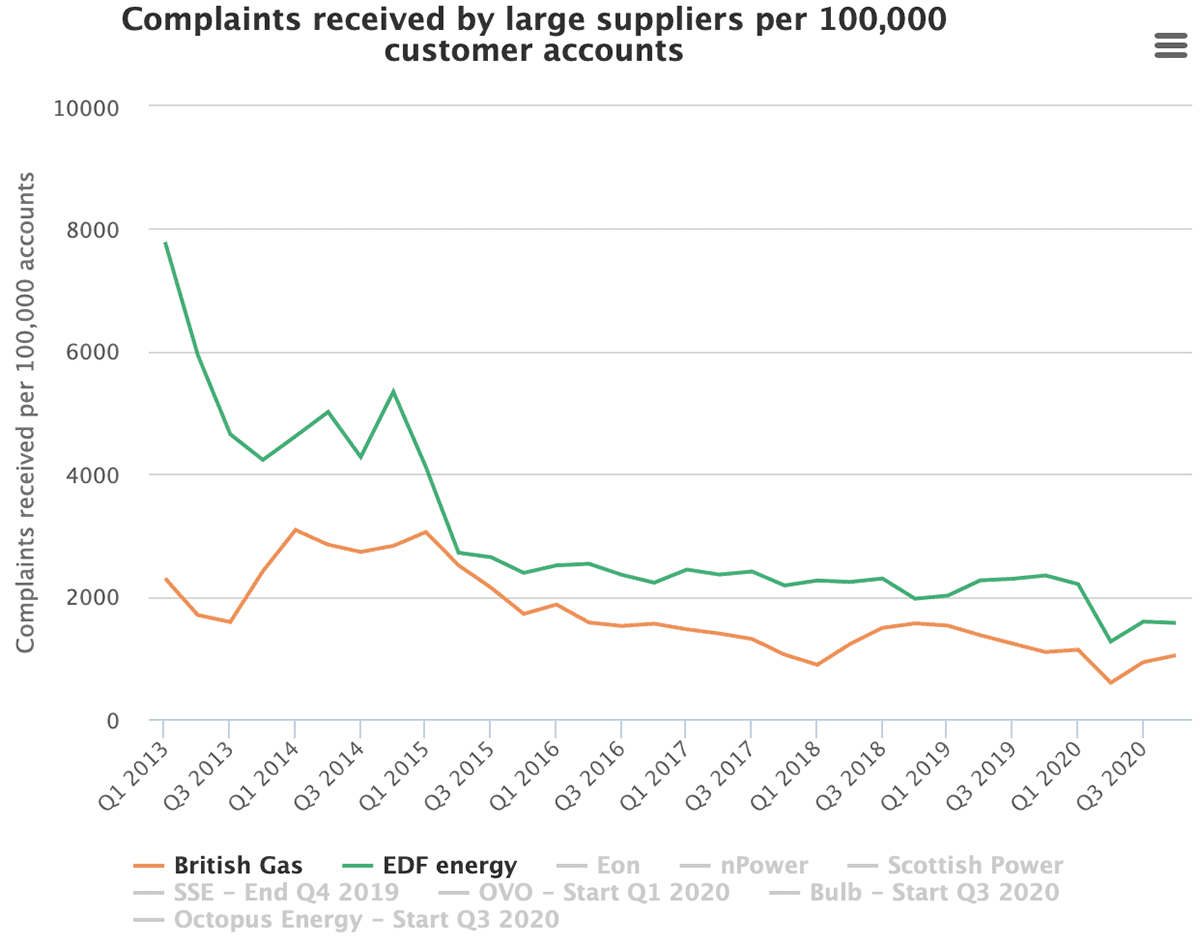 While EDF had much higher complaint levels than British Gas around 2013, they have narrowed that gap and both suppliers have less than 2,000 complaints per 100,000 customers as of Q4 2020.
Even so, British Gas's complaint levels are one of the lowest of the major energy providers, so they beat EDF on this metric.
Another way of checking how suppliers are doing on customer service is to check the quarterly rankings from Citizens Advice. In the table for October to December 2020, EDF ranked 8th while British Gas came in at 15th:
| | British Gas | EDF Energy |
| --- | --- | --- |
| Overall rating (out of 5) | 3.2 | 4 |
| Complaints to third parties | 29.8 per 10,000 | 18.4 per 10,000 |
| Customers who had an accurate bill at least once a year | 90.3% | 98% |
| Emails responded to within 2 days | 85.4% | 100% |
| Average call centre wait time | 8 minutes 34 seconds | 2 minutes 55 seconds |
British Gas have call waiting times almost three times the length of EDF's and their email response rate can't beat EDF's 100% figure.
Using this data, then, it seems EDF customers have a more positive experience.
We can also look at social media sentiment research published by wordnerds in November 2020. This found British Gas to be one of the poorest for net positivity - they came 9th compared to EDF's 3rd.
Further analysis of the reasons that customers were unhappy found British Gas customers were frustrated about HomeCare appointments being repeatedly cancelled (during the coronavirus pandemic) and EDF customers felt the company's WhatsApp service was leaving them feeling ignored.
This is a social media snapshot and so shouldn't be taken out of context, yet a look at Trustpilot reviews shows HomeCare frustrations are a wider trend for British Gas customers, and there are a few complaints about the WhatsApp text service on EDF.
As the largest energy supplier in the UK, British Gas have had plenty of run-ins with Ofgem over the years, including their £2.65m redress payment in mid-2018 following a litany of customer service errors.
More recently, they paid almost £1.5m in compensation to pre-payment customers in 2020 after their switch to a new top-up provider around the New Year left customers unable to top-up. The problem was exacerbated by the call centre being closed on the day the changes went live.
Both British Gas and EDF were publicly rebuked by Ofgem for failing to protect customers in the process of switching from price rises in March 2021.
Find out more about the best and worst energy providers for customer service.
---
Extras
Winner: British Gas's HomeCare cover is more comprehensive.
British Gas and EDF are two of the biggest energy companies in the UK, so it's no surprise they offer customers extra services.
Let's look at two they have in common: boiler care and smart home products.
Boiler care
As we saw earlier when we discussed tariffs, both suppliers allow customers to sign up to energy tariffs which include some form of boiler care for a limited time.
These products are also available separately.
British Gas's Home Services options come in various shades, with ongoing boiler and heating cover just one of the plans on offer. Here's a quick breakdown of their plans with an excess of £60:
| | HomeCare One | HomeCare Two | HomeCare Three | HomeCare Four |
| --- | --- | --- | --- | --- |
| Annual boiler service | Yes | Yes | Yes | Yes |
| Boiler and controls | Yes | Yes | Yes | Yes |
| Central heating | No | Yes | Yes | Yes |
| Plumbing and drains | No | No | Yes | Yes |
| Home electrics | No | No | No | Yes |
| Price | £14 per month | £17 per month | £20.50 per month | £23 per month |
For the highest level of cover, then, British Gas customers would pay £276 per year (or £264 if they're willing to pay annually).
EDF's offer works a little differently, with customers paying each month to essentially lower the call-out charges of their partner Domestic & General and cover the costs of a replacement boiler if required.
BoilerCare Gold includes:
Annual service to maintain heating equipment (not central heating)
Access to EDF's maintenance portal
Ongoing hints and tips
Repairs by Gas Safe engineers if necessary
A replacement boiler worth up to £750 if required (installation costs not included)
BoilerCare Platinum offers the same, but it covers the central heating system as well.
These are the plans on offer:
| Plan | Price per month |
| --- | --- |
| BoilerCare Gold £95 call-out charge | From £7.33 |
| BoilerCare Platinum £95 call-out charge | From £10.33 |
| BoilerCare Gold £50 call-out charge | From £9.62 |
| BoilerCare Platinum £50 call-out charge | From £10.82 |
| BoilerCare Gold no call-out charge | From £13.25 |
| BoilerCare Platinum no call-out charge | From £15.50 |
So, for customers to access free call-outs on their entire heating system, it would cost upwards of £186.
It's worth noting EDF's top level package doesn't come anywhere close to British Gas's but, then, the price isn't anywhere near to that either.
Before taking out cover of this type, we'd always recommend customers check their existing policies with insurers and any warranties they still have. After that, it's still worth shopping around if the cover is needed - bundling services together like this isn't always cheaper, though it may be more convenient.
Smart home
Both British Gas and EDF offer customers the option to purchase a range of smart home devices via their website. As we saw with EDF's Bright Bundle, these can sometimes be bundled into the cost of an energy tariff.
The smart heating equipment each provider offers differs though: British Gas have a partnership with Hive while EDF sell equipment from Google Nest and tado.
Neither of these systems is inherently better, and other smart home equipment sold by the two suppliers similarly have positives and negatives about them. However, knowing which supplier favours integration with which equipment can be useful.
There's more information about the best smart thermostats here. We've also got dedicated guides to two thermostats sold by EDF: the Nest Learning Thermostat and the tado Smart Thermostat V3+.
---
Verdict: which energy supplier is the best?
Overall winner: EDF Energy offer cheaper tariffs than British Gas with lower exit fees.
British Gas and EDF are big names in UK energy, even if the market share of both has been slipping in recent years. They remain part of the Big Five in terms of energy, and they can offer premium services alongside their energy deals in the form of boiler maintenance plans and smart technology.
Neither are exactly cheap, but EDF generally has the edge on British Gas where price are concerned. We also prefer them for a couple of other reasons:
They have a 3-year fix which is rare
Their EV tariffs are highly competitive
Their customer service ratings are better than British Gas's
On the other hand, some customers will certainly be put off by the fact they're unable to pick up the phone and talk to an advisor on some tariffs, and others may prefer to sign up with a supplier focused on renewable energy rather than nuclear power.
However, EDF Energy get our final vote here today simply because their tariffs are cheaper and they don't charge customers as much to leave mid-deal.