Customers will need the Ultra HD add-on at £10 per month to access the content in HDR, as well as a Sky Cinema subscription.
Sky also unveiled some new features for their Sky Q box, including the ability to keep watching even if a satellite signal is lost.
Plus, sporting fans will benefit from improvements to the Sky Go app such as video shorts covering some of the major sports.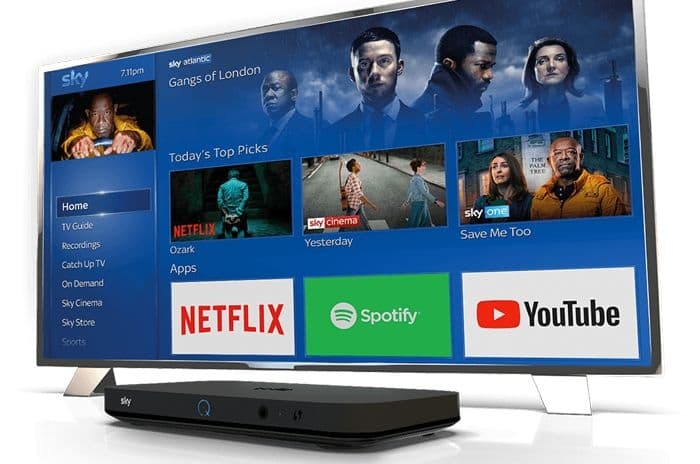 HDR movies
Over 40 movies will be available in HDR over the festive period, including nostalgic favourites like the Harry Potter movies through to new releases.
These will be available to customers from Wednesday 9 December onwards, and customers with a suitable TV can add the Ultra HD pack to their Sky TV deal for £10 per month on a 31-day rolling contract.
Customers taking the Ultra HD add-on also receive HDR access to Netflix through their Sky Q box - this was announced back in October.
A Sky Cinema subscription is also required to access the movie content, costing an extra £11 per month on an 18-month contract for Sky customers who don't already have it.
Sky originals Chernobyl, Tin Star: Liverpool and Gangs of London will also be made available in HDR in December.
Sky Q updates
Several Sky Q updates were also announced by Sky at the same time, most significantly the ability to watch content whether a customer loses their satellite signal or not.
So, recorded content, on demand video and apps will be accessible even if the satellite signal isn't working due to, for example, a bad storm.
Other new features include:
More ways to use voice search to find personalised recommendations
Personalised What's On Now and Next rail on the home page to get to a customer's favourite channels more quickly
Pin for Apps function to help parents manage the apps children are using alongside other parental control options
This drive towards personalisation is something we've also seen from Virgin Media lately - their TV 360 box launched last week emphasises voice control and personalised profiles with recommendations.
A couple of updates to Sky Go were also confirmed:
Video shorts showing latest news, interviews and action across football, F1, golf, cricket and boxing
Access to Sky's red button channels via the Sky Go app, allowing customers to watch more Master's Gold, EFL and Nations League matches
These sports-centric updates complement the introduction of the dedicated NFL channel which launched on Sky Sports in September.
Sky's expansion
This raft of improvements coupled with the addition of more HDR content than ever before shows Sky are eager to compete with their rivals.
As well as introducing Sky Q features to rival Virgin's new 360 box, Sky has officially started competing on the ultrafast broadband stage thanks to their rollout of 145Mb broadband.
They have also made the unexpected decision to begin opening their first stores in the UK, just months after Virgin Media opted to close theirs permanently.
The first Sky Store in Liverpool includes showcase areas for Sky products and a Customer Hub which allows customers to seek assistance from in-store advisors across the range of Sky products.
Sky boasts an excellent customer service record, with the latest complaints figures from Ofcom showing they are the pay TV provider with the fewest complaints as well as being in the top three for broadband and pay monthly mobile complaints.