Although the savings are small at just a few pounds, it means customers don't need to take a working landline with their broadband.
To add a call plan in, however, adds £8 to the monthly bill, giving customers unlimited minutes to landlines and 1500 minutes to mobiles.
EE are the latest company to move to the type of system, although others like Sky use a VoIP solution for home calling instead of cutting the cord entirely.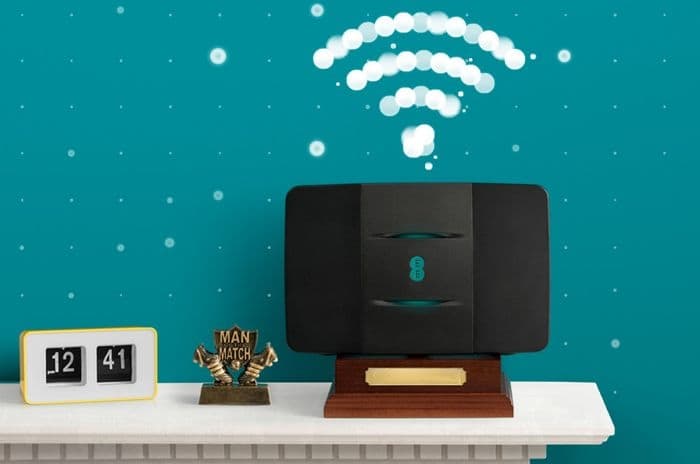 Standalone broadband
All EE fibre packages will be available without a landline - this doesn't yet apply to their standard copper broadband as the technology isn't there.
The prices for EE's broadband without home phone packages are:
Fibre (36Mb) - £26
Fibre Plus (67Mb) - £30
Fibre Max (145Mb) - £46
Fibre Max (300Mb) - £47
All the above packages are on 18-month contracts and EE pay monthly mobile customers can get a 10% discount on their monthly broadband bill.
It's also worth noting EE give data boosts to their pay monthly mobile customers - an extra 5GB of data per month for lower fibre packages and 20GB for the higher tier packages.
Read our review of EE broadband here.
SOGEA technology
The reason EE are able to make this change to their broadband offer is thanks to Single Order Genetic Ethernet Access (SOGEA).
This technology allows broadband providers to deliver a copper line with the voice component removed, although the savings are slim because the same copper line into the home is used, just with a small amount of delivery costs removed.
Some providers like Sky broadband then switch to a Voice over Internet Protocol (VoIP) system which allows customers who want a home phone to use them through the house router - i.e. the calls are made using the digital line.
EE have taken a different approach, deciding to drop the home calls element entirely and allow customers to add it back in for a fee.
This is likely due to their strong pay monthly mobile customer base, many of whom have so many inclusive minutes they don't need the use of a home phone. This is aided, too, by their incentives for pay monthly customers to take broadband services through a 10% discount and monthly data boosts.
Find out more about taking broadband without a home phone and which ISPs offer it.
Broadband battles
Stripping out the home phone makes sense for EE, but it's far from the only way they and other broadband providers are working to attract customers.
EE became the latest provider to offer a broadband boosting solution to improve connectivity around the home in June, mirroring the one offered by their parent company BT since November 2018.
Some ISPs have taken the initiative following the coronavirus outbreak forcing customers to work from home, marketing second home broadband lines. Both BT and Vodafone have launched these in recent months.
Plus, more broadband providers are trying to tempt customers to join by offering some form of TV service alongside their broadband.
EE switched from their ageing TV service to a model based on Apple TV 4K and BT Sport in June 2019, while both Origin and Zen have added Netgem TV services to their broadband offers.
For customers, this can make it difficult to compare broadband deals and find one that's right for them.