If fraudsters get hold of our personal information, they can steal our identities and make purchases or applications for credit in our names.
We can take steps to protect ourselves by keeping our personal details secure and keeping track of our credit record.
For those at risk from identity theft, signing up to the Protective Registration service from Cifas can prevent future attempts at fraud.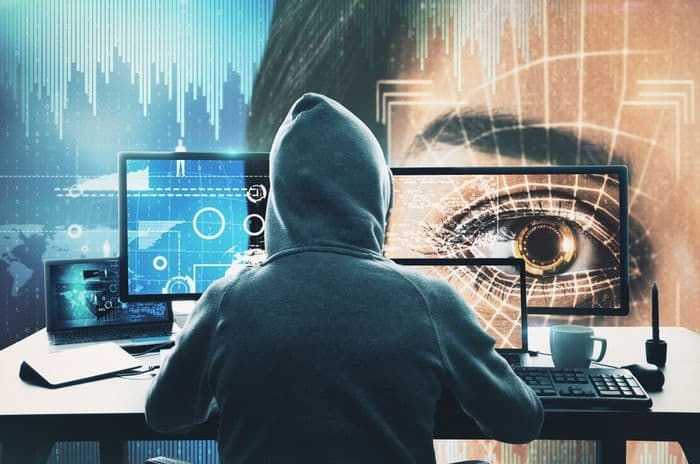 Credit: Who is Danny/Shutterstock.com
---
What is identity theft?
Identity theft, also known as identify fraud or impersonation fraud, occurs when someone uses our personal information for their own financial gain.
There are several common ways that fraudsters use to steal identities:
Physical theft that gives them access to personal possessions and ID
Cold calling (vishing) where they tried to mislead us into giving away our personal information and financial details over the phone
Using software to hack into our computers or taking information from our phones
Scam emails (phishing) where a message appears to be from a trusted company
Scam texts (smishing) where a message appears to be from a trusted company
Data breaches that mean our information is stolen from a provider
These different methods of harvesting our personal information show how versatile scammers can be, so it's important for us to protect our identity as much as possible.
We often see spikes in scams aimed at collecting our data and high-profile warnings about, for example, fake HMRC scams and scam text messages, but fraudsters will always use a variety of ways to access our data and it's important to be vigilant.
Learn more about fraud and how likely it is to happen to you in our dedicated guide.
Why does identity theft matter?
Fraudsters steal identities to give them access to financial products in our name.
Once a scammer has enough data about us, they can use our identity to:
Open new bank accounts or take over existing ones
Obtain credit cards and loans
Order goods or services
Take out contracts on phones or other items
Obtain genuine ID documents
As well as the stress of learning that our identity has been stolen, it can often be time-consuming dealing with the aftermath.
There's more on what to do if you're a victim of identity theft later in this guide.
What are the signs of identity theft?
It's not always immediately clear that our identity has been stolen but there are common signs the Information Commissioner's Office (ICO) warns to watch out for.
These include:
Losing important documents such as passports and driving licences
Mail from our bank or utility provider doesn't arrive
There are items we don't recognise on our bank or credit card statements
Receiving bills or receipts for goods/services we haven't purchased
Applying for benefits but being told we're already claiming
Receiving letters from solicitors or debt collectors for debts we don't recognise
Being refused financial services despite having a good credit rating
If any of these occur, we should take steps to check whether our identities have been stolen or whether it's a genuine mistake.
For example, not receiving bills via post isn't such as red flag anymore considering many of us opt for online billing instead, but receiving letters mentioning goods we haven't purchased should be acted on immediately.
How to avoid identity theft
To protect ourselves against identity fraud, we should be vigilant about sharing our details with other people and be careful about how we dispose of official documents.
Here are some examples of steps we can take to avoid our identities being stolen:
Keep track of personal documentation such as our passport, driving licence, credit card statements or receipts, bank statements and utility bills
Shred or destroy old documents so personal details can't be taken from them
Contact all providers when moving address so nothing is left for the previous tenant and get a mail redirect from Royal Mail
Check the websites we use to shop online are secure before purchasing
Try not to give away too much information about ourselves on social media or elsewhere
On this last point, it's worth reading our guide to protecting personal information when using social media and more generally.
There is one type of identity theft that we can't completely guard ourselves from - data breaches from a company we've used.
We can mitigate against this by only using reputable companies that we trust, but even big names can find themselves dealing with data breaches and hacks as we saw in 2018 with Ticketmaster.
Under those circumstances, we should pay attention to any data warnings from the services we use, like the one Monzo issued in August 2019 when they discovered engineers had access to a place where encrypted PIN numbers had been held.
More often, we'll be alerted to change our passwords on websites that might have been compromised. While it's easy to ignore those warnings, a few minutes of our time could save us stress later on.
It's also worth reading our guides to online scams and telephone fraud to understand the different ways fraudsters can try to get hold of our information.
Protective Registration
Cifas, the UK's fraud prevention agency, operates a service called Protective Registration.
The service costs £25 for two years and is useful for anyone who considers they're at risk from identity theft.
Risk factors include:
Personal documents have been lost or stolen
Being a customer of an organisation that has suffered a data breach
The police have advised there's a risk of identity theft
Protective Registration works by putting a flag against a customer's name, meaning that other organisations will pay attention if the customer's details are used to purchase products or services.
It doesn't cover everyday transactions on debit or credit cards, but it does try to make sure that fraudulent credit isn't taken out in our names.
This may mean we experience delays in getting credit or signing up to new products while extra checks are carried out, but these delays are often worth the increased security if our details have been compromised.
Cifas's service is designed for people who are at heightened risk of losses. To be eligible, applicants must be over 14 years of age and living at a UK address.
More details about Protective Registration from Cifas can be found on their website.
Other identity theft protection
Other companies may offer identity theft insurance policies, however it's debatable how effective they can be and how much they protect us if identity theft occurs.
One big name in identity theft insurance used to be Card Protection Plan (CPP), yet they were put under investigation in 2011 and ordered to pay £14.5 million compensation in 2012.
Several years later, the Financial Conduct Authority (FCA) allowed credit cardholders who were mis-sold policies by CPP to claim for redress.
It's also important to note that identity theft insurance doesn't protect against fraud losses themselves - it covers the cost of repairing the damage in terms of fixing credit reports and taking time off work.
With that in mind, many customers might believe that identity theft insurance is an unnecessary expense and that signing up with Cifas's Protective Registration if they're at risk is a better option.
There are other services that can proactively help us protect our identity such as:
Experian Identity Plus - This service costs £6.99 per month and provides a daily fraud report, enhanced fraud support, web monitoring and Experian fraud alerts.
Equifax Protect - This service costs £7.95 per month and offers web detection and social scan to protect our details and requires a promo code from Equifax to sign up.
These services are likely to be of more value generally as they allow us to proactively monitor our credit report rather than just acting as a limited insurance policy against identity theft.
How common is identity theft?
The Fraudscape 2022 report from Cifas found there were 260,000 cases of identity fraud in 2021, an increase of 22% compared to the year before.
Cases reported to the National Fraud Database (NFD) demonstrated that:
91% of cases occurred via an online channel
24% of victims were over the age of 61
There was a 53% rise in victims aged between 31 and 40 years targeted for asset finance products
People between 51 and 60 are more likely to be targeted for insurance products
There was a 7% rise in companies being impersonated, predominantly for telecoms or loan products
The number of attempts to access loan products in the name of someone else rose by 39%, although two thirds of attempts were not granted.
Cifas also point out that smishing, phishing and vishing campaigns are being used effectively to harvest personal information.
This continued the trend they noted in 2017 when they pointed out younger people were more likely to publish personal details on social media and this was being used to target sensitive details.
What to do if your identity has been stolen
If we discover that our personal details have been compromised or our identity has been stolen, there are several steps we should take.
These include:
Reporting missing documents to the correct organisations so they can be cancelled
Let our bank and credit card company know about any suspicious transactions
Reporting any suspicious activity to the police
Check credit records to see if anything has been taken out in our name
As we've mentioned above, making an application for Protective Registration from Cifas will be a valuable use of £25 and it lasts for 24 months.
Moving quickly can help ensure we're not liable for any financial losses arising from the identity theft, so it's important to act as soon as we realise we might have been a victim.
Action Fraud can offer advice if we're uncertain about who we need to contact or what we should do. There's more detail on their website or they can be called on 0300 123 2040.
Summary: Protect personal details
Keeping our personal details safe is one line of defence against identity theft, although there are elements of this that are out of our control if we're caught up in a data breach or our house is burgled and documents are taken.
Another line of defence, then, is keeping track of our credit score and being aware of the signs of identity theft. Knowing whether something is likely to be the sign of an identity fraud issue can help us tackle it quickly and with as little damage to our credit score and personal finances as possible.
Hundreds of thousands of cases of identity theft occur in the UK every year, and scammers have multiple ways of harvesting our personal details to try and make their frauds successful.
If you suspect you're the victim of an identity theft attempt:
Approach the situation calmly and don't attempt to ignore it
Contact any banks and card issuers to make them aware, allowing them to cancel the cards and stop services
Check your credit record to see if the fraud has impacted that
Report the matter to the police
Sign up to Cifas's Protective Registration to place a marker against your credit record for two years
Vigilance and good record-keeping are two tools we can use to prevent becoming a fraud statistic. However, as hard as we try, many of us will see still our personal details harvested by scammers and we could theoretically become victims of identity theft.
Read more about protecting yourself from credit and debit card fraud.