Fraud: how likely is it?
©iStock.com/weerapatkiatdumrong
WE'RE USED to being warned about fraudsters who can empty bank accounts and wipe out savings in a flash.
But those claims are often as overblown as they sound. In fact, following an FSA investigation, firms selling ID theft insurance have even been ordered to pay compensation for overstating the risks of identity theft and other types of fraud.
How likely is it that you'll fall victim to an attack?
We've delved into the statistics to find out.
How many people are hit by fraud?
The 2014 'Fraudscape' report from the UK's Fraud Prevention Service (CIFAS) says there were 221,000 cases of reported fraud in 2013, an 11% reduction on the previous year but still about 600 cases every day.
Assuming the CIFAS figures are fairly accurate, and ignoring the fact that a proportion of those cases won't have a victim either because the account holder committing the fraud or because the criminal used fake details, that means that about 0.3% of UK adults were hit by fraud last year.
Or, to put it another way, three in every thousand people.
Who's more likely to be hit?
However, the risk isn't spread evenly. If you fall into any of the following categories you're more likely to become a victim of fraud.
You live in a big city: despite the fact that most fraud is now committed online, the old chestnut that people in urban areas, and especially in London, are more likely to be hit still rings true.
You live in a flat: again, even in the age of digital fraud, shared mail areas increase the chance that of falling victim to one the most common types of fraud, plastic card fraud.
You live in a sought after neighbourhood: fancy postcodes are a signal that you're a good target.
You're over 30: under 30s don't get targeted by fraudsters as much, probably because they have less money and smaller credit card limits (so a mixed blessing).
You're a man: yes, there's a gender bias in fraud. 70% of plastic card fraud victims are men. Men are also far more likely to commit first party fraud (like lying on an application).
Which products are targeted?
As you might expect, holding certain products can also increase the likelihood that you'll fall victim to fraud.
Card accounts - debit and credit - remained favourites for hijacking by fraudsters, about 30% of all frauds fell into this category in 2013.
Bank accounts are also frequently targeted while communications and loan products like mortgages have also experienced surges in fraudulent activity.
Popular fraud techniques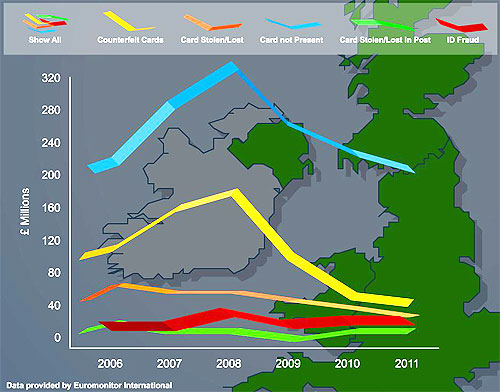 FICO - Evolution of Card Fraud in Europe - full map.
Identity and takeover fraud
The creation of a completely fictitious identity or misuse of an individual's identity details to create or hack into an account makes up a large proportion of UK frauds.
50% of fraud in the UK was identity theft in 2013, according to CIFAS.
Find out more about identity theft in this guide, written for us by CIFAS.
Online banking fraud
Fraudsters breaking into online banking accounts also remain a small but significant threat.
"The importance of account log in details (most commonly usernames, email addresses and passwords) cannot be overestimated," said CIFAS.
As more of us bank online on the go, this form of fraud could become more common. As we've covered earlier this year many mobile banking apps have serious security flaws that could leave users vulnerable to fraud.
The most prevalent fraud of all against bank accounts, however, is misuse of facility fraud, where the genuine account holder fraudulently uses his or her own account.
Phishing
In 2008, the amount of fraudulent phishing websites rocketed to 20,000 as more people relied on online banking services, putting many more people at risk of becoming victims of credit card or identity theft fraud.
Fraud at online retailers (online, over the telephone or mail order) remains rife, as the card is not physically needed for transactions to be made.
CIO of the Salvation Army, Martyn Croft told the UK site Computing he was seeing an increase in cases of fraudsters setting up fake charity sites to fool credit card holders into handing over their details.
Croft said charities had seen an increase in fraudsters using legitimate charity donation sites to check which stolen credit card numbers work.
When the £1 or £2 donation does go through using a stolen credit card the holder is unlikely to notice such a small amount and, even if they do, unlikely to query it since it's benefiting a charity, he said.
Fake Government websites and sites claiming to offer loans or aping legitimate loan sites are also taking money from innocent consumers.
Fake wi-fi
Credit card details can be put at risk by a security flaw in the way that wireless hotspots communicate with smartphones, The Guardian newspaper discovered in 2010.
Working with security experts in a controlled trial, the paper found that consumers were happy to hand over their credit card details to a fake wi-fi hotspot.
The terms and conditions even clearly stated that users, "agree we can do anything we like with your credit card details and personal logins".
However, the test also highlighted the problem of 'Evil Twin' hacks, in which a wireless access point is created that mimics a commercial hotspot.
This is when a connection uses the same SSID (the network name that appears in available connections lists) and log in page as a well known hotspot such as BT Wi-fi.
Fraud abroad
Fraud levels in the UK are lower than those in other countries.
The UK cards association noted that a decline in card fraud was partly down to a decline in fraud abroad because chip and PIN is becoming a more standard practice around the world (although not, for example, in the US).
This makes it harder for criminals to commit counterfeit card fraud, the body noted.
16 November 2017
13 November 2017
8 November 2017
Follow us or subscribe for FREE updates and special offers