---
Best broadband providers in Birmingham
For a good combination of speed, availability and price, our top choice for broadband in Birmingham is Virgin Media.
Their network is more extensive than Openreach's full fibre network, meaning more people will be able to access 1GB speeds with Virgin than any other provider.
Budget broadband in Birmingham is available from many nationwide provider, with Vodafone, Shell Energy Broadband and Now offering great deals.
---
Fastest broadband in Birmingham
Winner: Virgin Media win this with speeds of over 1Gb backed up by extensive coverage across the Birmingham metropolitan area.
Birmingham is home to three ultrafast broadband networks: Virgin Media's cable network and the fibre to the premises (FTTP) networks delivered by Hyperoptic and Openreach. With Openreach in Birmingham, there are also pockets of G.fast capability for customers who can't yet access full fibre speeds.
We'll look at those in turn below, but here are some of the headline fastest packages for customers in the Birmingham area first:
In total, across the Birmingham metropolitan area covering around 4.3 million people, Think Broadband estimates 94.24% have access to gigabit-capable broadband, either from Virgin Media (88.56%) or other full fibre providers (42.30%).
Virgin Media
Virgin Media is the largest network offering gigabit-capable speeds in the Birmingham area (and the UK). Their packages can reach speeds of over 1Gb, although they do offer various mid-range packages for customers who don't need those speed levels just yet.
Here are their current packages and deals available to broadband customers in Birmingham:
This is a good range of package options, allowing customers to choose the fastest available speeds or opt for a slower, cheaper package.
Something worth noting about their entry-level ultrafast broadband packages is that they are competitively priced.
For many customers in Birmingham, the price difference between taking Virgin's M100 broadband and taking a superfast broadband package from an Openreach-based provider of around 66Mb will be small or Virgin might even be cheaper.
Keep an eye on our broadband comparison tables to see the price differences between Virgin Media and their competitors.
In terms of coverage across the Birmingham area, we've already mentioned that coverage is high across the metropolitan area - but it isn't universal and some customers who think they should have coverage because a neighbouring street does will find that isn't the case.
The map below gives a general indication of Virgin coverage in Birmingham, but potential customers should read our guide to Virgin's expansions to understand the subject a little better.

For those still on the fence about choosing Virgin Media, it's worth remembering they have a comprehensive TV service that may be the clinching factor for entertainment fans who want to combine Virgin TV with ultrafast broadband services.
We've also got comparative guides pitting Virgin vs BT and Virgin vs Hyperoptic for further information about the different providers.
Openreach
Openreach are the second big name involved in Birmingham's gigabit-capable broadband expansion.
Unlike Virgin Media, when we talk about Openreach, we're talking about multiple broadband providers using the same technology to deliver services to households. So, Openreach providers in Birmingham include the likes of BT, EE and Vodafone offering average speeds of up to 900Mb.
Here are some examples of the fastest deals available:
Vodafone launched their Gigafast packages on the Openreach network in Birmingham in mid-2020, bringing another popular provider to this FTTP network.
While these are just the fastest broadband packages available on the Openreach network in Birmingham, there are plenty of slower options offering speeds of over 100Mb.
Openreach FTTP coverage is expanding, but customers may be able to access Openreach G.fast instead. This system uses fibre to the cabinet (FTTC) technology and essentially boosts the speeds being sent into a property.
On the map from Think Broadband below, Openreach FTTP is represented by the black dots while green dots show Openreach G.fast coverage:

In the Birmingham metropolitan area, Think Broadband estimate G.fast coverage to be around 10% while Openreach FTTP coverage is around 40%.
G.fast technology doesn't offer the same speeds as FTTP, with the maximum around 300Mb. Yet, for many, it might be a worthwhile upgrade and several providers are offering G.fast services in the Birmingham area:
As we can see, the pricing for broadband around the 300Mb mark with G.fast isn't cheap, but it might be the best option for a customer looking to boost their speeds on the Openreach network who don't want to try Virgin Media broadband services.
Find out more about Shell Energy Broadband, TalkTalk and Direct Save Telecom.
Hyperoptic
Hyperoptic is a specialist broadband provider focused on expanding their FTTP to residential buildings where there are a lot of potential customers.
Here are a couple of their fastest deals on 24-month contracts:
In comparison to the Virgin Media and Openreach deals mentioned above, Hyperoptic's fastest packages offer better value, especially on this 24-month contract plan (other contract lengths are available).
The problem is that Hyperoptic's deals are severely limited in availability, so many customers who might like to sign up will find themselves unable to.
Here is a snapshot of coverage across the wider Birmingham area from Hyperoptic's own website:

Each point represents a building with green showing sites already connected, orange showing ones where an installation has been agreed and grey showing buildings where interest is being registered but nothing has been agreed yet.
To show this a little more effectively, let's zoom in on the city centre:

As we can see, coverage is limited, yet there may be good news for social housing tenants in the Birmingham area.
It was announced in June 2021 that Hyperoptic are rolling out their gigabit-capable broadband to at least 8,000 homes across the city in partnership with Birmingham Council.
Hyperoptic won our Best for Inclusion award in 2021 thanks to their social tariff that has been leading the way for digital inclusion.
So, customers on certain benefits will be able to access Hyperoptic's Fair Fibre at a discount price when it lands on their street.
---
Cheapest broadband in Birmingham
Winner: Vodafone are often the cheapest broadband provider in Birmingham - but watch out for high numbers of complaints.
With copper services being phased out, the cheapest broadband options for most customers are superfast speeds of between 30Mb and 70Mb.
There are plenty of options in this category, with providers vying for the cheapest deals. As a consequence, the cheapest broadband provider changes almost weekly, so it's worth checking our live broadband comparison tables for the latest deals and special offers.
Here are some of the cheapest deals available for broadband customers in Birmingham:
While Vodafone offer cheaper broadband, it's worth highlighting the free anytime calls included in Now's broadband plans.
Free landline calls are a rarity these days, so if landline use is important to a household, this deal from Now will be more than worth the extra monthly cost.
It's worth remembering, too, that broadband providers offer different things to customers and there may be differences even between budget specialist providers.
As an example, read our comparison guide to TalkTalk vs Plusnet.
Customer service can also be a major factor when looking at broadband providers. For instance, while Vodafone's prices are low, their customer complaint levels are high. We've got a full guide to broadband customer service examining all this.
---
Best for mobile broadband
Winner: Three offer unlimited mobile broadband for the home deals, but watch out for mobile not-spots.
There is another choice for customers who don't like the look of the superfast deals mentioned above: mobile broadband.
A trio of major mobile networks currently offer mobile broadband for the home deals to customers in and around the Birmingham area:
Here are the cheapest deals available:
Note the data caps on the Vodafone and EE mobile broadband deals: these are still commonplace on mobile broadband plans and it's to Three's credit they don't tend to use them.
It's also noticeable that O2 don't offer a mobile broadband deal specifically for home use, although they do have mobile broadband data deals available on mobile wi-fi deals.
If we go down the mobile broadband route, either via a dedicated mobile wi-fi device for the home or a general mi-fi or dongle, it's important to be aware of mobile coverage issues.
We used Ofcom's 4G mobile checker to show how coverage of each of the four networks looks across the wider Birmingham area.
Here is EE's: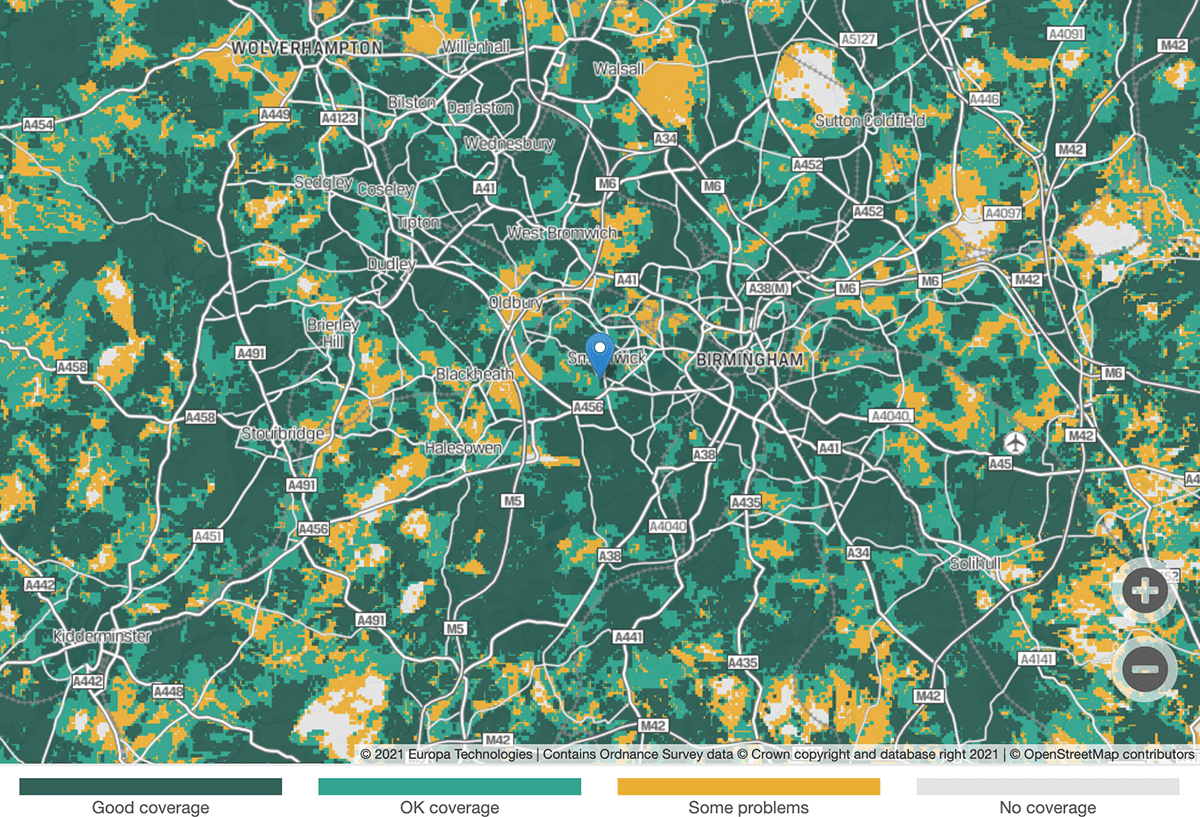 As we can see, coverage around central Birmingham is good, but there are pockets across the area where there are some problems with coverage and some real blackspots.
This is how coverage for Three looks: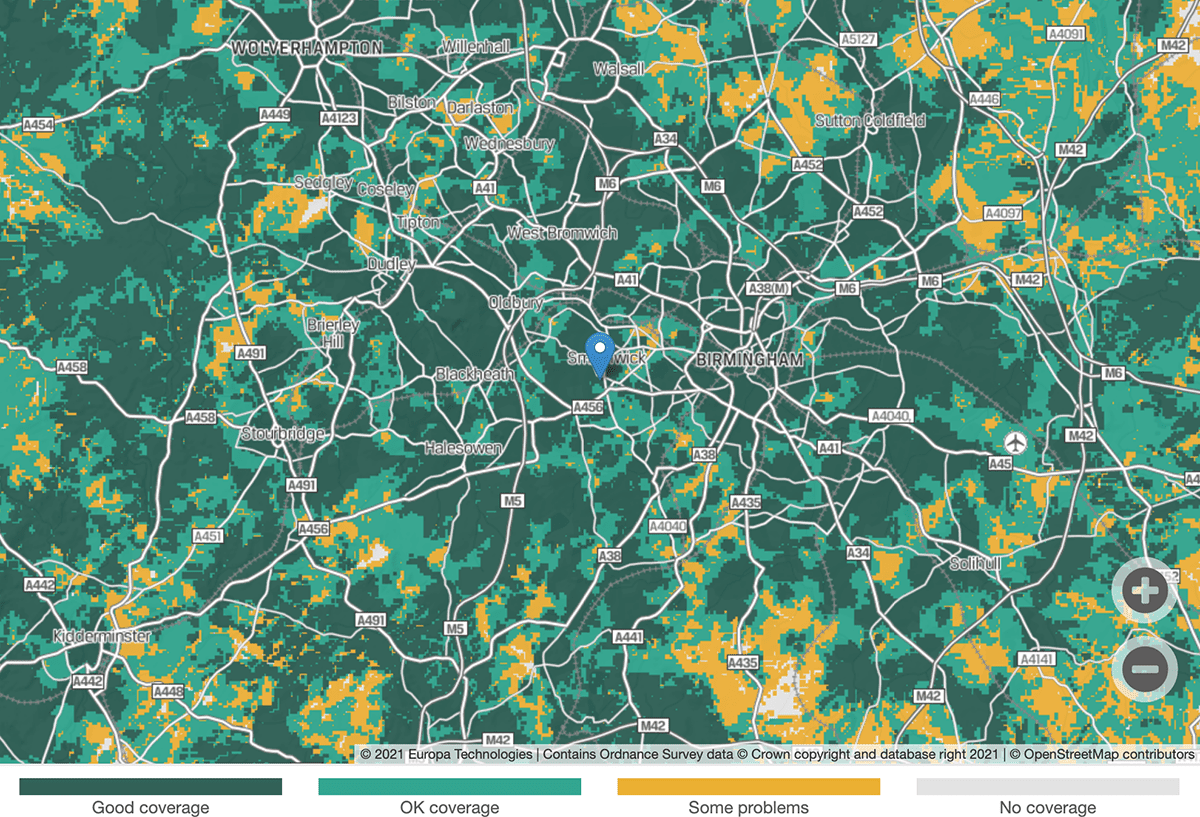 Again, there are some locations where Three's coverage is patchy, especially south of Birmingham centre near the M42.
In contrast, Vodafone has some coverage problems to the west of the city centre and around Sutton Coldfield: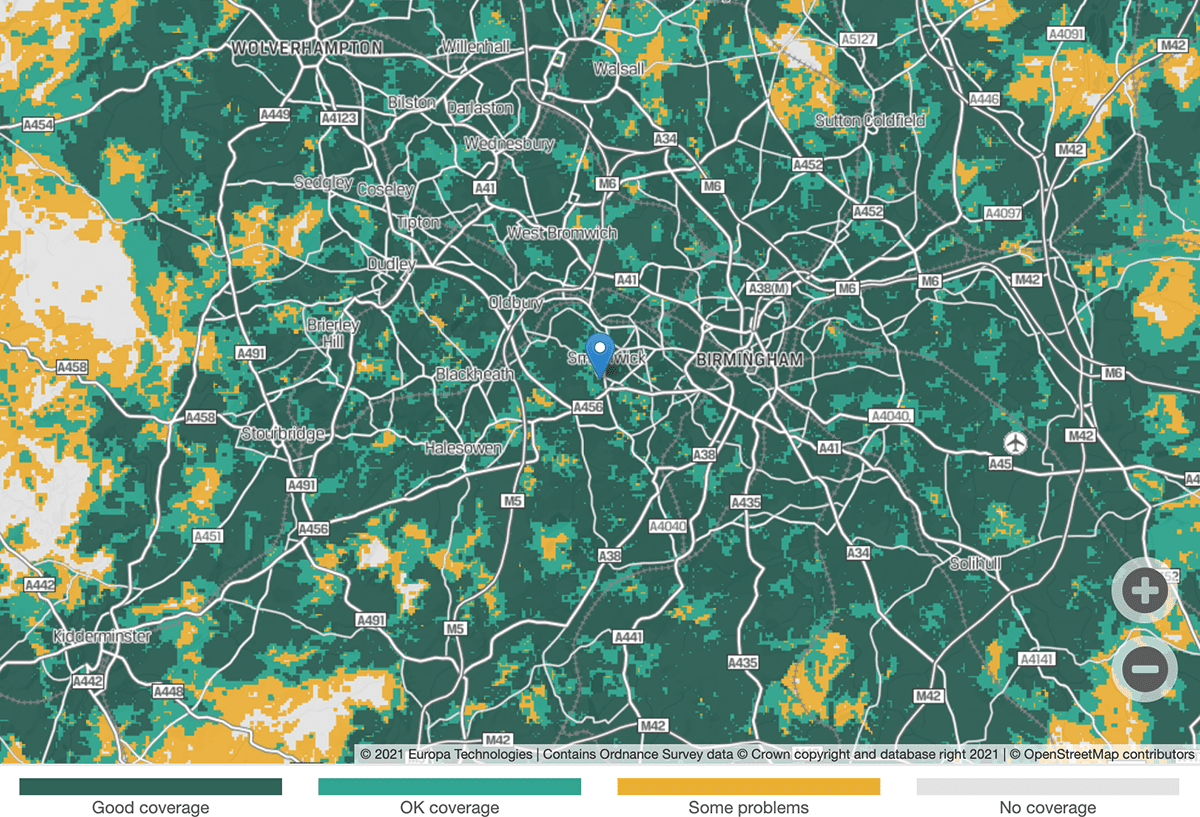 Finally, for reference, here is O2's mobile coverage: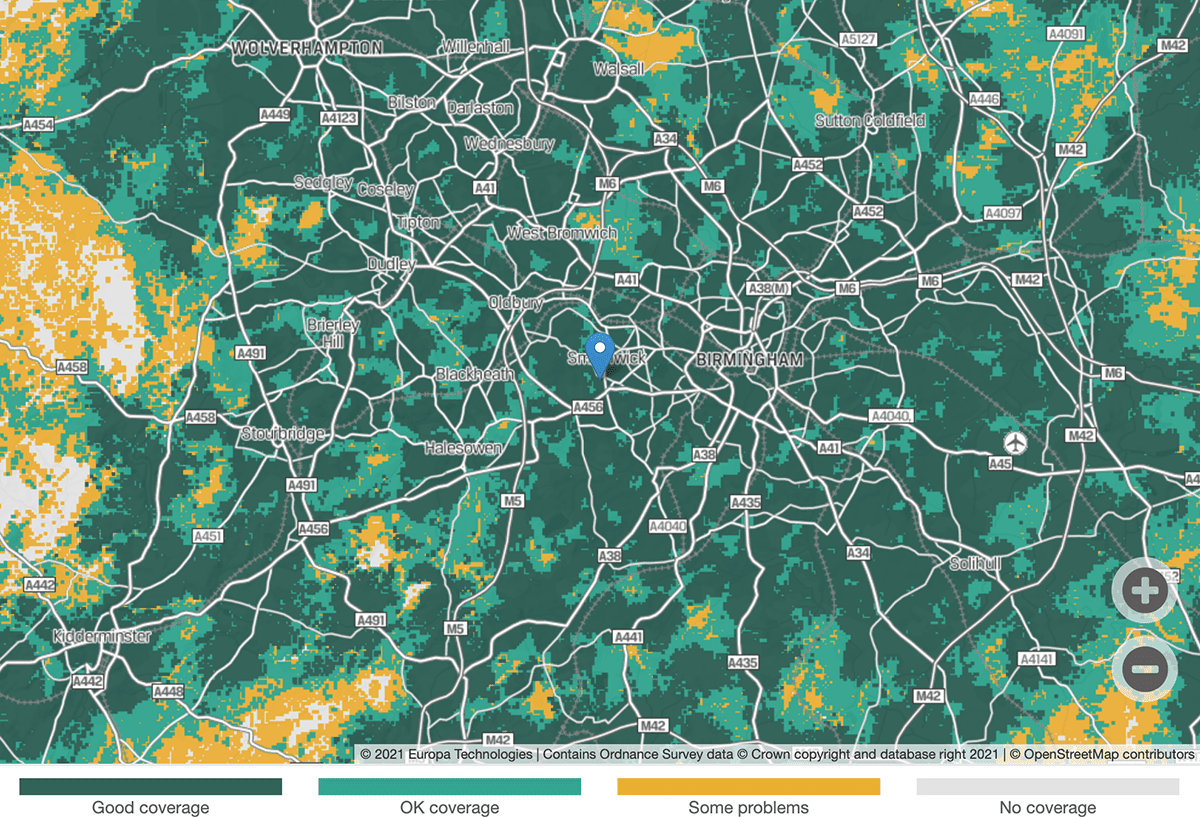 While coverage across most of Birmingham itself is very good, there are some notable pockets with no coverage over to the west of the city - a problem for customers living in those areas who would like to use O2's mobile wi-fi devices.
For more information on each of the mobile networks, visit our guides on EE, O2, Three and Vodafone.
---
Best for TV
Winner: Sky shines with their TV service.
As well as price and speed, customers also make their broadband choices based on other factors.
The ability to add other entertainment services can be important to some customers and, as we've already mentioned, Virgin Media do offer that option with their TV service. For anyone who wants the ultrafast broadband speeds offered by Virgin combined with a good range of channels, that might be the bundle to opt for.
Equally, BT broadband can be combined with TV services to make bundles based on entertainment, sport or both.
However, there's no denying that Sky is still the champion when it comes to TV deals and, with the advent of their 500Mb Ultrafast Plus broadband deal gradually rolling out across the Openreach FTTP network, many customers may opt for their combination of speed and entertainment.
The good thing about Sky TV, though, is that it can be accessed without the need for a customer to sign up to broadband - this makes it different to Virgin and BT, allowing customers to take broadband from one provider and TV from Sky if they want to.
---
Verdict: which broadband provider is best in Birmingham?
Birmingham is lucky enough to have exceptional coverage of gigabit-capable broadband, with the majority of homes in the metropolitan area having access to speeds of around 1Gb.
This is largely thanks to Virgin Media switching on their Gig1 service in the area, and it's little surprise that Virgin remain one of the best option for Birmingham broadband customers looking for the fastest speeds.
In addition to this, Virgin also offer intermediate speeds of 200Mb and 350Mb for customers who don't want to upgrade to 1GB just yet but still fancy a boost to their home broadband speeds. Plus, the ability to combine broadband with TV is yet another factor that may encourage customers to opt for Virgin.
It's true that Openreach's FTTP rollout is progressing but may not extend far enough into some communities to make it a viable option. In the same way, Hyperoptic's speeds are fast but their availability is limited (although the rollout to social housing properties across the Birmingham area is a very welcome development).
Ultimately, many customers will choose Virgin Media for speed, yet Openreach-based providers are bringing fresh levels of competition to some areas and this can only be a good thing for broadband customers looking for great deals.
On the budget side of things, there are some big names like TalkTalk and Plusnet competing with smaller providers like Now, SSE and Shell Energy Broadband. The absolute cheapest fibre broadband in Birmingham may change weekly, so remember to keep an eye on our live broadband comparison where you can narrow down results to your postcode area.
Remember, too, that different providers offer different routers to customers and, just because a broadband provider is classed as one of the UK's biggest, it doesn't necessarily mean they're the best option for a customer in Birmingham with specific broadband needs.