Can I balance transfer to a current account?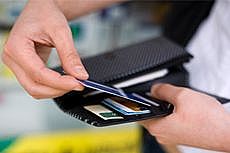 "I want to move my credit card balance to a current account so that I can pay back an overdraft without interest."
"Can I do that with a normal 0% balance transfer deal?"
Some balance transfer deals do allow money - or, rather, credit - to be moved directly into a current account.
In official credit card speak, the facility is called a money transfer.
We like to call it a super balance transfer.
Keep reading to find one or, if you just want to find more information, skip ahead to our step by step guide.
Which card providers offer 0% transfers to current accounts?
Here are the three currently available options:
Money Transfer to Current Account
Transfer Fee
MBNA Platinum 43 Month Balance Transfer
0% for 43 months

4%

Representative example: When you spend £1,200 at a purchase rate of 18.9% p.a. (variable), your representative APR will be 18.9% APR (variable).

nuba transfer
0% for 42 months

5%

Representative example: When you spend £1,200 at a purchase rate of 18.9% p.a. (variable), your representative APR will be 18.9% APR (variable).

Virgin Money 41 Month Balance Transfer
0% for 41 months

3.79%

Representative example: When you spend £1,200 at a purchase rate of 20.9% p.a. (variable), your representative APR will be 20.9% APR (variable).

Search for more 0% balance transfer to current account deals on our main comparison table here.
You can check the 'to current account' box to find these deals and sort results by factors such as the transfer fee and other offers like 0% purchases periods.
As we said, however, there aren't many of these deals around so it's worth searching a little harder than you might with other offers.
Finding deals pro tip 1:
keep your eye on these providers
Not very many companies offer money transfer services so it might be useful to keep an eye on the following specific providers when looking for deals.
MBNA credit cards have offered various money transfer deals at zero interest over the past few years even while their business was for sale.
Virgin Money credit cards have also offered these deals for a number of years, as have AA branded credit cards.
Both credit businesses are ultimately run by MBNA.
Finding deals pro tip 2:
check that small print
It's also worth noting as you search that a money transfer is rarely a key selling point for a card.
The aspect is often poorly advertised, appearing on an inside page or in the small print.
We go to considerable lengths to ensure that the information on our site is accurate but if you're in any doubt about whether a money transfer facility is available with a specific card check with the provider before signing up.
How to do a money transfer
Money transfers work in a similar way to normal balance transfers (where the balance is moved to another card, find out more here) but don't be fooled into thinking that it's exactly the same.
Here's how the process works in three steps.
1. The card application
Before making an application to a specific money transfer deal it's worth being aware of two things: the credit history required to apply and the fees that might make the offer a better or worse deal.
Application criteria: Both 0% balance transfers and money transfer credit cards are notorious for being marketed towards people with a good to excellent credit rating.
It's worth carefully checking application criteria and maybe even taking some precautionary measures, like take a look at credit reports - more information here - for insight into what lenders will see on application.
There are limited money transfer offers available for those that believe their credit history may be poor but, following a successful, attention grabbing Capital One deal, the market is opening up.
Find out more about options for those with damaged credit histories in our full guide on this subject, available here.
Transfer fees: The other thing it's well being aware of are fees which, along with the 0% period - see below, will determine whether the offer is a good deal.
Money transfers are sometimes charged a higher fee than those to other cards.
In general providers charge around an extra 1-2% on their standard fees.
There is some competition in the market at the moment for reducing fees, but this has yet to knock into money transfers, which are still typically around 3% to 4% of the amount moved.
It may not be financially worthwhile to make a transfer, taking into account the fees necessary.
Of course, that also depends on the reason behind making a transfer to a standard bank account in the first place. See this guide for the many reasons that people choose to do so as well as some possible alternatives on offer if fees are too high.
2. The money transfer application
Once a successful application is made, it's time for another application: this time for the money transfer.
It is important to ensure you 'transfer' the money under the correct deal.
Most card providers allow their customers to make the transfer using online banking and should have it specified as a separate option to normal balance transfers.
If making a money transfer using telephone banking, simply ask for something along the following lines:
I want to make a 0% money transfer
I'd like to transfer £X from my card to a current account
Can I make a money transfer from this account please?
If the credit card is offering a money transfer under a special offer or introductory deal, make sure to mention that as well.
What not to ask for though is a super balance transfer, that's a term only super lame consumer sites (and us) use so it might be confusing for the operator.
Note that some credit card providers specify that the amount can't be used to fund any old current account but only one that is in the same name as the credit card.
3. Paying off at 0%
Once the amount is transferred, it's essential to pay off within the 0% period.
Outside of the introductory period the amount will often be subject to a higher standard interest rate than for normal balance transfers which means that, if the amount has been moved to counteract interest on an overdraft or loan, it will almost certainly be more expensive to hold the balance on the card than it would have been to leave it.