MORE than two million people are locked in a cycle of permanent overdraft debt, a new report from the StepChange Debt Charity has found.
Credit: Jinga/Shutterstock.com
Titled "Stuck in the Red", the report also found that banks are engaged in unaffordable lending practices and are failing to help customers deal with problem overdraft debt.
And with overdrafts accounting for the second most common kind of debt handled by StepChange, the charity are calling on banks to end all charges for unplanned overdrafts.
Yet while Lloyds Bank abolished such charges in November, none of the other major banks have any plans to stop charging fees, putting many of their customers at risk.
Making ends meet
StepChange found that 2.1 million people used their overdraft in every month of 2016, while 12.9 million people overall have been overdrawn at least once in the past 12 months.
Yet even more revealingly of just how reliant on debt Brits are becoming, the charity's report contained the following statistics:
49.8% of the charity's clients are in overdraft debt
Clients in overdraft debt owe an average of £1,722
79% of clients used overdrafts in order to pay household expenses
57% of clients used overdrafts to pay for food
27% of clients used overdrafts to pay bills
What's most striking about such findings is their confirmation that, as with the rising use of credit cards, people are dipping into overdrafts because it's the only way they can make ends meet.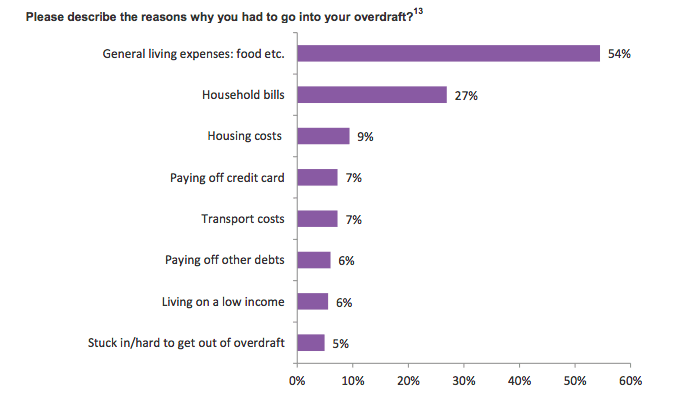 Source: StepChange, Stuck in the red, Dec 2017
Banks making it worse
Yet the report also found that difficult situations are being made worse by the behaviour of the UK's banks, who are failing their customers in many cases.
Of particular alarm is that many banks are granting overdraft limits far in excess of what customers earn and can afford to repay.
In one startling case highlighted by StepChange, a client reported, "My bank offered me a £2,250 overdraft, even though ... I only receive £200 a month wage; and the rest I rely on universal credit".
Added to this, 35% of respondents in the charity's survey complained that their bank was unhelpful when it came to offering a solution to dealing with problem overdraft debt.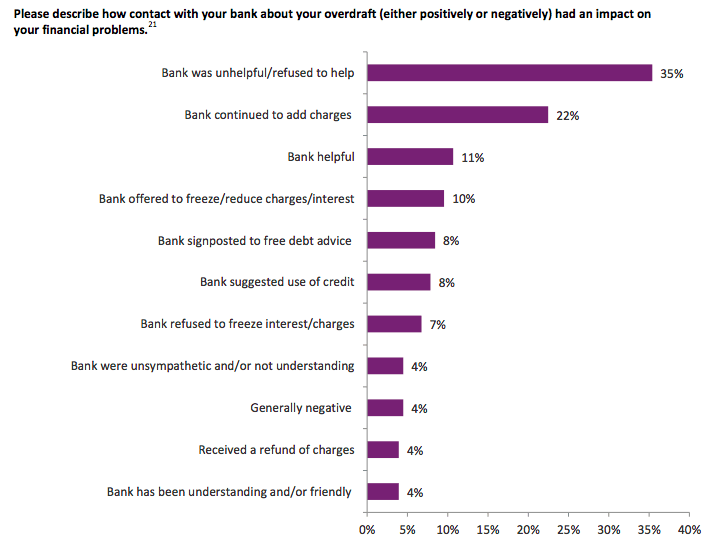 Source: StepChange, Stuck in the red, Dec 2017
Demands
It's in view of these problems that StepChange are calling on the UK financial industry to change how it handles overdrafts and to remove fees for unplanned overdrafts.
Their head of policy, Peter Tutton, said, "Lenders and regulators must take action to need to ensure that overdraft lending is affordable, that borrowers in financial difficulty get the right support and that we break the cycle of persistent overdraft debt".
In particular, they want to see three main changes:
Banks should remove additional charges for unplanned overdrafts and make their charging structures clearer and more transparent
Banks should routinely identify customers who are either in or at risk of persistent overdraft debt
The FCA should look into unaffordable overdraft lending as part of their public consultation on overdrafts
£95 a month
At the moment, only one big high street bank - Lloyds Bank - have removed daily fees for unplanned overdrafts and unpaid item charges.
They did so last month, yet aside from Barclays (who offer emergency lending rather than unplanned overdrafts), the likes of HSBC, NatWest, the Royal Bank of Scotland, and Santander all still continue to charge for unarranged overdrafts.
And aside from the fact that monthly charges can be as much as £95 (in Santander's case), what makes their them particularly customer-unfriendly is that they vary quite widely from one bank to another.
Yet at the moment, no other bank has announced any plans to follow Lloyd Bank's example and end their charges.
FCA investigation
That said, as StepChange's report alludes to, the Financial Conduct Authority (FCA) is currently conducting an investigation into overdrafts and high-cost credit (e.g. payday loans).
They don't plan to publish their findings until next year, but one of the options they're considering is an industry-wide cap on overdraft fees.
However, given that StepChange are calling for the abolition of such fees, a cap may not be enough.
And one thing it certainly won't change is that over two million people in the UK currently can't support themselves.