CONSUMER borrowing on credit cards and overdrafts continued to grow at a high rate in October, with the latest Bank of England (BoE) data showing few signs that the banks' tightening of lending criteria is having much effect.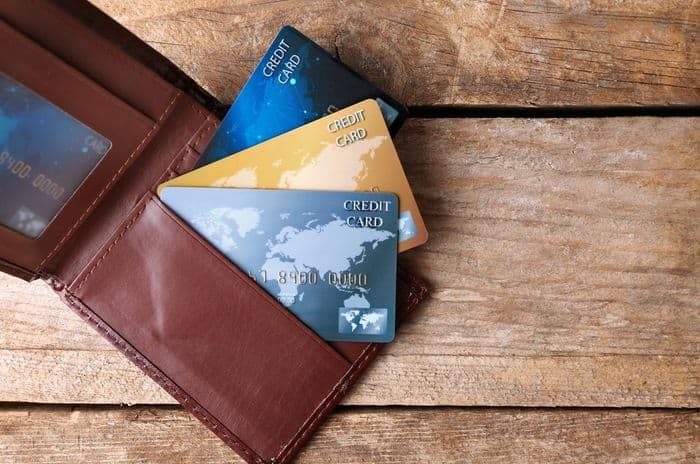 Credit: Africa Studio/Shutterstock.com
Unsecured credit grew at an annual rate of 9.6%, a slight decrease from the 9.8% of September yet "broadly unchanged" in the Bank's own words.
October was the final month they surveyed prior to November's raising of interest rates, which may potentially have the effect of causing the growth in unsecured consumer credit to subside.
Yet given that inflation continues to outstrip earnings, and that Christmas is just around the corner, the next quarter's report may also record a broadly unchanged increase.
£205 billion and rising
The BoE's figures reveal that the UK public are borrowing more via credit cards, overdrafts, car financing, and student loans.
Such unsecured credit grew by 9.6% in the year and 0.7% compared to the previous month.
Not only that, but the total amount of outstanding unsecured debt owed by individuals is now £205.3 billion and rising, only £3 billion short of the record peak it reached in 2008.
Credit availability
What's surprising about these rises is that they've occurred at a time when lenders have reported restricting access to credit and when banks have cut back on 0% credit card deals
In their latest Credit Conditions Survey, for example, the BoE reported that "the availability of unsecured credit to households decreased in Q3 and expected a significant decrease in Q4".
It decreased by 28.6% in the third quarter of the year. This means that a net balance of 28.6% of banks/lenders reported restricting access to credit.
Yet despite this, October saw a 9.6% growth in consumer credit. This suggests the growth is driven less by irresponsible, unnecessary spending and more by responsible (often employed) people needing to borrow, despite the increased difficulty and costs of doing so.
Risk and insolvency
And writing in the Stability Report they published yesterday, the Bank of England underlined the risks such growth poses to the UK economy.
"While overall domestic credit conditions do not point to elevated risk," the report stated, "consumer credit has been growing rapidly, creating a pocket of risk".
Yet the risk falls on customers as well as lenders, as shown by how insolvencies grew by 10.6% in the latest quarter and 7.7% over the 12 months to September.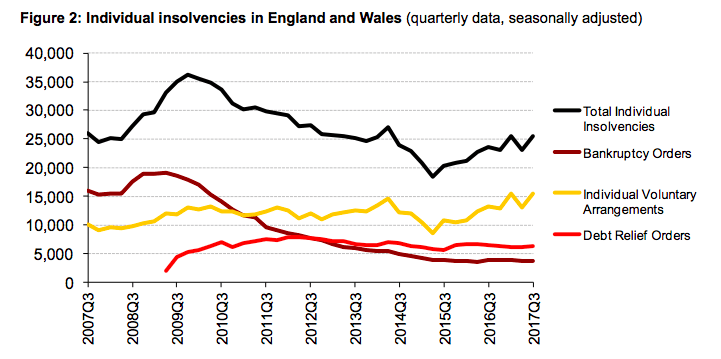 Source: Insolvency Service, Insolvency Statistics Q3 2017
They'd already risen by 13.1% in 2016. However, in the latest report published by the Insolvency Service, Individual Voluntary Arrangements (IVAs) were shown to have reached their highest quarterly number since being introduced in 1987.
Possible decline
While the BoE's latest release would therefore paint a grim picture for borrowers, it's possible their next Money and Credit report (due in January) will have shown a significant decrease in the consumer credit growth rate.
For one, the latest figures already show a slim decline in growth of 0.2% (from 9.8% in September to 9.6% in October).
Added to this, the BoE's base rate increase from 0.25% to 0.5% may cause people to borrow less, seeing as how they'd have to pay more in interest.
Analysts are hopeful that this will be the case, with Howard Archer of the EY ITEM Club explaining, "The Bank of England will be pleased with the slowdown in consumer credit in October and will be looking for a continuation of this trend".
Inflation, wages and Xmas
However, other factors suggest that unsecured debt will continue growing at the same pace in the near future.
As we've written before, inflation is currently at 3% while wages are at 2.2%.
This means that real wages are actually declining, and that people will increasingly need to borrow to make ends meet, regardless of interest rates being 0.25 of a percentage point higher.
There's also the approach of Christmas: analysts Fung Global Retail & Tech have predicted a 5% year-on-year growth in sales, with one in three customers paying for gifts via credit card according to Nationwide.
The economy
This is all indicates that the rapid growth in consumer credit may continue for a while before it declines, especially since the banks' restriction on credit availability has so far done little to make a big impact.
It also indicates that what's needed to significantly reduce unsecured borrowing isn't simply a base rate rise or tougher lending criteria, but rather a change in the economy.
Because with inflation outrunning wages, and with housing costs still rising despite momentary blips, people will ultimately need to borrow for some time to come.