Mobile dongles are classic mobile broadband devices designed to get one computer online at a time while mi-fis and mobile routers can handle multiple devices at a time.
Mi-fi devices are the most versatile option available, although customers looking for a replacement for home broadband will need to look at mobile router options and their ability to handle up to 64 devices.
There are also some 5G mobile broadband options available on mi-fis and mobile routers, even if mobile network pricing can be high for these deals.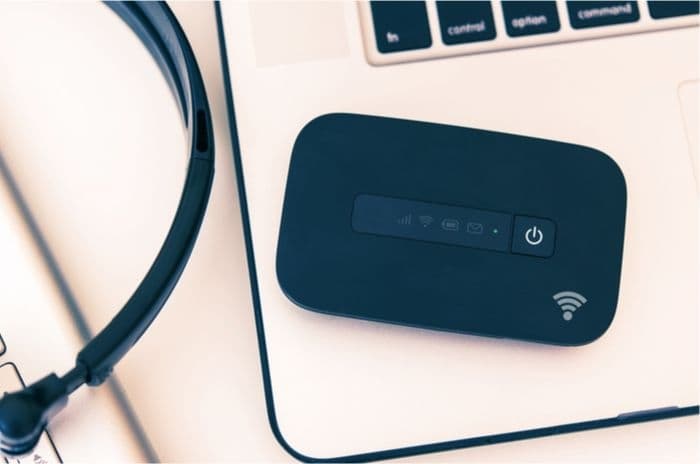 ---
At a glance
| | Powered by | Number of devices it can connect | Style | Networks |
| --- | --- | --- | --- | --- |
| Mobile dongle | Computer | 1 | USB stick that plugs into a computer | O2, Vodafone |
| Mi-fi | Battery | Around 10 | Pocket-sized device | BT Mobile, EE, O2, Three, Virgin Mobile, Vodafone |
| Mobile router | Mains | Up to 64 | Home hub | EE, Three, Vodafone |
---
Which is best: mobile dongle vs mi-fi vs mobile router?
There are three types of mobile broadband device to be aware of:
Mobile dongle
Mobile wi-fi, or mi-fi
Mobile router
All these devices have different strengths and some downsides too, so which mobile broadband device is right for you?
Mobile dongle
| Pros | Cons |
| --- | --- |
| Pocket sized | Only connects a single device |
| Simple to use | Not many mobile network offers around |
| Powered by computer | |
A USB mobile dongle is the classic way of getting online using mobile broadband.
Customers insert the dongle into the USB port on a computer and this allows that device to connect to the internet. While some wireless dongles exist to connect multiple devices to the internet while it's plugged into the computer, these are not routinely offered by mobile networks anymore.
Mobile dongles from UK mobile networks come with a set amount of data, although there aren't usually that many mobile broadband dongles available on contract and the number with unlimited levels of data are low.
Plus, only Vodafone are currently offering any dongles on rolling 1-month contracts, meaning customers may have to commit for longer terms to get a dongle right now.
Here are a couple of examples of mobile dongle deals:
| | Device | Data | Monthly price | Initial price | Contract term |
| --- | --- | --- | --- | --- | --- |
| | Huawei 4G Dongle 2020 | 15GB | £15 | Free | 24 months |
| | K5161 Dongle | 10GB | £15 | Free | 24 months |
Unlike mi-fi mobile broadband devices, dongles don't need their batteries charging since they are powered by the computer they're plugged into. This removes the frustrations of wanting to get online but finding the battery is flat or having to plan usage around battery charging.
A dongle is a great option for connecting a single computer to the internet and customers who want to use their laptop online without also wanting to connect phones and tablets may prefer the plug-and-play nature of the USB dongle.
Yet many customers will find the limitations of the USB dongle frustrating, especially in comparison to the other options on this list.
Mi-fi
| Pros | Cons |
| --- | --- |
| Connects multiple devices at once | Around six-hour battery life |
| Plenty of deals available | Unlimited data options can be expensive |
| Rolling contracts on offer | |
| Highly portable | |
A mi-fi device can also be called a personal hotspot, pocket wi-fi device or simply mobile wi-fi. Whatever name is used, they refer to the same thing: a small, pocket-sized device that can be used to get multiple mobiles, tablets and other tech online.
The major difference between mi-fi devices and dongles is the fact that several devices can be connected to a mi-fi at once, meaning that customers can use their mobile wi-fi to provide internet access to their phone and laptop at the same time as giving their friend access to the code so they can go online with their tablet.
In this sense, a mi-fi device is far more versatile than a dongle, although customers should be aware that connecting the 10 devices many mobile wi-fi devices claim they can handle will slow speeds down to each device.
There are plenty of mobile wi-fi deals around and tariffs are offered by the four major networks as well as BT Mobile and Virgin Mobile.
Here are some examples with mid-range data allowances:
| | Device | Data | Monthly price | Initial price | Contract term |
| --- | --- | --- | --- | --- | --- |
| | Huawei 4G Plus MiFi | 40GB | £17 | Free | 24 months |
| | 4GEE Wifi Mini 2020 | 40GB | £20 | Free | 24 months |
| | 4G Mobile Hotspot | 30GB | £20 | Free | 24 months |
For customers who want unlimited data, there are also deals available, but these can be pricey and customers may not need unlimited data with their personal hotspot if they also have a handset with a data allowance and fixed line broadband at home.
There are also some 5G mobile wi-fi deals available, although many devices on the market currently are 4G-only.
Some mobile networks like Three and EE allow customers to take mobile broadband tariffs on a rolling basis, so there's no commitment.
Yet, as we mentioned above, the fact that mobile hotspots are battery powered can be a flaw when we're comparing them to USB dongles.
The average battery life of a personal hotspot while it's being used is six hours, although they can last for several hundred hours on standby, making them a good back-up option.
There also aren't that many versions of mobile wi-fi devices available from UK mobile networks - it's a niche area where a few manufacturers have cornered the market.
That can have both positive and negative effects on customers - on the one hand, it's easier to compare tariffs from mobile broadband providers when they use similar tech but, on the other hand, it does limit the choices customers have when choosing between mobile wi-fi devices.
It's also true that, while pocket sized mobile broadband deals are useful, they're not generally considered a replacement for home broadband due to data limitations and the low number of devices customers can connect at once.
For home broadband replacement, we need to look at mobile routers.
Mobile router
| Pros | Cons |
| --- | --- |
| Real replacement for home broadband | Often expensive per month |
| Connects up to 64 devices | Upfront costs can be high |
| | Mains powered |
Customers looking for a permanent replacement for fixed line broadband at home will probably be best served by dedicated mobile routers for the home.
These routers can handle more devices than personal hotspots with up to 64 connected devices being the norm compared to the 10 offered by pocket-sized devices and the single connection available on a USB dongle.
This means a mobile broadband router is a legitimate replacement for fixed line broadband since it can handle all the devices a household uses on a daily basis whereas a personal hotspot would struggle with this.
On the flip side, a mobile router isn't designed to be portable and they require mains power to operate, so this isn't the same as a portable device that can be carried around in a customer's pocket. It also won't be useful if a customer's home power goes down, which is a reason behind some customers' decision to get mobile broadband in the first place.
Mobile broadband devices designed for home use are available from EE, Three and Vodafone - O2 don't offer anything specifically for home use.
Here are some example 4G tariffs on the highest data plans offered by providers:
| | Device | Data | Monthly price | Initial price | Contract term |
| --- | --- | --- | --- | --- | --- |
| | 4G Hub | Unlimited data on 4G | £22 | Free | 24 months |
| | GigaCube 4G | 300GB | £50 | Free | 24 months |
| | 4GEE Home Router 3 | Unlimited | £55 | £50 | 18 months |
Since Vodafone and EE both offer fixed line broadband plans, it's perhaps unsurprising that their mobile router deals are so expensive. Vodafone don't even let customers order the GigaCube directly online - they have to live chat to one of the sales advisors on the website first.
Yet Vodafone and EE offer something Three don't - 30-day rolling contracts, albeit with high upfront costs.
Three is the clear winner when it comes to unlimited deals, however, and this crosses over to their 5G tariffs as well:
| | Device | Data | Monthly price | Initial price | Contract term |
| --- | --- | --- | --- | --- | --- |
| | 5G Hub | Unlimited data on 5G | £29 | Free | 24 months |
| | 5GEE Router 2021 | Unlimited | £55 | £100 | 18 months |
| | GigaCube 5G | Unlimited | £60 | £50 | 24 months |
So, the costs of getting a mobile broadband router for the home can be steep, especially if customers want the security of unlimited data rather than a 100GB or 300GB data allowance cap.
There are also other potential issues with mains powered mobile routers such as some networks like O2 throttling the data used by SIM only customers if they use the SIM in a mains powered device. Beware of caveats like this in terms and conditions that can cause problems for customers.
---
How to choose between devices
There are clear differences between USB dongles, mi-fi devices and mobile routers for the home. They are targeted at different audiences and customers will often find that one suits their requirements while the others don't.
Starting by asking the following questions when looking at mobile broadband devices:
Do you want to connect a single computer to the internet? A USB dongle could be ideal.
Do you want a portable mobile broadband device? USB dongles and mi-fi devices are easy to carry around for using on the go.
Do you want a replacement for fixed line home broadband? Mobile routers are the only ones designed as a true replacement for home broadband, although some households may find mi-fi devices sufficient for their needs.
Do you need something that is battery powered? Mi-fi devices run by battery compared to dongles that are powered by the computer they are connected to and mobile routers that are mains powered.
Are you looking for unlimited data? There are more mi-fi devices with unlimited data at good prices than USB dongles or mobile routers.
How much are you willing to pay? Mobile routers for the home are often expensive, both on a monthly basis and in terms of upfront costs too while there are competitive deals on mi-fi devices available.
Do you want a rolling contract? Mi-fi devices are more likely to be available with 1-month contract deals, although some exist for USB dongles and mobile routers for the home.
Ultimately, the factors that go into choosing between mobile dongles, mi-fi devices and mobile routers will be different for each customer and it's important to get the right device for your needs, particularly when choosing devices that are on longer term contracts with a hefty financial commitment.
It's also worth asking whether tethering to a phone could meet a customer's requirements and save on the extra monthly cost of another device.
---
Other mobile broadband considerations
The battle of mobile dongle vs mi-fi vs mobile router is only one part of the puzzle for mobile broadband customers. It's also important to choose the right mobile network.
In some cases, this will affect the type of device you get. As we've mentioned above, O2 don't do mobile routers for the home so they're not in contention on that point and only Vodafone offer mobile dongles on rolling contracts.
If customers do have a choice of network, they should look at the following elements:
Looking at these points can help customers narrow down their options, although price will also play a huge role in the eventual decision.
---
Summary: Which mobile broadband device is best?
Different mobile broadband devices are aimed at different types of users, meaning that what works for one might not necessarily work for another.
We like mobile dongles because:
They have a plug and play design
They don't need charging up or a mains power connection
However, the limitation of only being able to connect one device is a deal-breaker for some and there aren't many mobile dongle deals on the market.
Mi-fi devices or personal hotspots are great options for some because:
They can connect multiple devices at once
There are plenty of competitive deals to choose from
Yet some customers might not like having to remember to recharge the battery and might find some of the unlimited data plans on offer too expensive.
Finally, a mobile router is a good choice because:
It's a proper replacement for home broadband
It's main powered so no batteries to charge
These come with trade-offs too and the high costs for monthly routers will price many customers out.
If we had to pick just one type of device, we'd go for the mi-fi broadband device as it can connect to multiple phones and tablets at the same time while still being pocket-sized.