The programme which used to be called Cable My Street now operates as a request form for customers to register their interest in Virgin services.
While there are no guarantees, contacting Virgin in this way could help potential customers find out whether there are any plans to install Virgin cables in an area or if there are ways to improve the chances of installations.
However, while Virgin Media are an excellent option for those seeking fast broadband speeds, they are no longer the only choice, and it could be that other ultrafast broadband providers arrive in a street before Virgin manages it.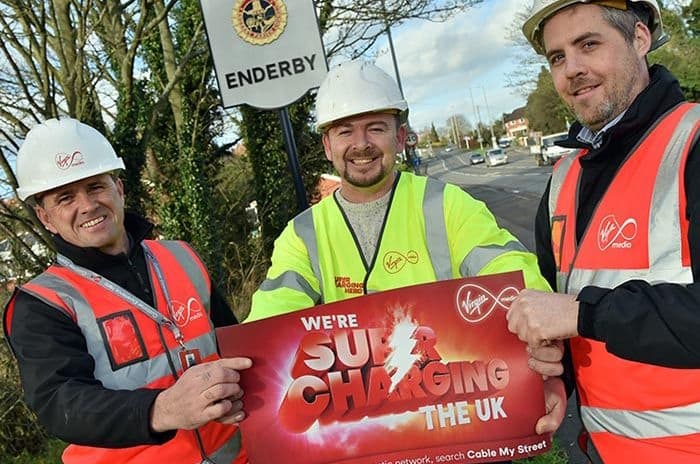 ---
Is Virgin broadband available in my area?
The first thing to note is that Virgin Media services may already be available in an area and residents either aren't aware of it or haven't communicated that fact to each other.
This can be the case if a customer moves and they're uncertain whether Virgin Media is available in their new street.
So, first checking to be sure that Virgin Media broadband isn't already available in a given postcode is a good idea. Put your postcode into this box to check:
However, due to the way Virgin have expanded their network over the years, for complete clarity, it's best to use their official household checker too.
We explain why this is necessary in our guide to Virgin Media expansion, along with looking at the history behind their network and pointing out alternatives where Virgin Media ultrafast broadband is not yet available.
If it turns out Virgin Media is not yet available in your area, what are the options?
---
Are Virgin Media planning to expand to my area?
This is a tricky question to answer because Virgin's plans aren't generally publicised. Instead, they go through different processes to commission network expansions and it's not as simple as checking a list of planned works.
These are some of the ways they select streets to expand to:
They work with local authorities and housing associations by obtaining lists of properties that could be connected to the network
They work with developers building new homes with a dedicated New Build Team
It's also important to stress that, just because Virgin are planning on bringing services to an area, it doesn't necessarily mean an individual property will be connected.
It needs to be financially viable for Virgin to connect a property up to their fibre network, especially if it's speculative work where they don't know if members of a household are going to want Virgin Media services now or in the future.
Yet Virgin are constantly upgrading their network, adding 426,000 premises in 2020 and a further 329,000 in 2021.
At the time their merger with O2 closed in 2021, they reaffirmed their ambition to expand to another seven million properties in the coming years.
One way to improve your chances of being added to their plans is, quite simply, to tell Virgin that you want their services installed in your street.
There used to be a programme dedicated to this called Cable My Street. It's still active, although in a slightly different form these days.
---
What is Cable My Street?
Cable My Street was designed as Virgin's single point of contact to help customers register their interest at being connected to the cable network.
The theory was that customers could signal their interest to Virgin and the company would (eventually) consider putting that property into their expansion plans.
It seemed to work and there's anecdotal evidence over on the official Virgin Media forums of customers requesting connections and later being told they will be connected or confirming they have been connected.
Now, however, the official Cable My Street concept seems to be limited - even though the Cable My Street page on the Virgin website is still available on search engines, it directs to a more generic page about their expansion processes.
Yet the functions of Cable My Street live on in the way Virgin encourages customers to request services in their area and, presumably, the way they sort through the requests they receive.
Since Virgin customers on the official forum still refer to the Cable My Street concept, we'll continue talking about it in those terms, even though it doesn't seem to run as an official programme anymore.
---
How to request Virgin Media services
When you visit Virgin's expansion page to explore whether Virgin Media services are available in your area and whether they could be in future, the first thing they ask is that you enter your postcode.
This shows whether Virgin Media services are already available. It may possibly tell you if the services are scheduled to be installed anyway, but it's more likely they'll encourage customers to fill in the request form instead.
Virgin ask for the following information on the request form:
Title
First name
Last name
Flat (Optional)
Building name or number
Road or street
Town or city
County (Optional)
Postcode
Main phone number
Alternative phone number
Email address
They'll also ask when is the best time to call during the working week, offering timeslots of 9am to 1pm, 1pm to 5pm and 5pm to 9pm.
They promise to call within 10 days to let customers know which services are available in their area. However, since the postcode checker on their site already explains whether any services are available, this exercise is likely more about registering interest on the Virgin system.
It could be that a customer will find out from this process that their street is due to be connected in the next six months. If that is the case, that's the problem solved once installation begins.
Understanding your case
Either before filling in the form or between filling in the form and waiting for a call back from Virgin, it's important to understand as much as you can about the Virgin Media situation in your local area to strengthen your case.
Virgin is likely to look more favourably over requests close to their existing network, so think about the following questions:
Can people living in the local area get Virgin? If asking the question is awkward, look out for Virgin-branded street cabinets.
Is Virgin Media active in the town or village at all?
If you're on good terms with neighbours or business owners in the area, asking whether they would also put in a request or agree to strengthen your case could be useful.
What role can local authorities play?
As we mentioned above, Virgin are keen to work with willing local authorities to install services to areas.
They usually frame this as a way of cutting red tape to get cables installed more easily, and it's certainly true that local authority willingness could be the tipping point if Virgin have a decent number of requests for a particular area.
So, writing to a local councillor asking whether they are aware of any plans to expand into a given area could result in a strengthened case.
We've seen a recent example of a local authority working effectively with Virgin Media O2 in the form of their agreement with Telford and Wrekin Council.
While the Shropshire area already has good Virgin Media connections, an agreement to upgrade public buildings such as schools and libraries could lead to 12,000 more premises being connected in the areas surrounding Telford.
Likely outcomes
We have to concede that the chances of receiving a call from Virgin saying a request has been granted and cable will be installed shortly are slim.
It's more likely Virgin will request to keep your details on file and promise to let you know if services do expand to your area. They may also suggest steps you can take to get other people in your area interested in Virgin cable.
Yet even when there are numerous properties asking to be connected, other factors can make it too expensive to provide cable to certain areas - and Virgin wouldn't be able to offer an affordable service.
There is one other way to tip the balance, however: paying to get a connection.
---
Paying to have Virgin Media connected
Cable My Street were always quick to stress they definitely did not actively seek contributions from customers. No information on Virgin's website suggests this stance has changed.
However, when people specifically request to pay to have cable installed, there can sometimes be options available.
Virgin Media wouldn't tell us how much it would cost for installation ("each instance is unique and there are no hard and fast rules on this," they said). But as BT's ultrafast fibre on demand service costs anywhere from £1,625 to £2,650, we think that a few thousand pounds would be a fair guess.
But it's important to remember that Virgin Media aren't the only provider offering ultrafast broadband speeds anymore. We look at this in more detail below.
---
Why should Virgin Media cable my street?
Virgin Media broadband is still the fastest, most widely available broadband in the country, offering speeds of more than 1Gb to over 15 million home at the time of writing.
The slowest package offered by Virgin is their M50 superfast broadband which offers average speeds of 54Mb. They also offer packages of 100Mb, 200Mb, 350Mb and 500Mb, as well as various broadband and TV bundles:
Signing up to cable broadband from Virgin Media, then, guarantees high broadband speeds that can be coupled with home phone and TV services to create personalised bundles.
Thanks to their merger with O2, these can now include Volt benefits too.
Read our review of Virgin TV deals or browse the latest special offers to tempt eligible customers to take Virgin services:
Offer
Terms

Get this offer

£50 bill credit with Virgin M125 broadband, just £26.50/mth

Hurry! Offer ends 14 December 2023

18 month minimum term. No setup fee. £49/mth after 18 months.

Get this offer

Get this offer

Virgin Media Bigger Sports Combo HD Bundle just £62 a month with free setup (worth £35)

18 month minimum term. No set up fee. £137/mth after 18 months.

Get this offer
---
What about other fibre broadband providers?
As we've already pointed out, Virgin are no longer the only fibre broadband provider around, even if their footprint is bigger than most.
Openreach have moved from expanding their superfast network to rolling out fibre to the premises (FTTP) broadband at pace.
At the time of writing, this has covered more than eight million premises and is scheduled to reach 25 million premises by the end of 2026 - including up to 6.2 million in rural and semi-rural areas that Virgin Media may not venture to.
Thanks to the way Virgin and Openreach expand, it doesn't mean the premises that can get Virgin are able to get Openreach services automatically too - so, the chances of being able to access fibre broadband are increased slightly.
So, while being able to access Virgin Media broadband and TV services is undoubtably a nice option to have, it's not the only option for fast broadband, and networks are expanding every month.
---
Summary: It's worth asking
We would always recommend that anyone wondering whether Virgin is available in their area get in contact with the company via their website to find out if there are expansion plans already in place and to register their interest for the future.
While Cable My Street as a definite programme seems to have fallen by the wayside, the ability to register interest remains and it can be an important step towards finding out whether Virgin are likely to expand to a given area.
Just remember that there are other ultrafast options on the market now, meaning that while it's worth asking whether Virgin are coming to your street, their engineers may not be the only ones digging up your area in the near future.
So, customers may want to:
Register interest with Virgin Media
Check whether any other ultrafast builds are active in the area through local news websites or searches
Consider registering interest with other providers too
Thanks to the rapid spread of FTTP broadband, more customers will get the opportunity to sign up to these deals in the future - and it may or may not be with Virgin.