TalkTalk or Plusnet broadband: which is best?
TALKTALK and Plusnet are both providers of cheap broadband with similar price points, so who offers the better broadband service?
We reveal who is best in this guide.
Both TalkTalk and Plusnet offer a choice of broadband speeds from up to 17Mb as well as fibre up to 38Mb and 76Mb deals - and all three deals are comparatively similar in price.
They also both offer a similar Youview TV service, although Plusnet is definitely the better choice for sports fans offering access to BT Sport at a much cheaper price.
And as we'll look at in more depth, Plusnet also beats TalkTalk for offering better customer service and faster broadband speeds.
At a glance
TalkTalk
Plusnet
Price
From £19.95/mth
From £19.99/mth
Basic broadband
Up to 17Mb
Unlimited
Up to 17Mb
Unlimited
Fibre broadband
Up to 38Mb and 76Mb
Unlimited
Up to 38Mb and 76Mb
Unlimited
Inclusive calls
Anytime UK calls
£7.50/mth
Includes UK mobiles
£8/mth
Includes UK mobiles
Youview TV
Minimum term
12-months
18-months for fibre
12-months
30-day option
Special offers
Winner: Plusnet, but keep an eye out as offers do change.
Plusnet and TalkTalk both frequently run special offers for new customers - which is best usually depends on the offers running at the time.
For now, Plusnet has the better offer with £50 cashback and money off their up to 17Mb unlimited broadband.
TalkTalk are offering a similar discount but without the cashback.
TalkTalk Broadband Offers
Basic broadband deals
TalkTalk and Plusnet both offer a basic broadband deal with up to 17Mb speeds and unlimited usage:
Package
Broadband
Contract term
Upfront price
Monthly price
Unlimited + Line Only
Up to 17Mb
Unlimited
12 months
Free
£18.99
for 12 mths,
then £27.98
Fast Broadband
Up to 17Mb
Unlimited
12 months
Free
£19.95
for 12 mths,
then £25.50
Compare more cheap broadband deals.
Fibre broadband deals
Both providers also offer two similar fibre broadband deals, with a choice of up to 38Mb and up to 76Mb speeds, both with an unlimited download limit:
Package
Broadband
Contract term
Upfront price
Monthly price
Unlimited Fibre + Line Only
Up to 38Mb
Unlimited
12 months
Free
£22.99
for 18 mths,
then £32.98
Unlimited Fibre Extra + Line Only
Up to 76Mb
Unlimited
12 months
£25
£29.99
for 18 mths,
then £37.98
Faster Fibre
Up to 38Mb
Unlimited
18 months
Free
£27.50
Faster Fibre (up to 76Mb)
Up to 76Mb
Unlimited
18 months
Free
£30
for 18 mths,
then £32.50
Compare more fibre broadband deals.
Price
Winner: Plusnet, but expect this to change as offers vary.
As shown in the tables above, both Plusnet and TalkTalk are offering very similar broadband deals for prices with only pennies between them.
Both providers are running introductory discounts for new customers, and while TalkTalk is marginally cheaper than Plusnet, their fibre deals require customers to sign for at least 18-months.
In addition, at the time of writing, Plusnet are also offering £50 cashback on their up to 17Mb deal, making the package much cheaper than TalkTalk overall.
More on price
Contracts: TalkTalk
TalkTalk offer a choice of three contact lengths on their broadband deals: 12 months; 18 months and 24 months.
While you wouldn't be blamed for thinking signing up for a longer period would offer better value, we'd urge caution here.
TalkTalk advertise these contracts as being fixed price, and currently charge more per month on the longer-term deals.
While we expect they're not being heavily promoted, this isn't good value for money at all, as not only can customers switch sooner on shorter deals but also regulation allows customers to switch within contract without charge if a provider puts the price up.
Contracts: Plusnet
Plusnet don't offer this same confusion of multiple contract lengths, but they do offer rolling contract options instead, which we think is far more useful.
Customers who don't want to be tied into a minimum term can opt for a 30-day contract instead - it costs a little more per month and there are setup fees, but customers can cancel when they need to without cost.
Package
Broadband
Contract term
Upfront price
Monthly price
Unlimited + Line Only (30 day contract)
Up to 17Mb
Unlimited
1 month
£50
£23.99
for 12 mths,
then £31.48
Home phone prices
Neither TalkTalk nor Plusnet include any calls in their basic line rental.
TalkTalk only offer an Anytime call plan add-on, while Plusnet offer customers the choice to add Evening & Weekend calls or Anytime calls.
| | Package | Included calls | Monthly price | |
| --- | --- | --- | --- | --- |
| | Evening & Weekend UK + mobile calls | UK landlines beginning 01, 02, 03, 0845 and 0870, and UK mobiles, Monday to Friday 7pm to 7am, and all weekend. | £4 | |
| | Anytime UK + mobile calls | UK landlines beginning 01, 02, 03, 0845 and 0870, and UK mobiles, at any time. | £8 | |
| | Unlimited UK calls | UK landlines beginning 01, 02, 03, 0845 and 0870 and UK mobiles, at any time. | £7.50 | |
Plusnet also allow their customers to take line rental elsewhere, but note that it is still required from somewhere so a typical fee of £18.99 should be added to the prices below for a realistic idea of total cost.
Package
Broadband
Contract term
Upfront price
Monthly price
Unlimited
Up to 17Mb
Unlimited
12 months
£35
£13.49
Unlimited Fibre
Up to 38Mb
Unlimited
12 months
£50
£17.49
Unlimited Fibre Extra
Up to 76Mb
Unlimited
12 months
£50
£22.49
Pay upfront
Plusnet offer customers the change to pay for line rental a year in advance. Doing so brings the cost down, saving customers £18 a year, or the equivalent of a month's free line rental.
TalkTalk don't offer customers this option.
| | Standard line rental | Pay upfront | Effective monthly cost | Saving over a year | |
| --- | --- | --- | --- | --- | --- |
| | £17.99 | £185.88 | £15.49 | £18 | |
Geographical pricing
One word of warning against Plusnet here: they use geographical based pricing.
That means not everyone will be able to access Plusnet's lowest prices, as these are only offered to customers living near the most competitive exchanges.
People served by a Market A exchange - roughly 10% of the country - will find they have to pay around £7.50 per month more for the service.
Those affected, who can find out here, could consider John Lewis Broadband - a resold version of Plusnet but without any differences in price between areas.
On the other hand, TalkTalk operate over what's called a local loop unbundled network, which is separate to the BT network used by Plusnet. TalkTalk's LLU service is not available quite as widely as BT/Plusnet - and so those on a Market A exchange may not be able to access TalkTalk broadband in any case.
To check which prices are likely to apply use the postcode checker tool on our Plusnet deals and TalkTalk deals pages.
Broadband speeds
Winner: Plusnet, for offering faster real world speeds.
Both Plusnet and TalkTalk offer speeds of up to 17Mb, up to 38Mb fibre and up to 76Mb fibre connections.
According to the most recent data published by Ofcom on average broadband speeds though, Plusnet is outperforming TalkTalk across all of their packages, offering a faster broadband service.
Ofcom average speeds, published April 2017
Advertised speed
Over 24hrs
Peak time
(8-10pm weekdays)
TalkTalk
Up to 17Mb
8.6Mb to 10Mb
8.6Mb to 9.9Mb
Plusnet
Up to 17Mb
9.6Mb to 11.4Mb
9.5Mb to 11.3Mb
TalkTalk
Up to 38Mb
30.8Mb to 32.8Mb
30.63Mb to 32.6Mb
Plusnet
Up to 38Mb
31Mb to 33.5Mb
30.1Mb to 32.7Mb
TalkTalk
Up to 76Mb*
51.6Mb to 56.7Mb
51.2Mb to 56.3Mb
Plusnet
Up to 76Mb
54.6Mb to 57.7Mb
53.9Mb to 57Mb
SOURCE: Ofcom, UK Home Broadband Performance, April 2017.
More on speeds
Advertised broadband speeds are the highest speed available to at least 10% of customers. Ofcom's speed data on the other hand gives us a better indication of how well a provider is performing for the majority of customers.
Choose has also run its own tests on both TalkTalk and Plusnet broadband from the same location - and while a one person test isn't going to prove particularly scientific - it did at least match up with Ofcom's findings.
What we did find was the speed readings we gathered from Plusnet where much more volatile, revealing that, to our particular household at least, TalkTalk offered a much more stable service.
Where the line starts to leap up and down, about a third of the way along, is where the broadband service being tested switched from TalkTalk to Plusnet.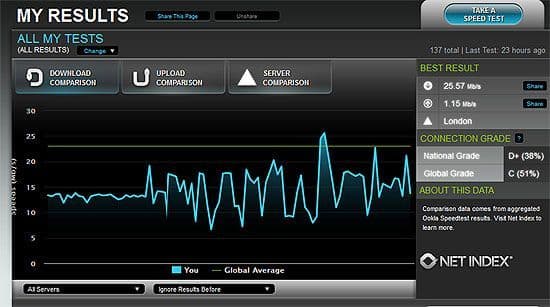 SOURCE: Choose, speed test results carried out April 2015, speed test by Ookla.com.
Youview TV
Winner: Plusnet, who offer more premium channels as standard and much cheaper prices for BT Sport.
Both TalkTalk and Plusnet offer additional content alongside the Youview TV platform for their broadband customers.
Plusnet TV is only available to their fibre broadband customers, whereas all TalkTalk broadband customers can add TV.
However, Plusnet are arguably offering a better service; with more premium channels included as standard and a better set top box on their plus package.
Plusnet TV is cheapest for anyone wanting to watch BT Sports; Plusnet customers can watch in HD; and both offer access to Netflix.
TalkTalk offers access to Sky Sports and Sky Cinema, which Plusnet does not. Although Plusnet customers can view Sky content through Now TV and the Sky Store.
For more on the differences between Plusnet and TalkTalk Youview TV.
| | Package | Record and store programmes? | Premium channels | Upfront price | Additional cost per month | |
| --- | --- | --- | --- | --- | --- | --- |
| | TV | | | £25 | £0 | |
| | TV Plus | Up to 180 hours SD | 6 Sky channels | £25 | £5 | |
| | Youview | | 20 | £6.99 | £5 | |
| | Youview+ | Up to 300 hours SD | 20 | £57.99 | £5 | |
Customer service
Winner: Plusnet, but it's a close call.
Plusnet sell themselves on being a Yorkshire based provider, and call centres are indeed based in Yorkshire. That's unlike TalkTalk who use overseas call centres.
Plusnet typically rank well in customer satisfaction surveys, but in Ofcom's latest customer service report it was revealed Plusnet customers suffered the longest call waiting times of over 7 minutes on average.
TalkTalk gained a bad reputation for customer service when the provider took on a large number of customers too quickly in 2009, and while they did eventually recover, again experienced problems from data breaches in 2015.
But Ofcom's latest report showed TalkTalk were the quickest provider to answer the phone, with their customers only having to wait an average of 47 seconds to speak to someone.
Although TalkTalk's customers spoke to someone sooner, they also reported the highest dissatisfaction with how any complaints were handled.
Customer service metrics
TalkTalk
Plusnet
Complaints to Ofcom
per 100,000 subscribers
98
113
Customers with reason to complain
16%
8%
Average call wait time for support
47 seconds
7 minutes, 27 seconds
Customers who hang up while waiting
4%
21%
Satisfaction with complaints handling
51%
No data
SOURCE: Ofcom, Service quality of telecoms providers revealed, April 2017.
More on customer service
After three data breaches in under 12 months, TalkTalk saw more than 100,000 customers leave - and of those who didn't leave, many complained instead about how they were treated and how long it took to receive an apology.
TalkTalk are the only provider who've reported a decline in overall customers against the other three major providers: BT, Virgin and Sky.
Ofcom's report does show some positive signs that TalkTalk are beginning to turn things around again. As well as having the shortest call wait times, TalkTalk also came in third out of six for complaints received - indeed outperforming Plusnet.
For more on which broadband provider offers the best customer service.
Verdict: Who wins out of TalkTalk vs Plusnet?
In terms of price, TalkTalk and Plusnet make it difficult to choose a winner and it largely comes down to whichever provider is offering the better joining incentive at the time.
Plusnet score the most points for offering a faster real world broadband service, and while their customer support could see improvements, TalkTalk's data breaches have left the provider with a lot to prove again.
Overall winner: Plusnet.
For more read our in-depth reviews to Plusnet here and for TalkTalk here.
15 November 2017
10 November 2017
9 November 2017
Follow us or subscribe for FREE updates and special offers