Plusnet customers reported the highest levels of satisfaction with 93% expressing satisfaction with the overall service offered by the broadband provider.
On the flip side, TalkTalk were the lowest-rated provider according to their customers, and they also rated poorly for reliability of service satisfaction.
Another important metric of customer satisfaction is the length of time customers spend waiting on the phone, and EE are the best ISP on that measure.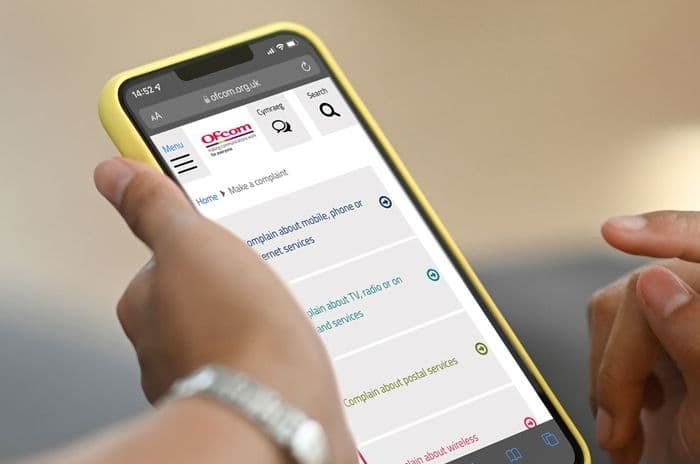 Source: Ofcom
Customer satisfaction
Ofcom's annual report on Comparing Service Quality shows how different providers are performing on various customer service metrics.
On average, 85% of customers were satisfied with the service they received from their broadband provider, although 12% of customers had a reason to complain during 2019.
Satisfaction with the handling of complaints increased to 53% in 2019, and the average number of complaints per 100,000 subscribers fell compared to the previous year.
Virgin Media performed badly on some metrics, with 14% of Virgin Media customers having a reason to complain, and only 46% of their customers were satisfied with the handling of their complaints.
Equally, Vodafone had a terrible year for broadband complaints, and their annual figures were more than double the industry average.
Satisfaction with Plusnet
Six broadband companies were given a rating for overall satisfaction with their service. Of these, Plusnet came out on top with 93%, eight percentage points above the industry average.
This is despite some other poorer metrics such 14% of their customers having a reason to complain and only 49% of customers satisfied with their complaint handling.
Their average call waiting time at 3m 48s was one of the worst (second only to Virgin Media's 4m 26s) and their complaints figures were around double the industry average for the year, yet most of their customers expressed satisfaction with their service.
Plusnet's 2019 complaints woes can be traced back to the implementation of a new billing system in September 2018 which began triggering high levels of complaints from Q4 2018 onwards.
As we covered in our recently updated guide to Plusnet's broadband, their customer service record before the billing system fiasco was good, and Ofcom's report seems to back up the theory that it's returning to its previous level, despite the notable problems.
Other providers
For the second year in a row, TalkTalk have rated poorly for overall customer service satisfaction, their percentage falling from 79% to 78%.
While this isn't a huge drop, it demonstrates ongoing issues with TalkTalk's customer service, especially as the number of customers satisfied with the handling of their complaint remains stuck at 44%.
They are the third most-complained about broadband provider behind Vodafone and Plusnet, but customers at least get to talk to a representative quickly - they're the second-best provider on this measure, answering the phone in only 39 seconds on average.
EE performed well across several categories, ranking above average for overall satisfaction with complaint handling, average call waiting times and complaint figures.
Equally, Sky's 62% complaint handling satisfaction score is second only to EE's 66%, and their 21 complaints per 100,000 customers is the lowest of all providers.
It's worth highlighting that only the major six providers are fully covered by this Ofcom report, so full data on broadband from the Post Office and Vodafone isn't yet covered as they didn't fulfil the eligibility criteria for the entire report period.
This means we can't see how satisfied Vodafone customers are overall, nor do we know how satisfied their customers are with the handling of their complaints.
The same is true for the Post Office, although the data we can see includes the joint-lowest level for customers having a reason to complain.
Keep up to date with our in depth guide to broadband customer service.