Is Amazon Prime worth it?
©A Blog On Blogging
69 million people now subscribe to Amazon Prime worldwide, while more than half of Amazon's US customer base count themselves as subscribers to the paid subscription service.
Considering that it was first launched only in 2005, this is an impressive number, and one which appears to testify to the substantial savings it offers on free delivery and special discounts.
However, as popular as it clearly is, the question still remains: just how much value for money does it offer to those who pay either £7.99 a month or £79 a year for its benefits?
As this guide will show, the answer isn't as obvious as it might seem, if only because those who sign up to Prime generally end up spending more money at Amazon than they would have otherwise.
Subscriptions
In the past, Amazon Prime used to offer only an annual subscription, which was a modest £49 until February 2014, when it was raised to £79.
They changed this policy in May 2016 though, offering customers the opportunity to subscribe also on a monthly basis for a charge of £7.99.
Part of the rationale behind this move was to bring Amazon Prime in line with its competitors in the world of video-on-demand, including Netflix and Now TV.
Yet additionally, it was intended to make the service attractive to those who tend to shop at Amazon only at certain times of the year, such as in the lead up to Christmas.
Otherwise, as the table below shows, having the monthly membership for an entire year would work out as more expensive than the annual membership, coming to £95.88, or £16.88 above the yearly fee.
Amazon Prime Subscription Prices
Cost Monthly
Cost Yearly
Annual Subscription
-
£79.00
Monthly Subscription
£7.99
£95.88
Still, for those who make sure to cancel their monthly subscriptions as soon as they no longer need to buy books, DVDs or whatever else, it makes perfect sense to take out a monthly membership for two or three months, as opposed to paying for an entire year.
One thing such shoppers have to keep in mind, however, is that unless they explicitly cancel their membership it will renew automatically.
This makes the monthly option dangerous for those who don't pay close attention, so dangerous that it would be interesting to see figures on how many monthly subscribers Amazon have caught out like this. Although, unsurprisingly, Amazon aren't that interested in publicising how their system is potentially making some customers pay over the odds.
Nonetheless, cancelling a subscription is relatively straightforward, with Amazon offering a pro-rata refund for any subscriber - monthly or annual - who pays their fee as soon as they join and cancels within 14 days of joining.
Looked at the other way around, if they cancel after 14 days of joining, they'll receive no refund whatsoever. The only exception to this is for annual subscribers who don't use any of the benefits or discounts associated with the Prime service, since such subscribers can cancel at any time and still receive a full refund.
Savings
Of course, knowing the terms and conditions of subscriptions is all well and good, yet the main question to be answered when it comes to Amazon Prime is what discounts are actually offered, and how much would the average customer need to spend to get a return on their subscription fee.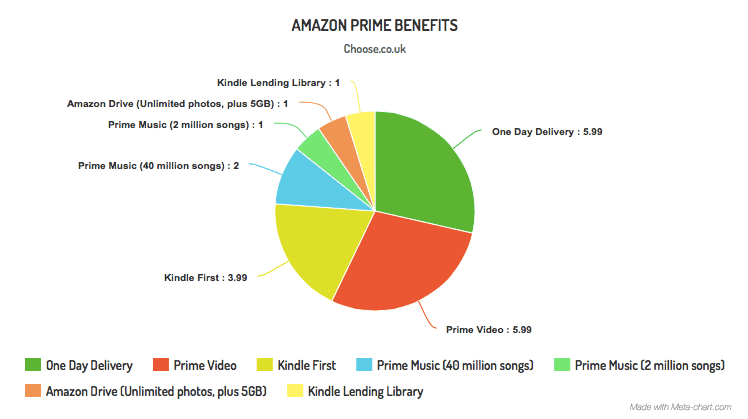 As the pie chart above suggests, perhaps the main perk of Prime is free and unlimited one-day delivery on "millions of eligible items."
These include books, electronics and even foods, and normally one-day delivery on such items would cost anything from £5.99 (for a copy of Charles Dickens' Great Expectations) to £7.99 (for a CD and cassette player).
In other words, a monthly subscriber would have to make at least two orders of either books or electronics in a single month to make their subscription pay off.
Similarly, an annual subscriber would have to order a book on at least 14 separate occasions to begin making savings on their yearly fee of £79, or buy electronics on at least 10 occasions.
Given that most subscribers to Amazon Prime are likely to be people who would purchase items fairly regularly, these numbers aren't particularly high.
That said, it's important to bear in mind that, unless someone is doing last-minute shopping for either a birthday or holiday, they aren't really going to need one-day delivery.
Instead, they should be happy to use standard delivery, which lowers the cost of postage for books or a stereo to £2.99 and £4.75 respectively.
In this case, monthly subscribers would have to purchase books on at least three occasions in a month to make their subscription pay off, while an annual subscriber would have to buy a book or DVD 27 times in a single year.
Clearly, when looking at the already cheap standard delivery prices, it becomes apparent that Amazon Prime is in fact worthwhile only if a customer buys books or DVDs very often, and tends to buy them one at a time rather than in bigger orders of several items.
Either that, or it's worthwhile for those who buy bigger products, such as electronics.
Other benefits
While this might make Prime seem like it's worthwhile mostly for those who purchase items constantly from Amazon, there are numerous other benefits to Prime membership.
For one, there's access to Amazon Prime Video, which now boasts an exclusive range of popular TV series including Man in the High Castle, Transparent, and The Grand Tour.
While there are no individual price tags on these series, the cost of Amazon Video on its own is £5.99 a month, meaning that someone who has Prime is paying only £2 a month or £8.12 a year extra for access to free one-day delivery.
In turn, this makes it easier to save on delivery, since customers would have to purchase considerably less books, CDs or electronics to gain a return on this additional £2 or £8.12.
Then again, they'd obviously need to have an interest in actually watching the above series for the Amazon Video element of Prime to be worthwhile, since otherwise Amazon would fall guilty once again of tempting people with offers on things they didn't previously want.
But if they aren't especially interested in television, there's also the free access Prime grants them to the Kindle Owners' Lending Library.
This enables subscribers to borrow a Kindle e-book for free once a month. These books are downloaded onto a Kindle, Fire tablet or Fire phone, can be passed around a household, and have no due dates, although they need to be returned before the next one can be borrowed.
Essentially, this provides subscribers with one free e-book a month, saving them anything from £2.99 to £5.99.
Once again, this makes Prime seem like a good deal, yet in actuality it's good mostly for those who are so voracious as readers that they can read one free book a month, in addition to those they'd need to buy to make savings on their subscription.
And in fact, there are only so many books the average person can sanely read in a month, something which creates a natural limit as to how much a subscriber could save with Prime in this way.
This is perhaps why someone with a more varied diet of culture and consumer items has perhaps the best chances of benefiting from Prime, since they'd be under less pressure to consume a lot of the same kind of product to make things work out in their favour.
Yet as the following table shows, the potential annual savings for someone who does have such a diet are considerable, with the total coming to almost £280.
Is Amazon Prime Worth Paying For?
Value of Prime benefit
Total over a year
One Day Delivery
£5.99 per delivery
£143.76**
Prime Video
£5.99 per month
£71.88
Kindle First
£3.99 per month (one book)
£47.88
Prime Music (40 million songs)
£2 off per month (£9.99 full price)
£24 (off £119.88)
Prime Music (2 million songs)
Only for Prime members*
?
Amazon Drive (Unlimited photos, 5GB other files)
Only for Prime members*
?
Kindle Lending Library
Only for Prime members*
?
Total Value
£23.96** per month
£287.52**
*These Amazon Prime benefits aren't available without Prime and so don't have a published value.
**Total values are based on using one day delivery on two purchases a month.
Lightning Deals
One particular way a varied diet of culture and products is encouraged is by Prime's 30-minute early access to Lightning Deals, which offer a limited number of certain products for a limited amount of time.
With such early access, Prime members get to hear about these Lightning Deals half an hour before the general public.
This enables them to beat non-members to special reductions on various items, which generally span the entire range of products Amazon offer.
It therefore enables them to save even more money, although not without having to buy more items from Amazon at the same time, of course.
Double spend
Yet more special deals are also offered on Amazon Prime Day, during which Prime members have the chance to buy thousands of items at discounted prices.
As might be imagined, Amazon's sales skyrocket on this day, with 2016's edition on July 12th being not only 60% bigger than 2015's version, but also the retailer's biggest day of sales ever.
Amazon didn't reveal exactly how many purchases were made on this day, and neither did they disclose how many new members signed up in order to benefit from the special offers.
Nonetheless, one thing is clear from the available research, which is that those who are Prime members spend more money at Amazon than those who aren't.
To be more precise, they spend more than double, with Consumer Intelligence Research Partner calculating that, in America at least, Prime subscribers hand over $1,200 a year to Amazon on average, in comparison to the $500 a year of non-Prime subscribers.
If nothing else, this goes to show that, even Prime offers free deliveries and discounts, it actually costs people overall, at least in the sense that many end up parting with more money than they would have spent otherwise.
But to give credit where it's due, this overspend is a testament to the vast range of enticing products and deals offered by Amazon, who with Prime have created a service that allows customers to make plenty of savings compared to buying the same products with other retailers.
Admittedly, as the above has shown, they often do need to buy more in order to make Prime worthwhile. Yet for those who would be regularly spending money at Amazon anyway, the service is almost a no-brainer.
16 November 2017
13 November 2017
8 November 2017
Follow us or subscribe for FREE updates and special offers