It means that insurance companies are banned from offering lower premiums to women compared to men.
However, since the risk profiles of many female drivers are better than men's, it's still likely their insurance quotes will be lower.
There are some car insurance companies who focus on female drivers, yet our comparison shows they can be much more expensive.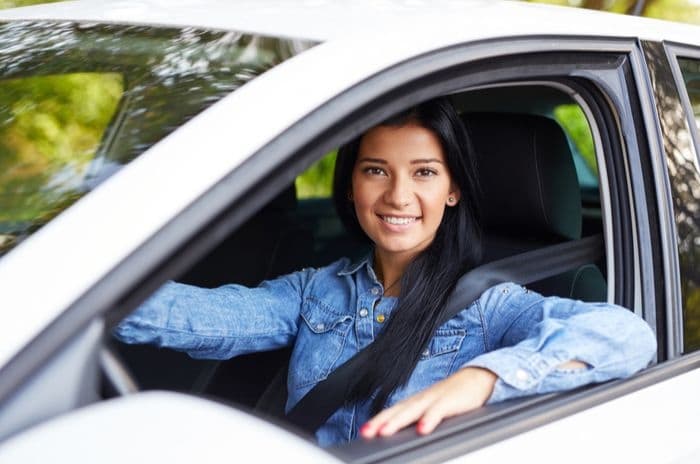 ---
Is car insurance cheaper for women?
Car insurers are not allowed to offer cheaper insurance to women simply based on their gender.
They used to be able to (more on the historical reasons below) but the practice has been banned since 2012 and so insurance providers can no longer say they provide cheaper insurance deals for women in comparison to men.
However, there are two important points to bear in mind:
Car insurance is based on risk and women are often considered to be less risky to cover than men
Some insurers will still target female customers, even though they must offer the same deals to any men who apply
We'll take a closer look at what this second point means in practice below, but it's worth pausing to consider one statistic first.
Analysis from Admiral based on their five million customers in July 2022 found that:
Women paid an average of £552.07 for their premiums
Men paid an average of £666.94 for their premiums
This was a difference of £114.87, meaning women paid 21% less on average than men for their motor insurance premiums.
Remember that this is data from Admiral - cheaper insurance policies can often be found elsewhere, but this simply illustrates the gap in their customer portfolio.
So, while insurers are not permitted to offer cheaper car insurance to women, it seems that many women are paying less anyway.
This is because premiums are calculated on risk and driver behaviour so various factors that might benefit women more than men are considered such as the type of car they choose and how many accidents or claims they have.
The main thing to remember is that women are not automatically offered cheaper motor insurance based on their gender - but they might get a cheaper quote for other reasons.
Car insurance targeted at women
Some car insurance companies are targeted predominantly at women, even though they must offer the same deals to men with comparable risk profiles when they apply.
Examples of insurers targeted at women include:
Diamond
Go Girl
Shelia's Wheels
However, because they offer car insurance based on the same practices as the rest of the industry, there's no guarantee they will be cheaper just because they're targeted at women.
To put that to the test, we ran a car insurance comparison search to look at two car insurers targeted at female drivers alongside the cheapest quotes available.
Here's the applicant criteria we used:
Applicant
Age
35
Gender
Female
Employment
Full-time administration clerk
Licence
Full licence for 5 years
No claims bonus
5 years
Vehicle
Hyundai i20 2013 (worth £6,000)
Convictions or fines?
No
As we can see, there are a couple of elements in here that might impact how the insurer sees our driver such as having a no claims bonus and not having any driving convictions or fines.
In addition, they have a low-risk job and a sensible car that wouldn't be overly attractive to thieves.
Then we thought about the type of insurance cover we wanted:
Policy
Cover
Comprehensive
Voluntary excess
£500
Extras
None
Here, we have a voluntary excess of £500 which might seem a little on the high side to some customers. This can easily be adjusted when you run your car insurance search to balance monthly premiums with a high voluntary excess.
So, which car insurance companies proved to be the cheapest on this search?
| Insurer | Targeted at women? | Monthly cost | Annual premium |
| --- | --- | --- | --- |
| Geoffrey Insurance | No | £24.61 (11 payments, plus initial payment of £21.92) | £292.63 |
| RAC | No | £29.18 (11 payments, plus initial payment of £25.52) | £346.50 |
| Diamond | Yes | £57.82 (11 payments, plus initial payment of £57.97) | £693.99 |
| Go Girl | Yes | £79.58 (10 payments, plus initial payment of £199.05) | £994.85 |
The two female-focused car insurers that appeared in this search were significantly more expensive than the cheapest options on the market. In fact, Go Girl was one of the most expensive quotes we came across.
Nor did they offer much in the way of extras beyond the promise of inclusive handbag cover (£300 for Diamond and £200 for Go Girl).
From this search, then, it doesn't seem that car insurance targeted at women offers better value for money, although price should not be the only factor when we're looking at car insurance quotes and some women may still prefer an insurer focused on their needs.
Loyalty penalty rules
Something else that impacts car insurance quotes for both women and men are the "price walking" rules brought in by the Financial Conduct Authority (FCA).
The basic premise of this is that, from 1 January 2022, insurers:
Must offer renewing customers a price that is no higher than what they would pay if they were a new customer
Essentially, this is designed to stop customers paying far more to renew their policy with a provider than they would if they were signing up to a new deal.
This doesn't affect female drivers specifically, yet it may explain why some insurers seem to be pricing their insurance premiums differently in 2022 compared to previous years.
The average costs of comprehensive car insurance in Q1 2022 were £416 according to the Association of British Insurers (ABI), 5% lower than at the same time in 2021 and its lowest level since Q3 2015.
---
How can women save on their car insurance?
Since women are no longer able to get cheaper car insurance simply because they're women, they need to look more closely at the factors that help reduce motor insurance premiums more generally.
These factors include:
Shopping around for good quotes
Choosing cars with reasonably small engines
Not modifying vehicles
Building up no claims discounts
Parking in a secure location
Installing a dash cam
Being honest on insurance applications
Some cheap insurance policies may also be predicated on using telematics to monitor driving habits and evaluate risk.
---
Why can't women get cheaper car insurance anymore?
Insurance providers have historically charged women less on their premiums.
The reasoning was simple: women get in fewer accidents, so they cost the insurance brokers less money.
This led to a slew of female-focused car insurers like Shelia's Wheels promising lower car insurance premiums for women.
However, in 2012, the European Court of Justice (ECJ) began enforcing legislation which stopped insurance companies taking gender into account when pricing premiums.
The change was based on older laws. The EU decided to change rules set out by the Equal Treatment Directive (implemented in 2004). The Directive had included a provision allowing insurers to keep using gender as part of their calculations, which had to be based on reliable data.
But this provision was challenged and eventually overturned. The ECJ ruled in 2011 that it was gender discrimination and, from 21 December 2012, insurers could no longer base prices on gender.
While Brexit could theoretically change this, there have been no signs from regulators that it will alter in the medium term and, indeed, the focus has been on ensuring fair pricing parity between new and existing customers.
It's difficult to see a leap from that to arguing that insurers should be free to discriminate on gender instead.
As we've seen earlier in this guide, though, while gender is not categorically included in an insurer's calculations, the way individual risk profiles are calculated mean that many of the factors that make women less of a risk for insurers are taken into consideration even without the crude split by gender.
---
What else affects car insurance premiums?
Motor insurance premiums are affected by multiple factors including:
The type of car we have
Our jobs
Where we live
Whether we have a garage or not
Our age
This last point is perhaps one of the most important: younger drivers have higher premiums.
If we refer back to the Admiral data for July 2022 mentioned above, we can see how much of a difference age makes to the typical car insurance premium for their five million customers:
| Age of driver | Average premium |
| --- | --- |
| 17-18 | £1,025.70 |
| 19-21 | £808.56 |
| 22-25 | £665.81 |
| 26-30 | £565.61 |
| 31-40 | £603.02 |
| 41-50 | £577.79 |
| 51-60 | £502.43 |
| 60+ | £509.74 |
So, the youngest drivers pay 67% more than the national average of £615.32 (as of July 2022), with those aged 19-21 paying 31% more.
Within these age brackets there will be gender differences taking into account the factors we've already discussed such as the likelihood choosing a more economical vehicle and the chance of having a bigger no claims bonus.
Nevertheless, age remains the biggest impediment to getting cheap car insurance rather than gender according to this Admiral data.
---
Summary: Cheaper car insurance for women
The rules that state women should not be offered cheaper premiums than men have resulted in insurance companies being unable to provide women-only insurance plans.
However, that doesn't necessarily mean women are paying the same as men for car insurance.
Now that premiums are calculated based on individual risk profiles, more customers are getting an accurate quote based on their actual risk rather than whether they're a man or a woman.
Equally, we've seen that getting a quote from a woman-centric car insurer doesn't necessarily mean we get a cheaper deal.
Women looking for cheaper car insurance should therefore concentrate on making themselves as low risk as possible by:
Driving carefully and building up a good history
Taking precautions to secure their car as much as practical
Consider installing dash cams or using telematics
Thanks to the industry-wide ban on "price walking", insurance customers should now be able to get transparent quotes from companies, whether they're an existing customer or looking to sign up with a provider for the first time.
Learn more about your insurance rights by reading our guides on how to complain about an insurance provider or whether mental health can affect insurance premiums.