CAR insurance premiums have hit their highest ever level on record, reaching an average of £462 in the last quarter of 2016.
Credit: IgorAleks/Shutterstock.com
Announced by the Association of British Insurers (ABI), this figure is £19 higher than the previous record set in the second quarter of 2012, and represents a rise of 4.9% compared to the preceding quarter.
As is now the fashion with announcements of rising insurance premiums, the inflation-busting increase has been blamed on the rising costs of repairing cars and on whiplash claims.
Yet more interestingly, the ABI also highlight the role played by tax increases and Government policy, underlining how the Government is perhaps treating car insurance as a soft target for squeezing more money into the public purse.
Discounts
For example, the ABI note that there have been three rises in the rate of Insurance Premium Tax (IPT) since June 2015, when the then-Chancellor George Osborne announced that it would increase from 6% to 9.5%.
It's now due to hit 12% on June 1st, something which will no doubt bully insurers into increasing premiums even further.
Yet added to this, the Government are also reportedly planning to cut the discount rate, which determines how much of a reduction insurers will receive on the amounts they have to pay out to their customers and other claimants.
At the moment it's set at 2.5%, meaning that if an insurer is ordered by a court to pay, for instance, £2,000,000 in compensation, £50,000 will be deducted.
The reason why this is done is because the law and the Government assume that compensation money can be invested by successful claimants, and that their investments will, on average, yield a return of around 2.5%.
However, this rate is set in line with the base interest rate, which since August has been at the historic low of 0.25%. As such, the Ministry of Justice want to lower it accordingly, and a recent effort by the insurance industry to delay such a change failed in the High Court.
This failure has led the ABI to conclude that a reduction will be announced at some point this month, although it's not known by how much.
Even so, the ABI argue that the "discount rate impacts claims often worth millions of pounds so even a change of half a per cent will have a substantial impact".
Their Assistant Director, Rob Cummings, said, "The sudden decision to review the discount rate has the potential to turn a drama into a crisis, with a significant cut throwing fuel on the fire in terms of premiums."
In other words, if the discount rate is, well, discounted this month, then premiums in 2017 could rise even faster than they did in 2016, as insurers struggle to fill in the gap left by any reduction.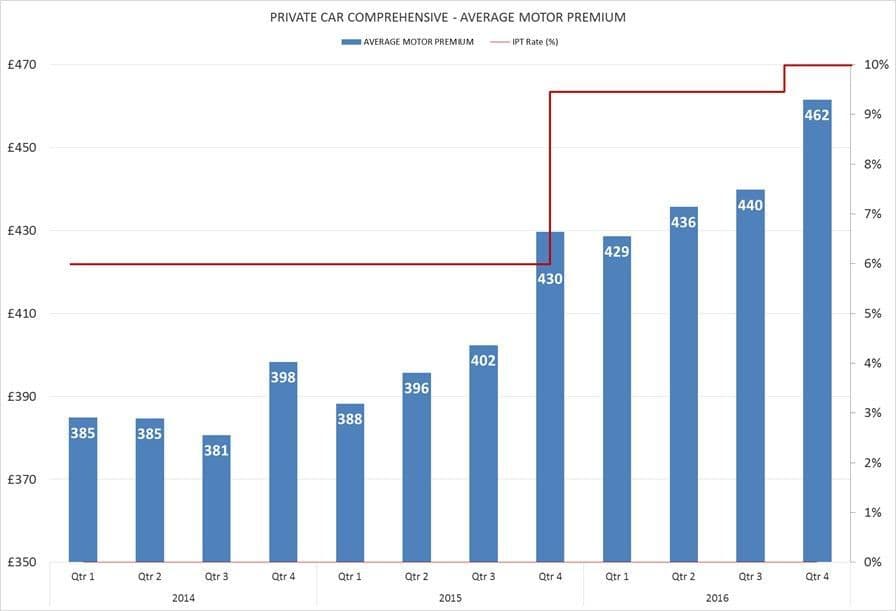 Source: Association of British Insurers
The usual suspects
Added to tax and the potential discount rate cut, there's also the endlessly recurring influence of repair fees on the cost of insurance.
These have been named as a key driver of insurance premiums for a couple of years now, with the increasing technological sophistication of the average car being the prime reason as to why they're rising.
According to the ABI, the "average repair bill has risen by nearly 32% in the last three years to £1,678 in Q3 2016".
These continue to be tough times for honest motorists. They are bearing the brunt of a cocktail of rising costs associated with increasing whiplash style claims, rising repair bills and a higher rate of Insurance Premium Tax
Rob Cummings, ABI
Then there are whiplash claims, which have also seen an increase compared to this time last year.
In the third quarter of 2016, for instance, the average injury claim settled in court was worth £10,674, which was 2.3% higher than it was in the third quarter of 2015.
Fortunately for insurers, it looks as though the Government is planning to impose a cap on compensation payments made to those who claim for minor injuries such as whiplash.
Once again, a review is being conducted into the "soft tissue injury" claims process by the Ministry of Justice, whose possible cap may bring down annual premiums by around £40, an amount which would easily reverse their most recent rise.
Squeezing the motorist
And yet, given the imminent 2% rise in the IPT and the likely reduction to the discount rate, any cap on whiplash payments won't probably be enough to prevent the surge in insurance premiums.
That's because it seems as though the Government have identified insurance as an easy target for filling the public purse, most likely because all drivers are legally obliged to pay for it, regardless of its cost.
Yet at a time when household debt is at its highest level since the financial crisis of 2007-8, they may want to reconsider such a motorist-squeezing policy, since it could have only damaging effects if allowed to continue for the next few years.