Government figures suggest 5.3 million homes across the UK are at risk of flooding, with repairs typically costing between £20,000 and £45,000 for a flooded home.
For anyone living in an area at risk of flooding, getting home insurance which incorporates flood cover can be difficult.
In this guide, we examine what flood risks are, how it might impact a customer's ability to find cheap home insurance cover and what steps can be taken to lower premiums and improve the flood resilience of a property.
To search straight away for home insurance, click through to the free Choose comparison tool.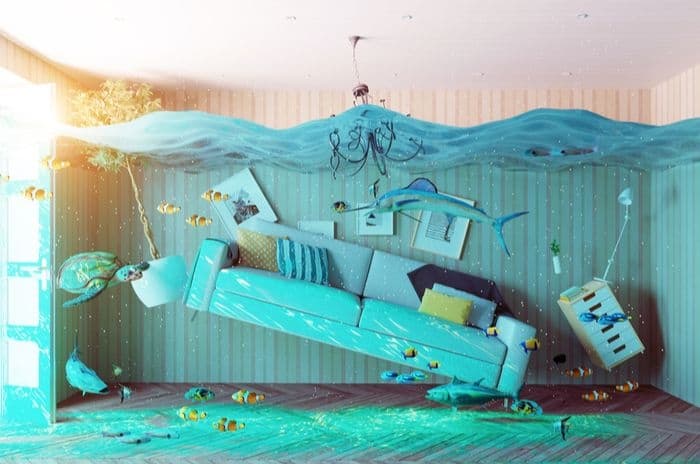 ---
Why is flood cover important?
Flood insurance is a specific element of buildings and home contents insurance that covers the risk of water entering a property.
While we might automatically think of flooding as occurring when there's heavy rainfall or a river bursting its banks, flooding can also occur when an underground water system fails or there is significant groundwater.
So, home insurance policies which cover flooding will cover homeowners and tenants in the event of flooding affecting their home.
If there's no flood cover in a home insurance policy, damage to a property caused by flooding may not be covered and therefore an insurer is unlikely to pay out.
Ensuring there are adequate protections within a home insurance policy to cover any flood risk is an important element of insuring a property.
Buildings and contents insurance
Home insurance comes in two forms: buildings cover and contents cover. While these two are often combined, there are occasions where they may not be.
For instance, a tenant in a property owned by someone else will need contents insurance, but their landlord or agency will be responsible for buildings insurance.
Knowing the flood risk of a property - and declaring it when a policy is taken out - is vital to get the right cover and to ensure a policy will be honoured if flooding does occur.
What flood risks might home insurance cover?
If a home insurance policy covers flooding, it will likely cover costs associated with:
Removing debris from the property
Drying out a property
Repairing and restoration of the building
Repairing or replacing furniture or belongings
Professional fees for surveyors, architects and others
As with all insurance policies, the detail matters and more comprehensive policies which include flood cover may contain other elements such as alternative accommodation following a flooding incident.
What flooding issues might not be covered by home insurance?
It's important to read any insurance policy carefully before signing up to ensure all the necessary cover is included and the policyholder fully understands any exemptions and limitations.
For example, alternative accommodation due to flooding may not be included as standard with a home insurance policy and, if it is, it may be capped at a lower level than might be appropriate. Think carefully before accepting a low level of alternative accommodation costs as this might involve moving home before the house is fully repaired if the insurance doesn't cover a long enough stay elsewhere.
It's also worth bearing in mind that damage to some external elements of a property may not be covered under a standard home insurance policy. So, if there are costly gates, fences and hedges associated with a home, check if these are covered or shop around for policies where they will be.
Finally, if water damage to a home comes from a pipe within the house leaking or bursting, this isn't a flooding issue - it's generally dealt with under an 'escape of water' section within a home insurance policy.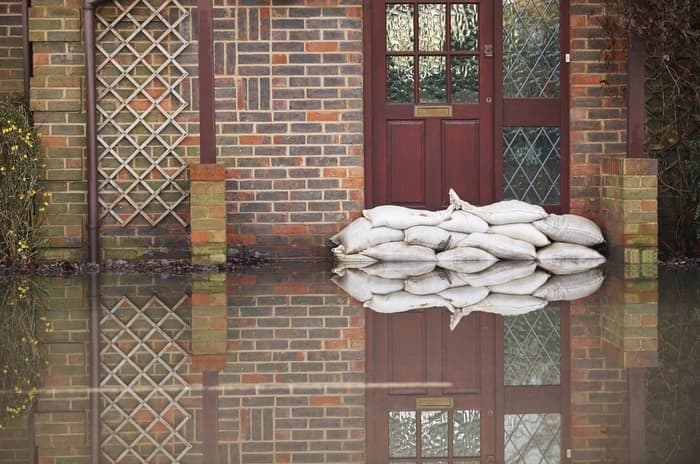 Costs of insuring a flood risk property
If a property is at risk from flooding, it can be difficult for homeowners and tenants to get home insurance that will cover the flooding risks.
There's a scheme in place to help those struggling to find home insurance - Flood Re. There's more detail on this below.
However, even if insurance with flood risk cover is offered, the chances are the premiums will be higher. This will depend on several factors including the proximity to the flooding risk and whether a household has been flooded before.
If there has been a flood at the property previously, this can dramatically increase the premiums, although it doesn't mean comprehensive insurance can't be obtained.
If a property is deemed to be in an at-risk area but hasn't been flooded in the past, premiums will be lower but they will still consider the risks.
Premiums will also be affected by how close a property is to the flood risk area. For example, householders will pay more if they live closer than 400m to water.
These risks can be compounded by each other, so if a property has been flooded before and is closer to a body of water, premiums will likely be more because of that.
Bear in mind that not all flooding events can be predicted, but households that aren't necessarily at risk of flooding should find that flooding incidents are covered in their home insurance policies - although it's important for everyone to read their policy carefully and to understand what's in it.
There are actions householders can take to improve the flood protection of a property, and these are covered further along in this guide.
Is your property at risk?
There have been numerous high-profile flooding incidents across the UK in recent years with South Yorkshire and the East Midlands particularly badly hit in 2019. While incidents like this are generally caused by heavy rainfall and make the headlines, there are numerous smaller flooding incidents that aren't widely reported and occur due to localised rainfall or groundwater.
For anyone thinking of buying a property, it's important to check the flood maps to see whether it's at risk from flooding from rivers, canals or seawater. This is done differently depending on where in the UK a house is based.
People living in England and Wales can check their postcode on the Gov.UK website.
The Scottish Environment Protection Agency provides flood maps for reference. Due to Scottish law, insurance companies can't use information derived from flood maps to set their insurance premiums, so the maps should be used to help customers determine whether their house is likely to be impacted by flooding.
Anyone living in Northern Ireland can check maps from the Department for Infrastructure.
Flood zones
The Environment Agency has created three flood zones which reference which parts of flood risk areas are most at risk of flooding from rivers or from the sea:
Zone 1 incorporates areas with less than a 0.1% chance of flooding
Zone 2 incorporates areas with between 0.1% and 1% risk of being flooded from rivers and between 0.1% and 0.5% of being flooded from the sea
Zone 3 incorporates areas with more than a 1% chance of being flooded from rivers and more than 0.5% chance of being flooded from the sea
As mentioned above, the best way to find out whether a property is at risk is to check the postcode on government websites. However, if insurance companies or surveyors begin talking about the different zones related to flood risks, at least the language will make sense.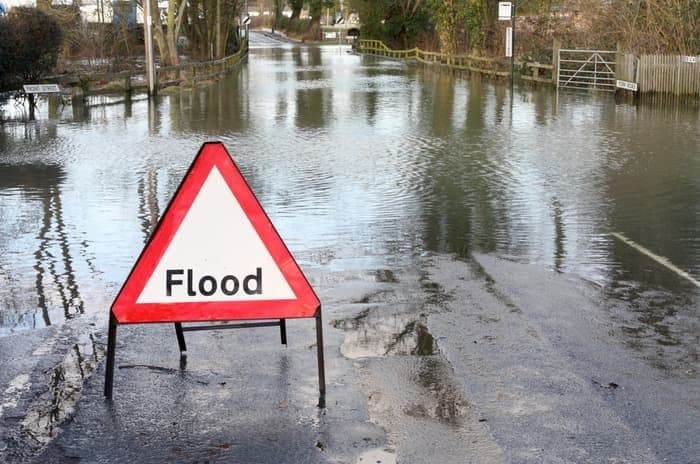 Flood risk assessment
Householders can pay a specialist for a flood risk assessment. This involves paying a company to produce a survey which details the risks to a property in-depth, allowing insurers to make a more detailed decision on the risk factors affecting a house.
These surveys can also suggest ways the risks can be mitigated and reduced, so they may be a worthwhile investment for anyone looking at improving their flood protections at a property that's deemed at risk.
However, be aware that surveys should always be undertaken by a reputable assessor. The Property Care Association, for instance, can provide details of a member of their Group via the postcode checker on their website.
A comprehensive report would examine elements including:
Vulnerable water entry points
Inspection of brickwork
Checking utility meters, internal floors and sewerage systems
It would also suggest ways to make a property resilient to flooding and whether the property should be improved to prevent water ingress or enhanced in a way that would limit the damage of a flood and help a rapid clean up.
Groundwater flooding
Groundwater flooding is a slightly different type of flooding to the surface water flooding we've discussed so far in this guide. It occurs when water rises up from underlying rocks or abnormal springs and brings the water table to high levels.
So, while groundwater flooding can be caused by sustained rainfall in the same way that surface water flooding can, it builds up from underneath the ground rather than being caused by heavy rain being unable to soak into the ground quickly enough.
Protecting against groundwater flooding is trickier as it isn't simply a case of installing defence systems to stop water overflowing from a river. In addition, it can sometimes be difficult to differentiate between groundwater and surface water flooding, as increased water in the water table can lead to more water flowing into rivers and causing them to break their banks.
Flood Re
Following a series of high-profile flooding incidents and reports of householders struggling to acquire insurance for properties at risk of flooding, the Government and insurance industry combined to create a scheme to help customers obtain home insurance which covers flood risks.
Flood Re is designed to help households at the highest risk of flooding obtain flood cover as part of their home insurance. It's envisioned to run until 2039 and works with insurers rather than directly with those seeking insurance.
According to the figures provided by Flood Re in their July 2019 review, 90% of the insurance industry now offer Flood Re with 150,000 policies written in 2018.
Before the introduction of Flood Re, only 9% of households with prior flood claims could get quotes from two or more insurers and none could get quotes from five or more insurers. This had improved in 2018 to 100% in of households being able to get quotes from two or more insurers and 81% able to get quotes from five or more.
Flood Re doesn't impact how customers search for their home insurance, so starting a search from the Choose comparison page is still a great place to start when searching for home insurance which includes flood cover.
Lowering flood risks
Anyone looking to reduce the flood risks affecting their home can take steps to improve the flood resilience of their property.
As we've already mentioned, a flood risk assessment can be obtained that will examine the risks and offer advice on how those risks can be mitigated. However, there are other tangible things householders can do if they're worried about flooding:
Find any weak points around the home such as doorways, airbricks and seepage points to address them effectively
Install products such as airbrick covers and flood boards which can help to keep flood water out of a property during an incident
Joining a community flood action group and working together for better flood defences to be installed locally
Signing up for flood warnings and alerts from local and national agencies
Remember, if a flooding event does occur, it's important to secure a property as effectively as possible, but more important for members of a family to stay safe.
Conclusion
Flood risks are highlighted by insurers because they are events with significant associated costs. Thanks to the Flood Re scheme, every household should now be able to access home insurance with flood cover, but it will likely involve higher premiums and the details of such cover should always be checked.
Finally, we cannot stress enough the importance of being 100% honest with any insurer at the time of taking out a policy. Don't try and game the system by answering that a property has never been flooded if this is false - it would mean that any claim under the flood cover element of a policy would be highly likely to be invalidated. If you're dealing with a flooding incident, the last thing you want to hear is that your insurance is void.
Search for home insurance using the free Choose comparison tool.