Motorcyclists have the highest accident and injury rates per mile travelled of all road user groups, which means insurance is relatively high - particularly for powerful bikes.
Options for reducing your insurance premium include parking your bike in a garage overnight, paying annually, cutting back on your mileage, and, of course, being selective about which bike you ride.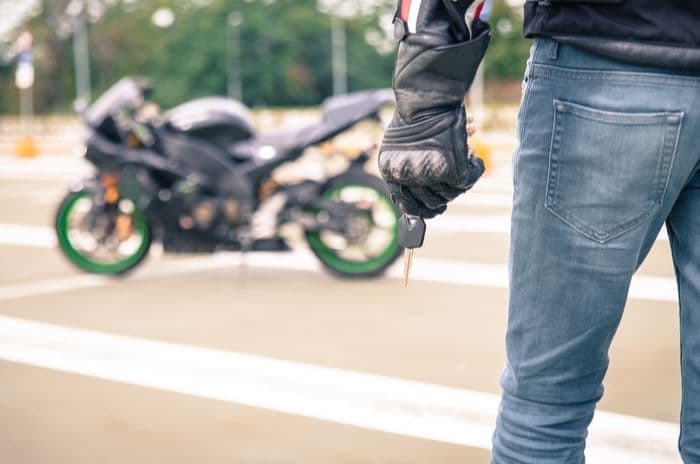 ---
Choosing a bike
Unlike cars, there is no industry-wide scheme for grouping bikes into insurance groups. Individual insurers judge for themselves how risky each type of bike is deemed to be, and tend not to publicise the information.
That said, it's relatively easy to work out which bikes are going to be expensive and which aren't.
Those with a smaller engine capacity (around 125cc) will be the cheapest. Examples include the Honda CB125F, Lexmoto Valiant, Rieju Tango 50, and Yamaha YS 125.
Mid-price insurance will be for bikes with engines around 700cc, such as the KTM 690 Enduro R, Kawasaki W800, and the Honda X-ADV.
The most expensive premiums will be associated with large engines around 1200cc and bodywork that will be expensive to repair in the event of an accident. Examples include the Norton V4 RR, MV Agusta Rush 1000, and the Ducati Xdiavel.
To illustrate these differences, let's consider 30-year-old Jade, who wants to commute to her job as a teacher on a motorbike. She is single, owns her own home and has had a full, clean license for 13 years.
Insurance for a bike from each of these categories looks like this:
| | Yamaha YS 125 | Honda X-ADV | Norton V4 RR |
| --- | --- | --- | --- |
| Cheapest annual insurance | £266 | £589 | £2750 |
As you can see, if she wants to save money she should opt for a 125cc bike.
Bike riders who don't want a low-powered bike, but do still want cheap insurance, might like to consider a classic bike.
Like classic cars, classic bikes tend to be cheaper to insure as owners tend to be more cautious when riding them, and also to ride fewer miles.
They're not really suitable for commuting, but could be a good call for someone who just wants to ride on weekends and avail themselves of cheaper classic bike insurance.
---
Storing your bike
Keeping your bike parked on a public road overnight will make your insurance much more expensive than if you park it on a driveway or in a garage. This is because bikes are relatively easy to steal compared with cars or vans.
Somewhat counterintuitively, low-powered bikes are targeted more often than those with bigger engines.
As an example, if Jade keeps her Honda X-ADV on the road at night, the cheapest premium available to her is £279 a year. By contrast, if she keeps it in her garage, the premium drops to £200 a year.
---
Bike security
Of course, there are other things that you can do to deter thieves and reduce the cost of insurance.
Having an alarm and/ or an immobiliser fitted is a good start if the bike doesn't already have one.
The best are those found in Thatcham Research's Category 1. These devices are the most complex on the market and the most prized by insurers.
You might also choose to fit a tagging device or physical security measures. The latter include brake disc locks, cable locks, D-locks, and padlock and chains.
Ideally, you should use a combination of security measures to keep your bike safe - particularly if you live in a high-risk area.
Many more bike thefts occur in England than in Wales, Scotland and Northern Ireland. Within England, Greater London and the South-East have the greatest number of bikes stolen.
---
Annual payments
Paying for your insurance annually will always be cheaper than paying by instalments. Instalments attract interest - just as if you were paying off a loan.
As an example, if Jade was to pay for her Honda X-ADV insurance by instalments, the cheapest available would be £356 - some £77 more than the £279 she would pay annually.
---
Reducing mileage
The more miles you do on your bike, the more chance there is that you'll be involved in an accident and make an insurance claim. With this in mind, insurers will charge you less if you are able to reduce your mileage.
If Jade, for example, was to halve her mileage from 10,000 a year to 5,000, then her insurance would fall by £95.
Conversely, if she upped her mileage to 20,000, her insurance would increase by £320.
Most people can't choose to reduce their mileage - particularly those that commute. In this case, making sure you accurately report the number of miles you do to your insurer - rather than providing an estimate or rounding figures up - will mean that you're not paying for more than you need to.
---
Advanced driving
Showing a commitment to furthering your driving ability can reap rewards when it comes to reducing your motorbike insurance.
You may be able to get up to a 10% reduction in your premiums for passing one of the following:
The Enhanced Rider Scheme is a Government-backed course designed to assess your current driving ability and then to advance it.
The Institute of Advanced Motorists (IAM Roadsmart) runs a well-regarded Advanced Rider Course.
The British Motorcyclists Federation (BMF) offers the Blue Riband Rider Award as part of its advanced riding course.
The Royal Society for the Prevention of Accident (RoSPA) runs a Driving Standards Agency-approved advanced driver test.
---
Riding solo
Unlike with a car, you pay to carry a passenger on a motorbike. Choosing not to get cover for a pillion passenger can help reduce your premium.
For example, if Jade wants to be covered to carry someone on her bike, it would cost her an extra £32.
---
Summary
Motorbike insurance is expensive - particularly if you ride a powerful bike. As most people aren't willing to downsize for the sake of insurance, the best thing is to try and make savings elsewhere.
Ensuring you use an online comparison tool to find the cheapest providers is a good start. Once you've found an insurer, paying the premiums annually will help keep prices down.
When it's time to renew, start the search process again as your current insurer's price may not be as keen as it once was.
Other money-saving methods may require a little investment before you see any financial reward.
For example - improving your bike's security or paying for an advanced driving course will help reduce your premiums, but will likely cost more than you save in the first couple of years.
As with all insurance, it's essential to be honest and accurate. There's no point paying for extra un-ridden miles or a non-existent pillion passenger. If your circumstances change, you can always update your insurance company accordingly.