What should I do if I can't pay all my bills?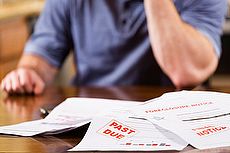 ©iStock.com/RichLegg
"I'M STRUGGLING to pay all of my bills, which do I need to pay first and what help might I be able to get?"
Around one in five people in Britain missed at least one bill payment of some kind in 2013, adding up to 15 million missed payments over the course of the year.
More than 1.5 million missed a mobile phone or electricity bill - and perhaps more worryingly, more than two million people failed to make a rent or mortgage payment in 2013.
It's embarrassing and stressful to find yourself unable to pay a bill at the time, but it can also have serious impact on your credit score further down the line.
So what happens if you find yourself unable to pay - and what can you do?
What do you owe?
This guide assumes you're still meeting the essentials like your housing costs, but you're worrying about utilities and credit card payments.
If you're having trouble meeting just one bill, focus on that. If other bills are also an issue, you need to work out which have priority.
Citizens Advice have a good guide on priority debts here.
Bear in mind that a TV licence is considered a priority. It may be relatively small compared to other costs you're facing, but failure to pay for it can result in a fine of up to £1,000 plus legal fees.
Communication is key
Whether you're worried that you might end up missing a payment, you've missed one or two, or you've already fallen some way behind, one piece of advice always holds: Keep in touch.
When you do make contact, be polite and let your creditors know as much as possible about your situation - the depth of the issue, how long it's likely to last, and what you intend to do about it.
Being willing to talk and do your best to pay what you owe are the important factors. Then:
If you've yet to miss a payment, keep reading.
If you're already behind and worrying about ever catching up, head here.
I haven't missed any payments yet
Communicating with a creditor as soon as you think there might be a problem can sometimes be enough to head off any potential problems.
For example: you've changed jobs, and the date you get paid changes. For the first month or so, regular payments could be messed up by a lack of funds when previously there'd have been money in your account to cover them.
Contact your bank as soon as you know the details, and let them know how long it's likely to be an issue.
It may be the case they can extend your authorised overdraft, or set one up for you for a short fixed period, to cover the temporary disruption - and if you're lucky that might be all you need.
In any case, it's still best to get in touch with your utility providers, council and so on - and whoever you pay for your mortgage or rent - to let them know the situation.
If, as suggested above, your finances are in temporary disarray because the date you get paid has changed, tell your creditors how long any disruption is likely to last.
Payment dates
Find out if it's possible to change the dates of any standing orders or direct debits to fall at a more convenient time of month, without missing a payment.
Several service providers, including energy, water and mobile companies, offer a choice of dates throughout the month, and some let you pick the date payments go out - it's worth asking if you're not sure.
If it's not possible to change a payment date, you can at least let your providers know that if there's a problem taking this payment, you do intend to get the money to them as soon as possible.
Setting off
It's worth noting that if you have a credit card, mortgage or other debt with the same provider as your current account or savings, the bank is allowed to take money from those to cover any payments - even if that means you're then unable to cover other bills.
We talk more about this practise, known as "setting off", here.
But again, getting in touch with the bank in the first place, explaining the situation, and, where necessary, offering to work towards a solution, can be enough to prevent this happening.
Payment holidays
If it's likely your money problems are going to be longer than a month or so, use the initial contact with your providers to find out what your options are.
For example, some mortgage and loan providers offer payment holidays or the opportunity to reduce payments for a while.
The conditions and requirements for eligibility vary - for example some lenders will only offer payment holidays if you've previously overpaid, while others will only allow you to reduce, rather than stop, your payments for a while.
Even if such options aren't included in the original terms, you might still be able to request one because of temporary changes to your circumstances, such as maternity leave or redundancy.
I'm already behind on payments
Energy and water companies are obliged to offer advice on payment options and repayment plans for customers who are in arrears.
Those plans have to be based on what a customer can afford - so if, after paying housing costs, economising on food and so on, you can only pay £10 a month towards your outstanding electricity bill, you shouldn't have to agree to paying £15 a month.
It's worth noting that while energy companies can disconnect you, water companies are never allowed to cut you off.
Citizens Advice provide template letters - one each for England, Scotland, Wales and Northern Ireland - for negotiating more affordable payments with your supplier, which you can find here.
When getting in touch to discuss a payment plan, also ask if the company runs a trust or hardship fund, and what the eligibility criteria are.
Most of the schemes run are administered by Charis Grants. We look at what's on offer, and how to apply, here.
Credit cards
The maximum fee for most missed and late credit card payments is £12 a month.
But if you miss the minimum payment on a credit card with a promotional rate - for example a 0% balance transfer card - you risk breaching the terms and conditions of the promotion, and losing the low- or no-interest rate.
This can turn a cheap way to spread the cost of repaying other debts into a sometimes hideously expensive option.
But credit card providers are regulated by the FCA, which means they do have to deal with people in debt to them in a fair way - so you should be able to negotiate an affordable payment plan as you would with your energy provider.
Mobile phones
If you get behind with your mobile phone bills, you'll find your phone restricted so you're unable to do anything but make calls to emergency numbers or use free wi-fi - but you should still be able to get incoming calls.
The big providers all refer to interest and fees on late or missing payments, but only Vodafone offer specific figures, charging "interest daily at the rate of 2% above the base rate of Barclays Bank each year", plus "reasonable" admin costs.
Three are the only company to openly discuss payment alternatives for those facing difficulty, offering instalment plans, different methods of paying, and extra time to pay.
But all mobile providers should offer these services, so again contact them, let them know the situation, and start the negotiation.
Do note, however, that mobile providers aren't covered by the Consumer Credit Act, so they're not subject to the same regulations regarding fair treatment of those in financial difficulty.
Rather unfairly, therefore, the onus is on the customer to get in touch and suggest an alternative payment plan.
Hit a brick wall?
It's nothing personal: StepChange say a good third of people who contact their creditors about payment difficulties get little or no support.
If this is the case, don't be afraid to seek outside help - and if you're applying for extra assistance from your utility providers, you'll be expected to seek debt advice before or during the application process.
There are several charities and organisations that will offer advice, either over the phone or face-to-face, free of charge - you shouldn't need to go to a debt management company, who will charge you a fee to help you sort your debts.
Our guide to the advice on offer is here.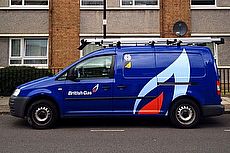 21 November 2017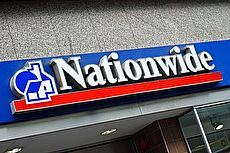 16 November 2017
13 November 2017
Follow us or subscribe for FREE updates and special offers