We tested out the Sky Stream Puck box with a Sky Entertainment & Netflix subscription to see how the new platform performed.
In our review we look at how the UI performs, features and functionality of the box and remote, and the content available on Sky TV.
There were some niggles with the user interface, but overall Sky Stream offers an affordable and flexible way to add more content to your TV.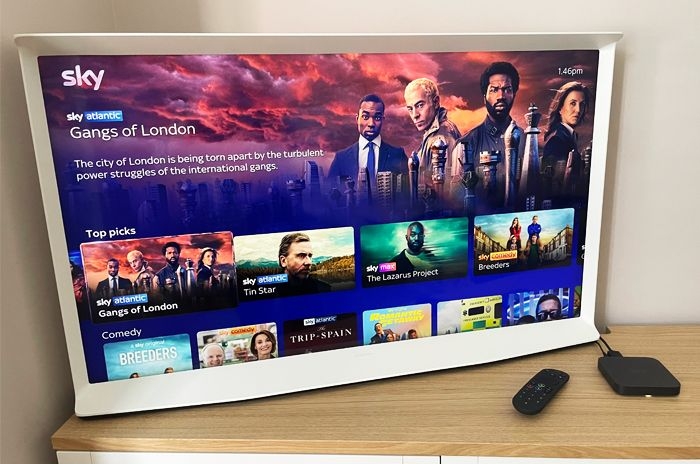 Source: Lyndsey Burton/Choose
---
Setup
After ordering Sky Stream online, the device was posted out the next day.
In the box was the Sky Stream Puck box, the remote, a mains power cable and a HDMI cable.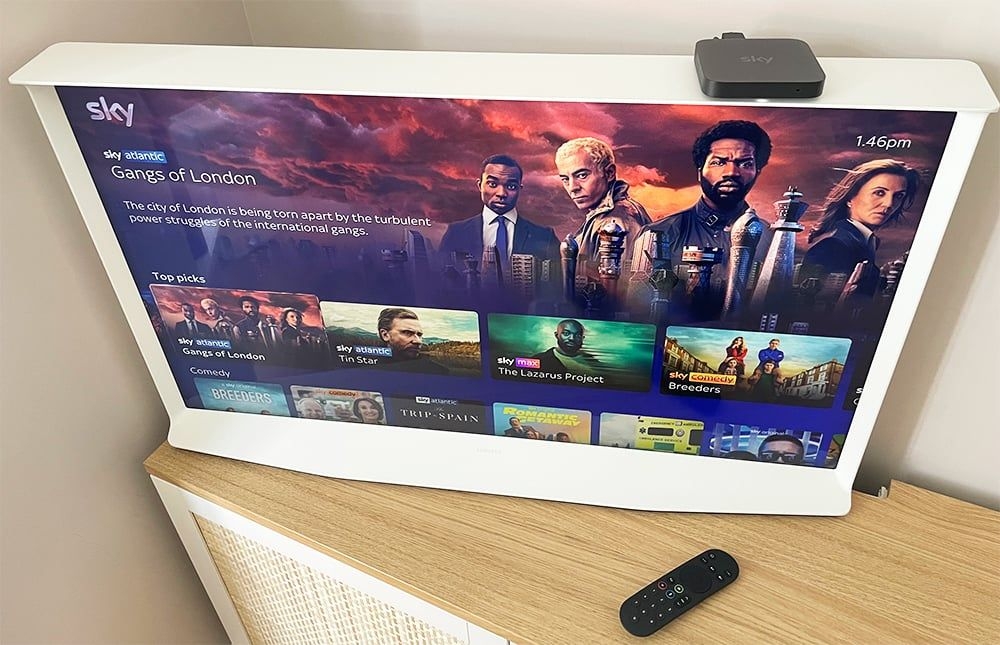 The Sky Stream Puck box sits neatly on top of even a flat screen TV set.
Once I connected the Sky Stream box to the TV, a setup process is launched which walks you through network settings and configuring the remote to control aspects of the TV directly, including volume.
The Sky Stream box comes preconfigured with your personal user settings, including setting the PIN code to the last four digits of your mobile phone number.
It certainly makes setup quick and straightforward, as well as streamlining future purchases made through the device.
---
User Interface
The Sky Stream user interface platform is fairly straightforward to use.
The main screen at the top is filled with recommendations from Sky as well as Netflix and on-demand apps like ITVX.
Confusingly, these recommendations are mixed in with anything you've already been watching, marked with 'continue watching'. Yet, to restart a program you have to move the selection to the left to find it, which seems counter-intuitive and left me struggling to find it until I'd become more familiar with the home screen layout.
Next is the Playlist - which is where you can save any TV shows or movies you want to watch later, along with access to dedicated pages focused on TV shows, movies, sports, kids, news, music, fitness and international.
There are various dedicated content sections on Sky Stream including for Sports and Movies.
The home screen also has access to the TV Guide, with options to jump straight into BBC, ITV, and other live channels. One of the major plus points to Sky Stream is that you don't need a TV aerial to watch Freeview.
However, while live channels will play automatically on Stream, users should know they must have a TV licence to watch any live channels, including premium ones on Sky. Unlike BBC iPlayer for example, Sky doesn't notify users of this, so it's worth pointing out.
Finally, beneath this is a collection of various on-demand programmes categorised into selections including top 10 this week, 20 must-see shows, critically acclaimed documentaries, and Sky originals and exclusives.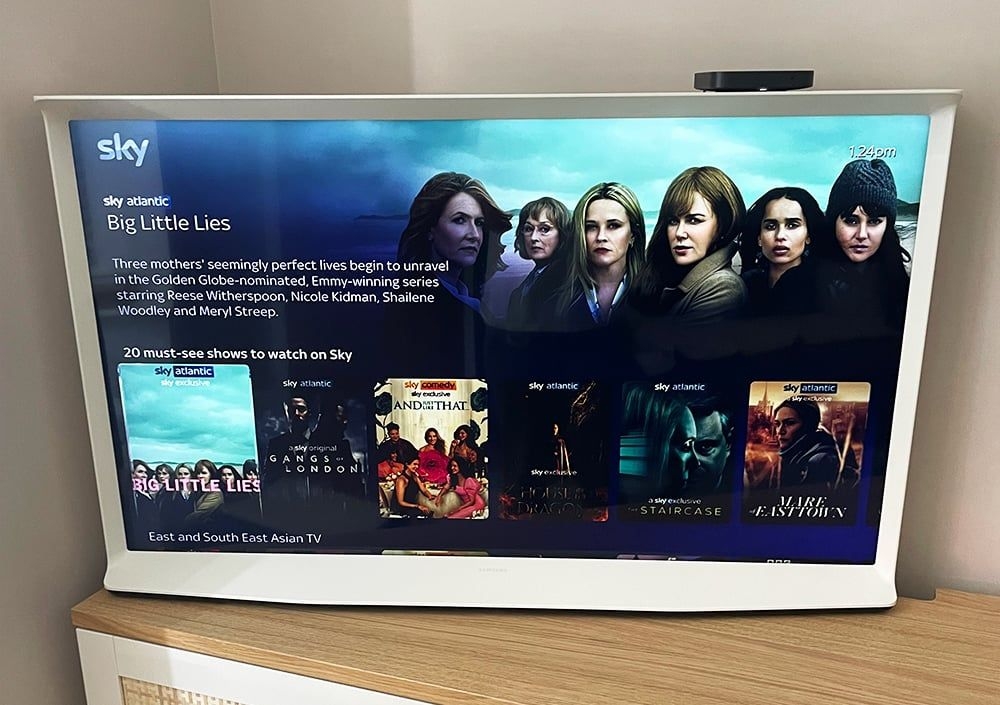 The Sky Stream home page offers a top 20 must-see shows and top 10 most popular.
It's likely this selection and these categories could vary between users as Sky learns what you like watching and improves its recommendations.
Lastly, search along with settings is at the bottom. This was another feature I found quite confusing at first, as it isn't immediately obvious how to access the search page.
Search is actually behind the ... button on the top left of the remote, although that doesn't seem like the most obvious icon for someone new to Sky systems.
The focus of the Sky Stream homepage seems well balanced between live and on-demand content, with dedicated sections for those who also subscribe to additional sports or movie packs.
The top 10 this week and 20 must-see shows are useful rails, much like the most popular rails on Netflix, which help users find new content.
---
Features
Sky Stream comes with various extra features, including the ability to integrate Netflix into the main Stream interface, personalised Playlists, remote voice control, and ad-skipping.
As a Netflix user of several years, the integration into the main Sky Stream app is a definite bonus, as you can browse and search programmes on both Sky and Netflix in the same place.
However, that said, the Sky interface is more limited to that of Netflix in terms of browsing on-demand content, with fewer rails and no clear suggestions beyond most popular shows, although that could be due to a limited viewing history.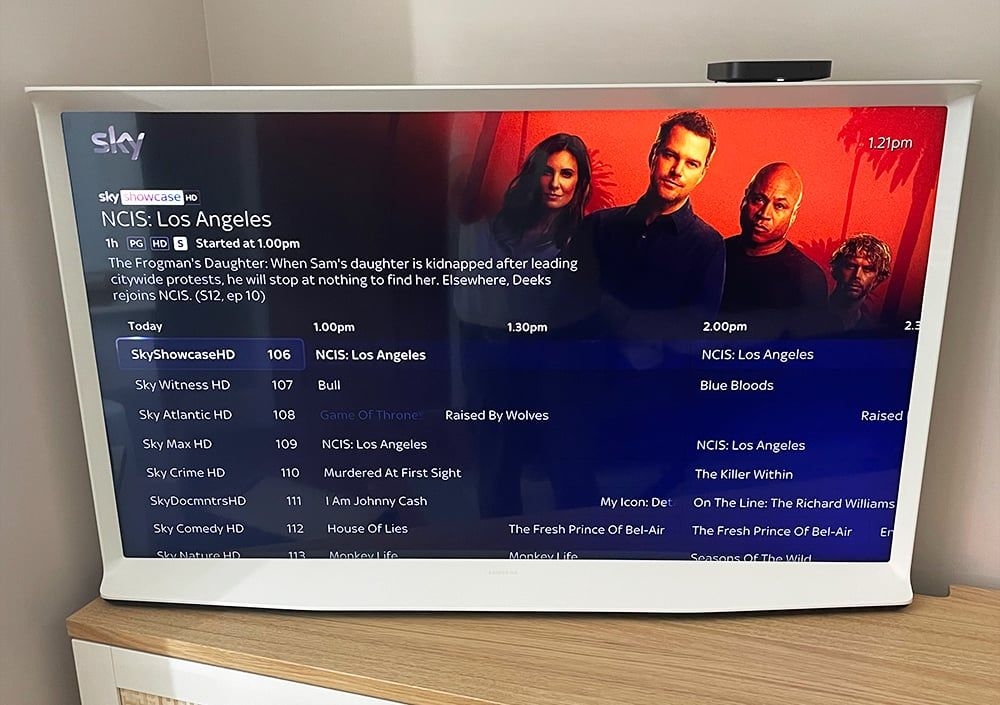 Sky Stream will appeal most to viewers who want to watch live TV, including Sky Entertainment.
The personalised Playlist and ability to create multiple profiles for different viewers is useful, although the feature itself is fairly straightforward and much akin to Netflix's 'My List', a place where you save programmes you're watching and want to watch, so they can be easily accessed at a later date.
One benefit to Sky's Playlist over say Netflix, is the ability to also add live programmes to the Playlist, as well as from catch-up services like BBC iPlayer or ITVX.
Where Sky Stream does fall-down however, I felt, was on the ad-skipping feature. I'm not a fan of ads, and having given up linear TV several years ago, I'm also not really used to them either.
I found the number of ads and length of them, even in on-demand programmes, excessive, with ads playing both at the beginning and up to four times throughout a one-hour series. However, having quickly paid for the ad-skipping add-on, while it's an improvement, it's still distracting to be interrupted by ads and still only able to fast-forward through them.
You also need to manually take control of the skipping, by fast-forwarding, and then hitting resume at just the right moment, or potentially missing chunks of the programme you were watching.
Sky are upfront about this, making clear on their website that ad-skipping doesn't mean you won't see any adverts, along with helpful tips on how to skip using voice control, "Hello Sky, skip 3 minutes". Despite this, I found it frustrating.
For those coming to Sky Stream from linear TV it might not feel quite so disruptive, but it's one to be aware of, especially for those more used to the uninterrupted enjoyment of binging Netflix.
Another niggle I came across was on testing the voice controlled remote, I tried numerous requests but every time the Sky screen simply said "Sorry, I can't do that". It wasn't a big issue for me as voice control isn't something I'd miss not having, but it could be indicative of a bug in this new system.
---
Content
The basic package with Sky Stream includes Sky Entertainment and a subscription to Netflix. And, as mentioned, Netflix content is integrated in the main Stream home page, which makes finding new things to watch much simpler.
Sky Entertainment includes over 150 live channels and on-demand programmes, including Sky Originals and the exclusive Sky Atlantic channel.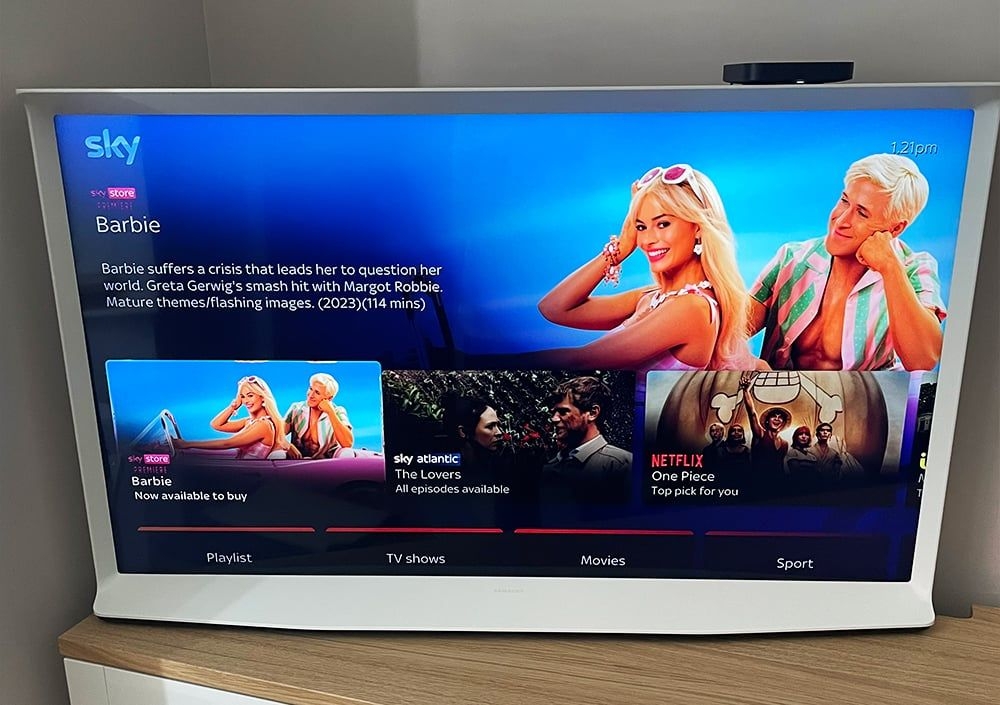 The Sky Store app offers access to the absolute latest blockbusters to rent or buy.
With the guide and live channels displayed near the top of the Stream interface, it's easy to see how viewers could end up simply watching Sky on a live TV basis, and more rarely dipping into on-demand content when something good becomes available.
The amount of content, even without any premium channel packs added, is vast and customers will need to devote some time to seeing what's on and what's available to make the most of it.
New top 10 and top 20 rails help with this, and online guides into the best box-sets on Sky can also provide suggestions, at least until Sky Stream gathers enough information about viewing habits to start more accurately providing recommendations on what to watch.
---
Sky Stream Deals
Sky are clearly moving customers away from Sky Q and onto the new Sky Stream platform, and prices reflect this.
Sky Stream is currently available for £5 less per month in comparison to a new customer contract on Sky Q, and is even cheaper - £13 per month less - when compared to Sky Q in HD.
Here are the current Sky Stream deals for new customers:
Package
TV
Monthly price
Upfront price
Contract term
Sky Entertainment + Netflix
150
£19
Free
18 months
Offer: Save £7/mth + Free setup

(Ends 29/12/2023)
It's also possible to save more by bundling Sky Stream with Sky broadband, current deals include:
Package
TV
Broadband
Monthly price
Upfront price
Contract term
Sky Entertainment + Netflix + Superfast Broadband
150
61Mb average
£36
Free
18 months
Offer: Save £7/mth on Sky Entertainment & Netflix + Reduced price broadband + Free setup

(Ends 29/12/2023)

Sky Entertainment + Netflix + Ultrafast Broadband
150
145Mb average
£39
Free
18 months
Offer: Save £7/mth on Sky Entertainment & Netflix + Reduced price broadband + Free setup

(Ends 29/12/2023)
Sky broadband is available to 97% of the UK, with the full fibre deals now covering just under 40% of homes. Check availability on our Sky TV and broadband page to see what you can get.
---
Verdict: Is Sky Stream any good?
Sky Stream is a useful platform that brings together premium Sky content, including live channels and a full TV guide, with on-demand apps and content from Netflix, as well as BBC iPlayer, ITVX, All4 and My5.
On-demand app support on the Sky Stream box is also broad, with customers able to add subscriptions to Prime Video, Disney+, Paramount+, Peacock, Apple TV+, STV Player, Discovery+, Lionsgate+, Spotify, Amazon Music and others.
It's also possible to access even more content through the Sky Store, where customers can rent or buy the absolute latest releases. That said, the very newest films can be expensive, with Barbie available to rent for £15.99 in HD, or to buy for £19.99 in HD.
Overall, Sky Stream is likely to best please those used to live TV content, whether they're moving from Freeview or a Sky satellite subscription. Yet, for those more used to on-demand viewing, ads may become frustrating.