Three threaten UK mobile speeds with auction legal challenge
©iStock.com/simpson33
THREE have written a letter to Ofcom formally threatening to take legal action against the terms of the regulator's impending 5G mobile spectrum auction.
Three had been lobbying Ofcom to set a cap of 30% on the total amount of spectrum that any single operator could have possessed after the upcoming auction, yet in July Ofcom set their cap at the less stringent 37%.
Referring to this higher ceiling at the time as a "kick in the teeth for all consumers" and as a move that will "increase the dominance of the largest operators", Three have made their opposition more official by formally notifying Ofcom that they plan to apply for a judicial review.
Contained in this threat is an implicit demand for Ofcom to reconsider the level of their cap, yet in making it Three are unlikely to succeed in having the cap lowered, and will most likely only delay the updating of Britain's lagging mobile speeds.
History repeating
Three's dogged opposition to the rules of the upcoming auction would appear to be quite a novel, even anomalous development in the world of mobile networks, yet it turns out their dissent is sadly a case of history repeating itself.
For example, back in 2012 we wrote about how the UK was still waiting for the arrival of 4G, a year after the likes of Germany, Sweden, USA, and Japan had already had their respective auctions for the necessary 4G mobile spectrum.
The main cause of the delay was - surprise, surprise - squabbling between Britain's operators, with O2 complaining that a cap Ofcom planned to impose on them was tantamount to "state aid and ... illegal under EU law".
Correspondingly, Three were complaining that Ofcom's rules would in fact allow O2 to gain too much spectrum, while O2 and Vodafone went so far as to threaten legal action against Ofcom for the regulator's plans to allow Three - who were the smallest major operator in terms of spectrum - to purchase two 5MHz slices of the 800MHz frequency bands at a discounted rate.
A year later, Three did indeed win these two slices. However, the delays caused by industry infighting meant that the UK still trails behind similarly developed nations in terms of mobile download speeds, since it was unable to develop the relevant technology as quickly.
This is what was revealed by an OpenSignal study from February, in which the UK was ranked 26th in the world for mobile broadband speeds.
Anti-EE
And it would now seem that exactly the same situation is being set up in the context of the long-awaited 5G auction, mostly thanks to Three's desire to see EE effectively banned from acquiring any more mobile spectrum.
EE now own 42% of the currently available mobile spectrum, a percentage Three believe would give EE an unfair advantage if they were allowed to bid freely in the future auction.
The thing is, Ofcom's proposal of an overall 37% cap is a healthy compromise, since it will prevent EE from growing too big after the auction.
As the graph below illustrates, EE presently own 255 MHz of spectrum in total, putting them at the aforementioned 42% of the 607 MHz presently in use.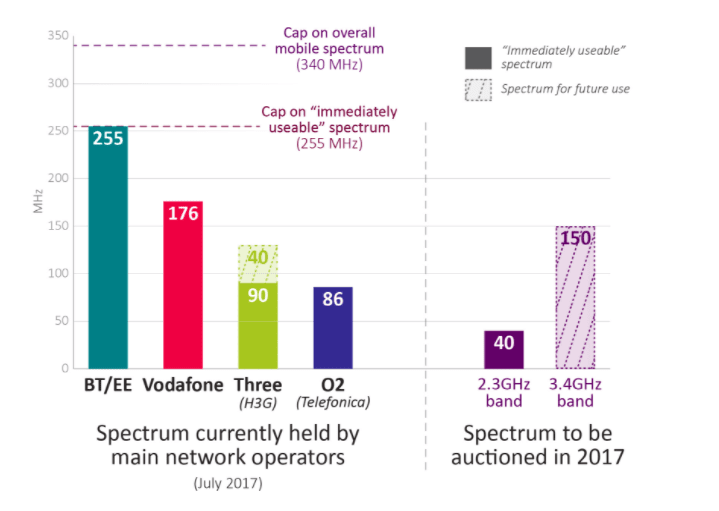 Source: Ofcom
Yet with another 230 MHz of spectrum set to come into use after the auction, a 30% cap would actually mean that, rather than being able to bid for anything new, EE would be required to give up a small portion of the spectrum they already own (about 3.9 MHz).
Spectrum on the cheap
Such a requirement would send a bad message to anyone thinking about investing in mobile networks, which is why Ofcom's cap of 37% is much more reasonable, allowing EE to acquire only 44 MHz (or 23%) of the 190 MHz set to be auctioned.
Yet Three aren't happy with this for some reason, even though their recent acquisition of UK Broadband means they already own 40MHz of the 230 MHz of spectrum set aside for future 4G/5G use (including the 190 MHz due to be auctioned).
And this is even though they're owned by CK Hutchison, a Hong Kong-based conglomerate who generated profits of £1.57 billion in the first half of 2017 alone, and who are registered for tax purposes in the Cayman Islands.
In other words, Three could afford to compete with EE and pay a bit more for the new spectrum they desire, yet their campaigning to shackle EE would suggest they're simply looking to acquire spectrum on the cheap, on the one hand, and to disadvantage a competitor, on the other.
But in doing so they're likely to delay an already delayed 5G auction, thereby causing the UK's mobile customers to wait for faster mobile speeds for a little while longer.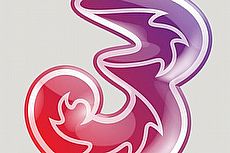 7 December 2017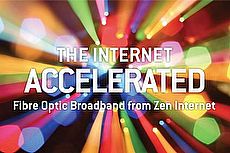 6 December 2017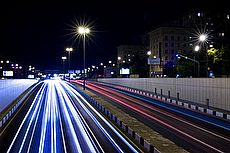 4 December 2017
Follow us or subscribe for FREE updates and special offers