Virgin Media have increased nearly all of their out of contract prices, with rises as much as £19 per month.
New customers signing up to Virgin Media from September can expect even higher prices when their minimum terms come to an end.
Virgin Media has increased the out of contract pricing on nearly all of their broadband and TV packages by as much as £19 per month.
Broadband only plans see rises of £5 per month, broadband and phone deals go up by £6, and broadband and TV bundles increase by up to £19 per month.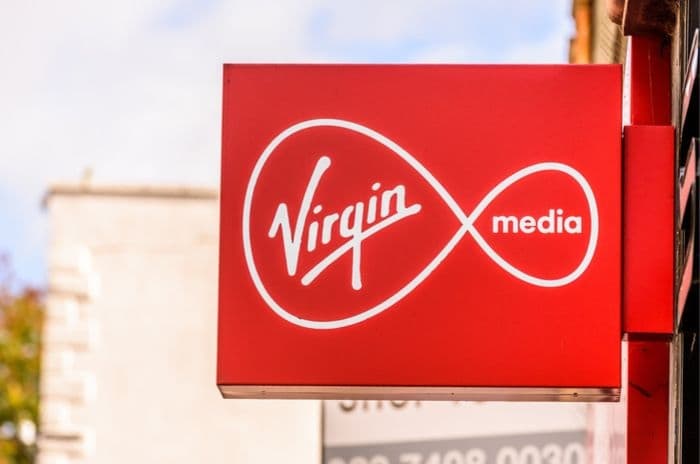 Credit: Jevanto Productions/Shutterstock.com
Out of contract price rises
As of September, new and re-contracting customers taking any of Virgin Media's broadband and TV packages can expect higher out of contract costs when their minimum terms come to an end.
Here are some of those increases:
| Package | Out of contract price increase | Out of contract monthly price |
| --- | --- | --- |
| Broadband-only | £5 | From £49 |
| Broadband and phone | £6 | From £51 |
| Big Bundle | £7 | £72 |
| Bigger Bundle | £11 | £96 |
| Mega Volt Bundle | £19 | £180 |
These out of contract price rises are fairly steep and often see monthly prices double when a minimum term ends.
M125 Fibre Broadband for example costs £26.50 per month for the first 18 months, but now increases to £49 per month at the end of that initial term.
Virgin Media TV bundles also see big price jumps after the introductory period, with packages like the Big Bundle increasing from £32.99 per month to £72 per month after 18 months.
Yet, the package with the biggest out of contract price rise is the new Mega Volt Bundle, renamed from the Ultimate Volt Bundle, which now rises from £85 per month during the introductory offer to £180 per month after 18 months.
Virgin Media are upfront about these costs, clearly displaying them in the checkout process for joining customers to see. However, even with the transparency, or perhaps because of it, it's hard to imagine some customers aren't being put off by these expensive increases.
Re-contract or switch
It's important to note these price changes won't affect existing customers, and even those taking new contracts can avoid paying these prices as long as they switch away or re-contract with Virgin Media when their minimum term is up.
It's often possible to negotiate a new deal with an existing provider, and end of contract notifications mean the provider will even send out offers to all customers when their minimum term is coming to an end.
When we spoke to Virgin Media about the out of contract price increases, they were keen to remind customers that they will "notify customers when they reach the end of their minimum term and make them aware of the best plan available to them.". They also said, "Customers can speak to us at any time to discuss their package.".
However, Virgin Media are also under fire right now for gathering a number of customer complaints that they were making it difficult for customers to cancel their services.
Currently under investigation by Ofcom, the complaints raised concerns customers were struggling to get through to Virgin Media on the phone to cancel services, as well as having to repeat requests.
Because switching broadband deals is not yet an automatic process, customers are still responsible for cancelling with Virgin Media if they want to move to another provider.
Fairer pricing
Virgin Media aren't alone in increasing prices out of contract, with rival Sky also implementing similar price rises when a minimum term ends.
Sky Superfast Broadband for example, increases from £26 per month to £39.50 per month after the 18-month minimum term. However, that's still almost £10 per month less than the out of contract price increase seen on Virgin Media's M125 Fibre Broadband.
Shell Energy Broadband also has fairly steep price increases, with their Full Fibre 100 plan rising from £26.99 per month during the minimum term, to £42.74 per month after 18 months.
Despite being one of the cheapest providers, Sky-owned NOW Broadband is another provider with somewhat eye-watering out of contract prices. They increase the cost of their Super Fibre plan from £21 per month to £38.50 per month after 12 months, for example.
Most other providers also increase prices, but again not by quite so much. BT for example increases prices generally by £5 per month, while Community Fibre chose to limit their out of contract price rises to just £2 in September 2022.
Back in 2019, Ofcom carried out a review of pricing fairness, particularly looking at out of contract prices and the effects they had on customers who may struggle to switch away for a new deal.
However, aside from bringing in regulation to ensure provider's sent customers end of contract notifications, and laying the foundations for social tariffs, out of contract pricing on a wider basis was left relatively untouched.
That means, while Ofcom did manage to prompt some pricing promises from providers, and published a framework for fairness in 2020, they've mainly left out of contract pricing to the market, with any specific regulation limited to social tariffs.
In relation to Ofcom's previous review into pricing fairness, a spokesperson for Virgin Media said, "Offering promotional prices for new customers stimulates competition and is common across many industries. We clearly state the monthly package price of our bundles - including any introductory discount and the ongoing price - at the point of sale, in our contracts and on every customer bill."
It's true that providers, like Virgin Media, with the highest out of contract price rises also tend to be the ones offering the lowest introductory prices, and this is arguably good for customers who are happy to move around and switch to the best deals.
However, customers also need to be mindful of how much more packages can cost at the end of an introductory period, and be prepared to switch to another provider if they can't secure a good enough deal by negotiating a new contract.
The upcoming industry-wide switching service will make that easier from March 2024, yet without firmer regulation there is a danger an increasingly competitive market could further penalise more loyal customers.