Sky broadband and TV prices will be increasing by 8.1%, while Sky Mobile prices will be going up by 9% for those out of contract.
Sky have announced their annual price rises for their broadband and TV customers will be 8.1% on average, and applied from April 2023.
Sky customers will be paying an average of £5.60 more per month, or £67.20 over a year.
The price rise confirmation from Sky comes at the same time Ofcom have announced a review into inflation-linked mid-contract price rises and whether they're fair enough.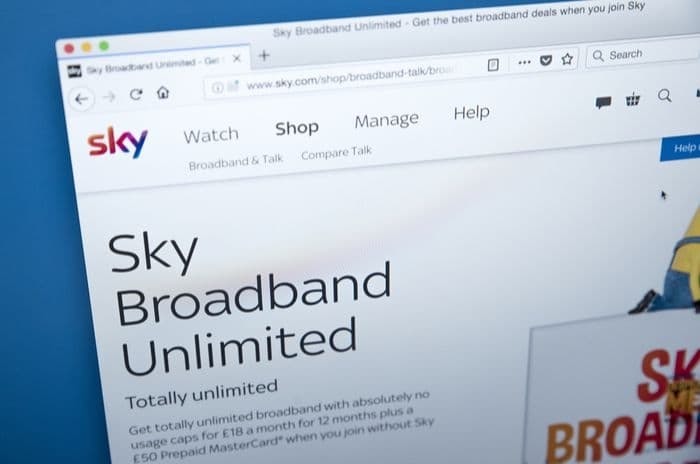 Credit: chrisdorney/Shutterstock.com
Sky price rises
Sky broadband and TV customers will see their prices increase by an average of 8.1% or £5.60 per month from April 2023.
The price rise will affect both out of contract customers and those still within their minimum terms.
Quoting an average increase of £5.60 per month suggests the average Sky TV and broadband bill already comes to £69.20 a month, with the increase pushing the bill up to £74.80 per month.
It sounds high, but that's probably not unusual for customers with premium channel packs on their Sky TV subscription like Sky Sports or Sky Cinema.
Sky have said broadband customers can leave their contracts early without paying a penalty if they give the provider notice within 30 days of the price rise announcement.
Sky TV customers on the other hand who are still within their minimum term will not be able to cancel early due to differences in the terms and conditions.
In addition, customers on the following services won't be subject to the price rises:
Sky Mobile price rises
On February 14th 2023 some Sky Mobile customers will also see their prices increase.
While price increases are only applicable to Sky Mobile customers who are already outside of the minimum term, average rises will be 9%, with most customers seeing an increase of £1 on their bill.
It's worth noting that Sky Mobile specifically market their packages as offering fixed prices, so any customers still within their minimum terms won't be affected by these price rises.
Inflation-linked mid-contract price rises
Sky have a slightly fairer approach to mid-contract price rises than many other broadband providers, with their increases at 8.1% and 9% both being less than the current Consumer Price Index (CPI) measure of inflation which sits at 10.5%.
Other broadband providers, including BT and Virgin Media, have announced above inflation price rises of 14.4% and 13.8% respectively.
The soaring rise of inflation and the cost of living crisis has prompted Ofcom to both investigate the transparency of price rises communicated in contracts taken out in Spring of 2022, as well as more recently announcing a review into whether inflation-linked mid-contract price rises are fair at all.
Finally recognising the issue that even when consumers understand CPI and RPI inflation measures, they still can't predict a future based figure enough to pass Ofcom's guidelines that annual price rises should be transparent and allow customers to sign up on an informed basis.
While we might not see an outright ban to mid-contract price rises, the review may well amend regulation around how prices can be increased, perhaps by establishing set amounts instead of technical future-based figures.