Research from PointTopic shows more households are bundling broadband with a TV deal.
The number of households with a broadband and TV bundle has increased 8% year-on-year according to PointTopic research, despite the cost of living crisis.
In Q2 2023, their survey found 43% of respondents had a broadband and TV bundle, up from 35% in Q2 2022.
Over half of those with a broadband and TV bundle had also made the switch to full fibre broadband, with 51% of respondents on an FTTP connection.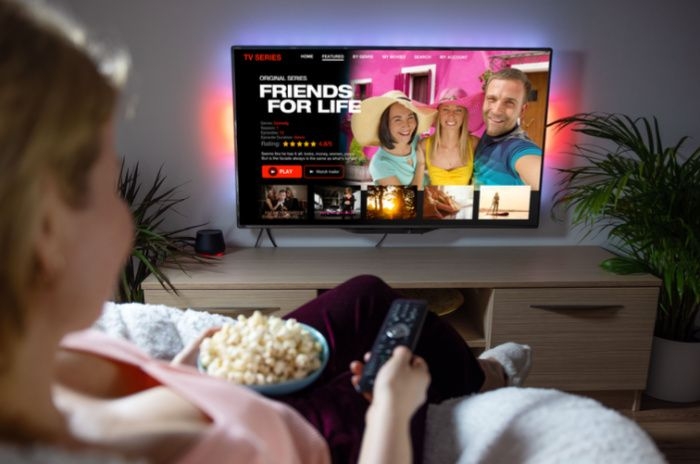 Credit: Kaspars Grinvalds/Shutterstock.com
Broadband and TV bundles
While broadband and TV bundles are the mainstay of Virgin Media and Sky, an increasing number of providers are offering a TV service of some kind that customers can add.
BT and TalkTalk both offer an optional TV service that uses NOW to provide access to premium Sky content, while smaller providers like Community Fibre partner with wholesale cloud TV platform Netgem.
PointTopic surveyed 2,000 broadband customers four times between early 2022 to mid 2023. The research was focused around take-up, switching, and motivation.
The research found an 8% increase year-on-year for broadband bundled with a TV service, with 43% of respondents having a bundle in Q2 2023, compared to just 35% in Q2 2022.
There was also a decrease in the number of respondents who only subscribed to a broadband service without any TV add-ons, reducing by 5% over the same period.
The number of respondents switching, who also placed importance on wanting to move to a broadband and TV bundle, also increased. 32% were influenced by a TV bundle offer in Q2 2023, compared to just 19% in Q4 2022.
Increasing offers
This upward trend for broadband and TV bundles is also represented in the levels of market competition, offers and price reductions being made available to new customers.
Virgin Media and Sky in particular have been launching new TV-related products, as well as running offers to entice new customer sign ups.
Sky have recently launched a 4K integrated camera that works exclusively with the Sky Glass TV set and allows customers to interact with games and home workouts, as well as watch content with friends and family remotely.
Virgin Media are also working hard to improve their TV bundle offerings, recently upgrading their Bigger Bundle + Sports to HD for both the Sky Sports and TNT Sports packs.
We've also seen a number of new partnerships being signed to increase the amount of TV content available to customers. Virgin again have recently signed deals with Pluto TV, as well as added access to the Paramount+ app and Sky Sports Ultra HD since the start of the year.
Meanwhile, Sky have begun offering Discovery+ app access free to all customers, and Netgem, a smaller TV platform used by TalkTalk and Community Fibre among others, has partnered with a cloud gaming platform.
Full fibre broadband
As well as looking at broadband and TV bundles, the research from PointTopic also looked at the take-up of full fibre broadband, particularly for customers taking TV bundles.
According to the research, Virgin Media had the most full fibre customers, although this includes their coaxial cable base, which likely skews the results as their entire network of 16.3 million premises is now gigabit-capable.
However, PointTopic highlight how more than half of customers taking broadband and TV bundles are also opting for full fibre connections, suggesting fast broadband as well as home entertainment content were still a priority for households, despite rising inflation and the cost of living crisis.
The research doesn't really break down exact speeds, other than suggesting those taking full fibre generally opt for speeds in excess of 100Mbps. That's unsurprising in that 100Mb is pretty much the entry level option for full fibre, although some providers do offer full fibre connections at sub-100 superfast speeds.
Overall, the take-up of TV bundles and customers willingly moving to full fibre is promising for providers, and the market competition is ensuring more offers and better products are being made available for those customers.