Exclusive to Sky Glass, the new Sky Live camera will transform the TV set into an interactive experience for users.
Sky Live is an interactive 4K camera, exclusively available to customers with Sky Glass, which enables viewers to screen share, work out, play games and make video calls.
The camera has a 12MP HDR lens, with a wide field of vision. It's a small box which sits neatly on top of the Sky Glass set and is held in place with magnets.
Sky Live is available for new and existing customers to buy from £6 per month on an interest-free 48-month contract.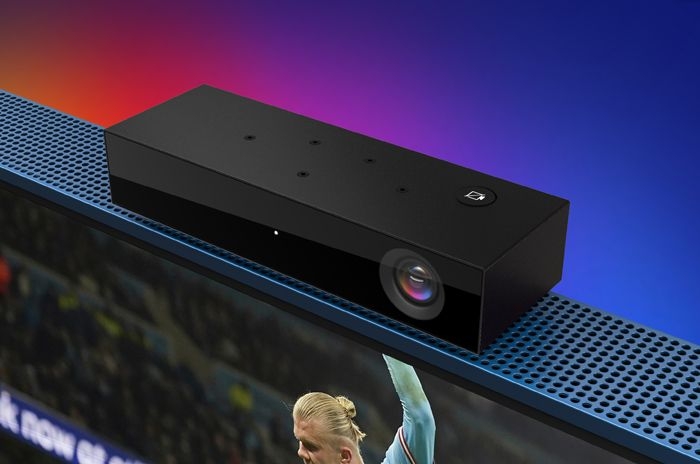 Sky Live
Sky Live is the latest addition to Sky's line-up of home entertainment devices, having only launched Sky Stream in October 2022, and Sky Glass just the year before.
The interactive camera will give Sky Glass customers a more immersive and interactive experience with their TV set, allowing them to be more involved with home work outs, games, and share programmes with Watch Together.
The motion control technology means customers can play games with body tracking and gesture control, while workouts can monitor and improve form.
Watch Together will allow customers who both have Sky Glass and Sky Live to watch films, sports and TV shows together, while also on a shared video call.
Sky say Live will be kept updated and will continue to evolve with new games, workouts and features being added, and are even opening a developer portal for app creators.
How much does Sky Live cost?
Sky Live isn't a cheap web cam, the device costs £290 outright, but as with Sky Glass, customers can buy Sky Live on an interest-free loan with a 24- or 48-month contract.
Over 48 months Sky Live costs just £6 per month, and over 24 months the camera will cost £12 per month. See the latest deals on our Sky deals page.
While that does make it much more affordable, and an easy add-on to take for new customers also spreading the cost of Sky Glass, it's worth noting some of the features, like Watch Together require both viewers to have Sky Live, Sky Glass and a subscription to the content being viewed.
One major benefit to Sky Live for the cost conscious however is all the apps, games, workouts, and video calling, is included for free. So, there won't be additional subscription fees to pay to enjoy the content.
Privacy
Sky are keen to point out some privacy features of Sky Live, for those who may be concerned about bringing an online camera into their homes.
Sky Live has a button on the top of the device that allows customers to turn it off completely, so it's no longer working or sitting in any kind of standby mode.
It's easy to tell when the camera is on or off, as there is a front light on the device which will come on whenever Sky Live is active.
Sky Glass
While the launch of Sky Stream as a standalone device bypassed one of the main selling points of Sky Glass, the launch of a dedicated and exclusive camera brings the TV set back into the limelight somewhat.
Sky Glass is a big purchase for many households that really ties them into the Sky TV ecosystem, as Glass doesn't work well without an active Sky subscription. That's likely to put a lot of people off, and so it's interesting to see Sky bring in exclusive devices to give Glass more of an edge again.
As with Glass however, Sky Live isn't going to be for everyone, but it certainly puts Sky at the front of the pay TV market for innovation as they continue to modernise their service.