New broadband connections which involve a home visit will be suspended and existing orders will only be completed outside the premises.
Exceptions are made for customers with no other broadband or landline available, vulnerable customers and work for critical infrastructure companies such as the NHS and utilities.
This will impact customers using the underlying Openreach network, while Virgin Media are still doing home visits for their customers - as things stand, at least.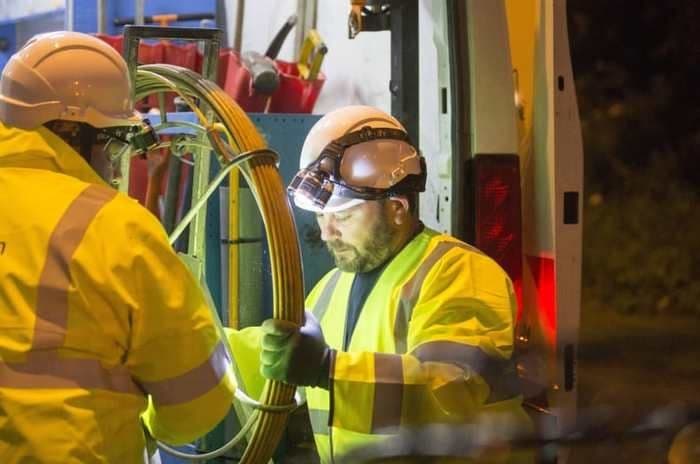 ©Openreach
Limiting contact
Openreach's decision to prioritise is based on two distinct reasons: the need to free up resources to focus on the most important communications issues and the desire to protect engineers and customers from unnecessary social contact.
So, planned work will still be undertaken if it can be completed outside a property. This includes failures in cabinets which can be dealt with without entering premises.
New appointments to install connections will be suspended until at least 1 June 2020, but services where no appointment is necessary such as transfers from one Openreach-based provider to another or upgrades will continue to go ahead.
In practice, this means customers are able to switch between the likes of BT, Plusnet, Sky and TalkTalk but not to switch from Virgin Media to those networks.
So far, Virgin has said their engineers will still attend homes but with an array of safety measures in place such as calls to check the health of customers ahead of any connection.
Openreach exceptions
The details of Openreach's announcement make clear there are exceptions to these new rules, and these are designed to keep the UK's communications running for all at this critical time.
These exceptions include:
Essential home visits to vulnerable users using protective equipment
On-premises work for industries of critical national importance as defined by Government advice including NHS, pharmacies, emergency services, food retail and utilities
Business repair work where necessary, with limited social interaction where possible
Along with this, households with no broadband or telephone looking for a connection will be assisted, but the intention will be to avoid a home visit.
Non-urgent repair work is under review, although Openreach are keeping their books open for repair work at the current time.
The communications networks are key pieces of UK infrastructure and many working within them have been classified as key workers under Government guidelines. However, with more stress being placed on the sector, it's understandable that the range of services has to be limited for the time being.
What's happening elsewhere?
As mentioned above, Virgin Media are still offering home visits with precautions. This was confirmed last week when they, along with Sky, announced the extras they're offering to customers during the coronavirus crisis.
Virgin turned their Gig1 broadband on in the West Midlands earlier this month and gave more than a million customers a data boost back in January, which may be benefiting customers during the Covid-19 outbreak.
Many ISPs are struggling with the volume of calls they're receiving. Plusnet have asked customers not to send repeat messages about service issues as they work through their backlog and prioritise urgent problems, while most providers are directing customers to online FAQs and webforms rather than phonelines.
Three Mobile has become the first mobile provider to completely close their call centres in response to a directive in India. So, customers are being redirected to online chat via the website or the Three app. This is causing difficulties for customers when the problems become too complex for online chat to handle.