Sky has offered a range of measures including Sky Go Extra at no additional cost, a Sky Mobile 10GB data boost and free UK calls to landlines until the end of April.
Meanwhile, Virgin Media are offering 2.7 million Pay Monthly mobile customers unlimited minutes to landlines and mobiles from 23 March, along with a 10GB data boost.
Several mobile providers including Three have so far committed to making NHS web content accessible even if a customer has no data remaining.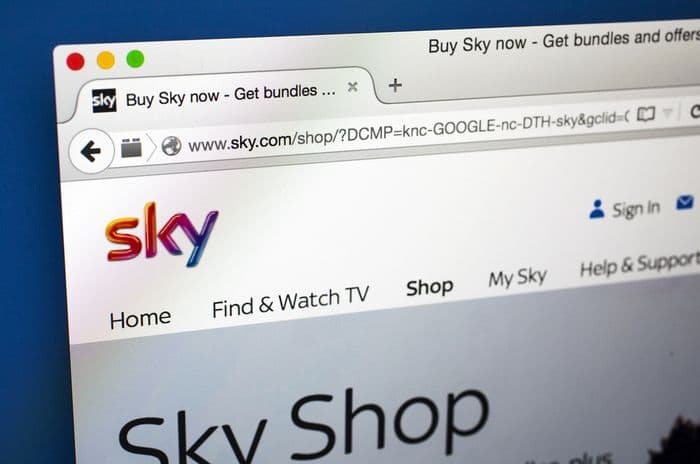 Credit: chrisdorney/Shutterstock.com
Sky's extra measures
Sky's actions to help customers during this difficult time cut across all their services. They include:
Free access to Sky Go Extra to allow up to three screens to be used for Sky TV in busy households
Free calls to UK landlords for existing Sky Talk customers from this weekend until the end of April
10GB data boost added into Sky Mobile customers' Piggybanks to be shared across all SIMs on the account
NHS websites will not count towards a customer's data usage
One of their main announcements is that a fresh range of films will be available for Sky Cinema customers through the Sky Store, well before they would normally be available. This is only so far applicable to NBCUniversal titles.
Sky are also bringing Disney+ and YouTube kids to Sky Q in the weeks ahead to give families more choice, but these services will be extra subscriptions rather than free.
Two new channels, Sky Documentaries and Sky Nature, are due to be launched on Sky and Now TV during the Spring. The status of those channels is currently unclear.
For more on Sky TV see our full guide.
Virgin's data boost
Virgin Media's update mainly focuses on their network resilience measures which include details on how technicians are protecting themselves and customers. They also confirm their network is prepared for extra capacity.
Pay Monthly mobile customers will receive unlimited minutes to both landlines and other mobiles from Monday 23 March. A 10GB data boost will also be available at no extra cost for a month. These extras may be extended as the situation develops.
For customers worried about payment, Virgin state they'll looking at ways to address this, so customers should stay tuned for that.
Virgin has just switched on their Gig1 broadband in the West Midlands following confirmation in February that it would begin to roll-out during March.
What are other providers doing?
As the coronavirus outbreak continues to cause disruption, other companies are acting to ensure customers have access to the information they need.
The following mobile providers have publicly committed to allowing customers to access NHS websites without it affecting their data allowance: BT Mobile, EE, Three, O2 and Vodafone.
Earlier this week, a mobile outage affected all networks in the UK with 'interconnect issues' between operators blamed. Customers struggled to make calls on 2G, 3G and 4G networks, but text messaging and data usage was unaffected.
EE denied the issues were related to an increase in home working due to the coronavirus outbreak, and services quickly returned to normal. All operators committed to a conference call with regulator Ofcom to ensure the issue doesn't reoccur.
With more customers working from home and accessing broadband services more frequently, the pressure on the UK's internet infrastructure is likely to increase. Follow Choose on Twitter to keep updated.