Customers on legacy contracts will be brought into line with Virgin's current M100 package, offering download speeds of around 108Mb and upload speeds of 10Mb.
Anyone receiving the upgrade should notice the improvements by March 2020, although there is a slower package still advertised on the Virgin Media Website.
It follows the switching on of 1GB services in Southampton in October 2019.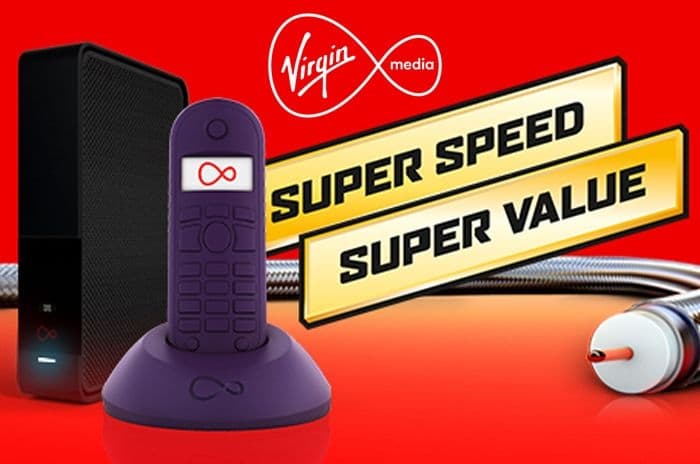 © Virgin Media
Faster broadband
Virgin Media say the boost to broadband speeds will benefit over one million customers, with more than 500,000 set to experience a doubling of speeds. They say some customers will see a fivefold increase.
By increasing these speeds, Virgin estimate their average speed across their whole network will be more than 150Mb, improving both their standing in the marketplace and improving the UK's ultrafast performance.
It's expected that these speed boosts will be in place for most customers by March 2020, and upgrades have started this week for some.
However, while this upgrade benefits existing customers on packages around 50Mb, Virgin's M50 basic fibre broadband package is still available to new customers looking for broadband-only.
That said, there's only a £5 per month difference between the M50 and M100 packages (and only another £5 to boost up to M200), so they're incentivising customers signing up to higher speeds.
Read our review of Virgin Media broadband.
Gigabit broadband
Virgin's big announcement of 2019 was their switch-on of 1Gb broadband services in Southampton, Greater Manchester and Reading.
The aim is for 15 million homes in the UK to have access to Gig1 by the end of 2021, but this is a gradual rollout with no public timescales on when each area of the country will benefit.
Find out if Virgin Media services are available locally.
Virgin's move marked the first time gigabit broadband has been rolled out by a national broadband supplier, although companies like CityFibre, Openreach and others are working on 1Gb broadband in smaller projects.
It also came with a £62 per month price tag, with costs rising to £119 if TV and phone services were bundled together.
Mixed fortunes
2019 was an uneven year for Virgin Media, with a severe service outage in May 2019 which impacted thousands of customers.
It led to them offering a promise to customers taking broadband services combined with a mobile package that they would receive unlimited 4G mobile data if their broadband service experienced problems.
They also rebranded their bundles to be called Oomph packages at the same time to offer Big, Bigger and Ultimate bundles in place of their previous Player, Full House and V.VIP packages.
This followed the introduction of a triple play bundle in April 2019 which included their fastest widely available broadband with average speeds of 516Mb on the M500 package.
Although they have since started rolling out 1Gb services, the M500 broadband option is still only available to customers signing up to a combined broadband and television bundle.
Towards the end of the year, Virgin's broadband complaint figures made a leap from 10 complaints per 100,000 customers in Q1 2019 up to 16 in Q2 2019.
While this represented a bounce above their Q4 2018 levels of 14 and was likely due to the May 2019 outage mentioned above, it will be interesting to see whether complaint levels drop when the Q3 2019 figures are released later this month.