How do I use my mobile phone as a modem?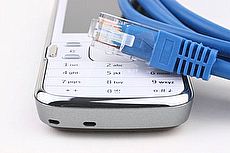 "I have unlimited mobile broadband with my mobile phone contract. Can I tether the phone to a computer to use it like a modem? And, if so, how do I do it?"
As long as your network allows, and not all of them do, you can use your mobile phone as a modem by tethering it to your computer.
In this article we'll explain how it works, which UK networks allow it and how to do it.
How tethering works
Tethering essentially turns a mobile phone into a mobile broadband modem.
Just like a mobile broadband USB dongle or external modem your phone is receiving a 3G signal so, just like a mobile broadband USB dongle or external modem, it can share it with a computer.
And like external modems most mobile phones tether wirelessly using wi-fi.
The data warning: you can get through data on a computer far faster than you would do on a phone so it's worth being cautious to avoid bill shock or being throttled.
How to tether a phone: your network
The table below shows the big networks' rules on tethering for new pay monthly customers.
If you've got an older contract or are on PAYG different rules may apply. Check the notes on each provider below for more information.
Tethering allowed?
Rules
Three
(more below)
Yes
Pay monthly: 2GB
SIM only contract: 4GB
EE
(more below)
Yes
No data cap, standard data limits and charges apply
Vodafone
(more below)
Yes
Extra data used will be charged at the standard rate
O2
(more below)
Yes
No data cap, standard data limits and charges apply
Tesco Mobile
Yes
No data cap, standard data limits and charges apply
GiffGaff
(more below)
Yes, with some plans
Allowed with limited data plans but not with unlimited data
Asda Mobile
Mobile by Sainsbury's
Virgin Mobile
No
Banned for all customers
Information correct when we updated this article in July 2014.
Here's some more detailed information on the networks.
Three
The UK's smallest network does allow tethering for new customers but limited to 2GB a month for contract customers and 4GB a month for SIM only contract customers.
However, the rules have changed on this a lot and customers with older contracts will play by different rules. Those with the One Plan have unlimited tethering.
On other pay monthly plans customers need to buy a £5 add-on to tether on a rolling one month contract.
The £5 add-on includes 1GB of data: if users don't use it within 30 days that data disappears; if they go through it, they'll need to spend another £5.
You can read more on Three's site here but, annoyingly, they only really go into detail in the Allowance section of My3.
EE (plus Orange and T-mobile)
EE's policy on tethering is simple. They allow it and don't limit tethering data.
Just as when using the phone normally, data used outside of allowance may be charged.
Those that signed a contract with Orange and T-mobile may have to follow different rules.
Orange: tethering is allowed but Dolphin, Canary and Racoon contract holders may have to pay a £1 a day surcharge to use a phone as a modem.
Orange customers with contracts opened before 6 September 2011 cannot tether their phones except with an iPhone tethering bundle.
T-mobile: customers now have to opt for an 'Extra' plan offering 1.5GB data that can be used either on the phone itself or via tethering.
In August 2012 T-mobile excluded Internet tethering from their unlimited data Full Monty plans but those who signed up for a Full Monty plan with more than 1.5GB a month data use between January and August 2012 are allowed to tether.
Customers who exceed this allowance, won't be charged, but their data use may be restricted in the future.
Vodafone
Vodafone offer tethering within tariff, it's available on any pay monthly plan, and if you go over you can buy additional data at a cost of £10 for 2GB.
If you go over your allowance you'll be charged your standard price plan rates for extra usage.
O2
O2 allow internet tethering on pay monthly contracts with 500MB or more of monthly data included. We'll say that again because they fail to make it clear: those with 100GB or 250GB data allowances cannot tether.
Use will be taken out of the normal monthly data allowance. If you go over allowance, internet will be slowed and O2 will ask you to buy a bolt-on to continue using during that billing cycle.
See O2's site here for more on tethering with O2. Don't be put off by the date, we've double checked it and the information there is still correct.
GiffGaff
The network that allows customers to change their usage plan every month also has a unique approach to tethering.
It is allowed but only for those with capped, or limited, amounts of data. Those with unlimited data cannot use their phones as modems.
How to tether: your phone
Now on to the practical stuff. We couldn't cover every phone here but we have tried to give a range of basic instructions for tethering below.
iPhone
The iPhone makes tethering very easy: you simply flick a switch.
Tap 'Settings' > press 'General' > and then click 'Network'.
If your network has enabled tethering you'll be able to see a 'Personal Hotspot' (iPhone5/4) or 'Tethering' (earlier iPhones) setting. If so, just flick it to 'on' and enable Bluetooth at the prompt.
If you can't immediately see the 'Personal Hotspot' tab don't panic.
Look around the 'Network' section pages until you find a tethering option that asks for an APN, username and password. APN means Access Point Name so, typically, entering the network name will make the 'Personal Hotspot' window appear in the main 'Network' menu.
From then on it's a very simple process, you simply connect your iPhone to a spare USB port on your computer or pair them using Bluetooth.
The Bluetooth connection will usually show up alongside wi-fi networks. To connect the two enter the password that shows up when you turn tethering to on.
If for any reason the connection is not automatic, follow these steps:
Click the wireless internet icon
Select 'Open Network Preferences'
In the new window, click the iPhone network
Press 'Assist Me'
Your Mac should confirm and connect to the internet
If you are using a Windows PC and the internet connection is not automatic, follow these steps:
Windows XP
Double click the network icon in the taskbar
Click 'Mobile Device Ethernet'
Windows Vista
Open 'Network and Sharing Centre' in the Control Panel
Click 'View Status'
Click 'Diagnose'
If you need to keep an eye on how much data you are using, follow this path on your iPhone: Settings > General > Usage.
Blackberry
OS 7.1
As part of their OS 7.1 upgrade Blackberry launched 'mobile hotspot', their version of tethering.
Go to the Network centre and turn Wi-fi to 'on'
On this page there should also be a mobile hotspot option, click 'on' to configure
Click 'options', enter an SSID and password and click 'save'
Your phone's hotspot should now appear in wi-fi network centres under the SSID you set. To connect enter your password.
Android phones
Android phones vary wildly so it's tricky to give precise instructions on how to tether them.
Some phones will have tethering options in their network centres. If you can't see one you may need to download an external application to get the job done.
FoxFi is one option for Android. It costs from £4.39, but there is also a free version available with a usage limit.
WiFi Hotspot & USB Tether Pro is another option, it costs more at £9.49, but has slightly better reviews.
It's also worth noting that not all tethering options and external applications on Android automatically set up a WEP or WPA2 password for security.
It's vital that you do this when tethering to prevent other people from hijacking your connection. An option to set a password can usually be found under 'Settings' > 'Wi-fi' > 'Set up Encryption Method' or similar.
Nokia Symbian
Nokia Symbian users could try the Joikuspot app, which is available from £7.46.
15 November 2017
10 November 2017
9 November 2017
Follow us or subscribe for FREE updates and special offers