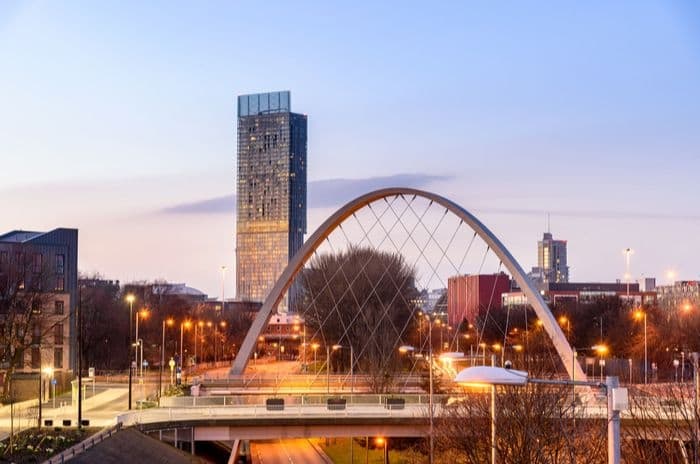 ---
| | | | |
| --- | --- | --- | --- |
| Cheapest fibre broadband | Vodafone | From £21.50 | Deals >> |
| Cheapest ultrafast broadband | Hyperoptic | From £30 | Deals >> |
| Fastest broadband | Virgin Media | Up to 1Gb download | Deals >> |
| Best ultrafast coverage | Virgin Media | 60% coverage of 1Gb | Deals >> |
| Best broadband with TV | Sky | From £42 | Deals >> |
If speed is the main consideration, Hyperoptic and Virgin Media are both excellent options, although coverage isn't comprehensive by any means.
Households in Manchester searching for budget broadband will find a highly competitive market with Vodafone, Plusnet and Shell Energy Broadband among the ISPs vying for the top spot.
Overall, our top choice is Hyperoptic. They tick a lot of boxes and offer 1-month rolling deals too, yet the services aren't available to all.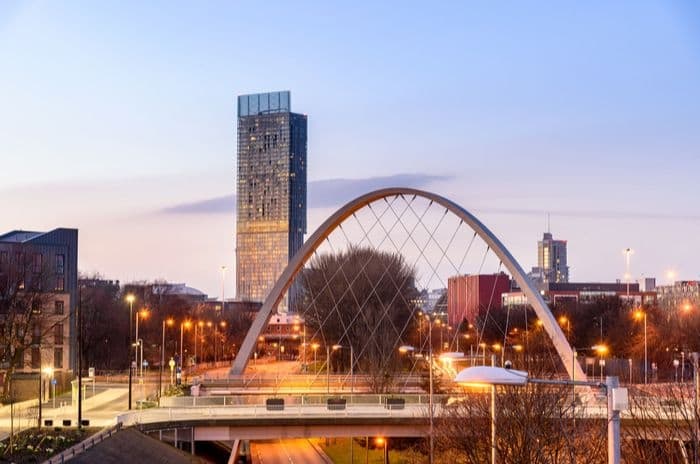 ---
Best broadband packages in Manchester
Broadband in Manchester comes in various shapes and sizes, with budget providers like TalkTalk competing with premium providers BT and Zen while Hyperoptic square up to Virgin Media to see which is the fastest and cheapest ultrafast provider in the metropolitan area.
The reality at street level is sometimes more complicated. Virgin Media and Hyperoptic might have the fastest broadband networks, but coverage is patchy and many customers will still be stuck with superfast speeds at a maximum of around 66Mb.
So, let's take a closer look at the broadband situation in Manchester.
The fastest
Winner: Hyperoptic have limited availability but offer great deals where they are present.
For those lucky enough to be in gigabit-capable broadband areas across Manchester, there are a few big names to consider: Virgin Media, Hyperoptic and Openreach providers like BT and EE.
Here are some of the fastest deals available from these providers:
Package
Broadband
Monthly price
Upfront price
Contract term
Hyperfast (24 months)
900Mb average
Free
for 3 mths,


then £45

£19
24 months
Offer: 3 months free

(Ends 11/12/2023)

Full Fibre 900
900Mb average
Free
for 3 mths,


then £49.99

Free
24 months
Offer: Black Friday: 3 months free and free setup (was £31.99) + £50 BT Virtual Reward Card + 12 months Xbox Game Pass Ultimate

(Ends 07/12/2023)

Full Fibre Max Gigabit
900Mb average
£49
Free
24 months
Offer: 12 month free Xbox Game Pass Ultimate for EE pay monthly mobile customers + 10% off for EE pay monthly mobile customers + 20GB extra data for EE pay monthly mobile customers + Free setup
Gig1 Fibre Broadband
1.13Gb average
£45
Free
18 months
Offer: No setup fee (was £35)
At first glance, we can see Hyperoptic is much cheaper than Virgin Media and, on price alone, they easily take the top spot.
Yet it's worth noting their coverage is limited to significant pockets around the city centre due to their method of expanding on a building-by-building basis as the Think Broadband coverage map below demonstrates:

Hyperoptic actually has more sustained coverage in Manchester than most places, so more customers will be able to benefit from their gigabit-capable speeds and low prices.
If we zoom into the area around St. George's Park on Hyperoptic's own availability checker, we can see how they have broadband access in multiple adjacent streets and are registering interest nearby too.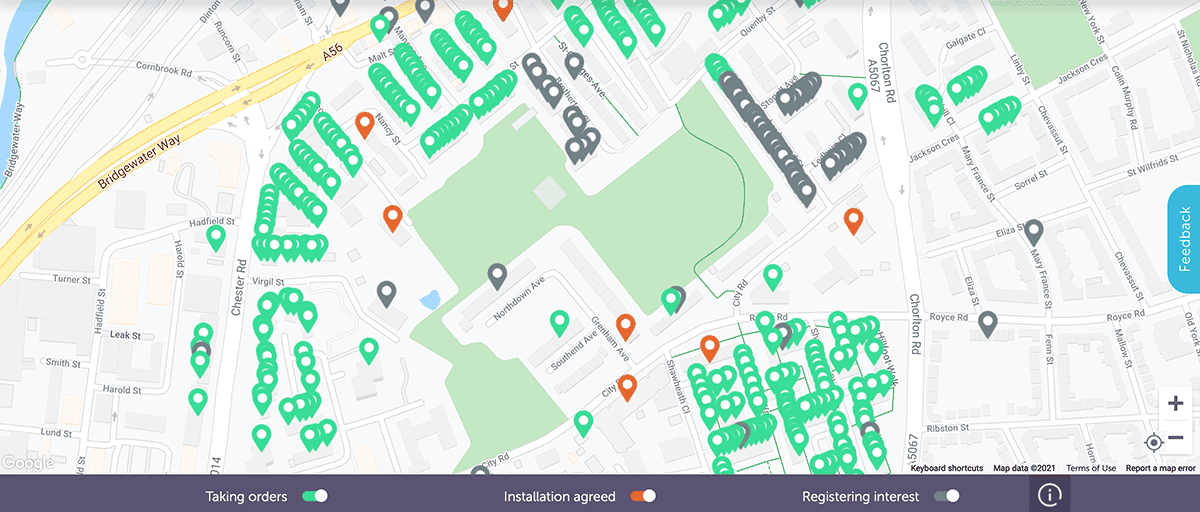 To find out whether your household has access to Hyperoptic broadband yet, use the availability checker on our Hyperoptic review.
As we explain in more detail below, Virgin Media's cable broadband network doesn't extend to all properties across Manchester, but they will be the best gigabit-capable option for many.
The cheapest
Winner: Vodafone are vying to be the cheapest broadband provider in Manchester.
With the superfast network stretching across 97% of homes in the Manchester metropolitan area, most customers will be able to access superfast broadband from big names like BT, TalkTalk and Plusnet.
Plus, those in Virgin Media or Hyperoptic areas can add their cheaper deals to the mix too.
Here are a selection of the cheapest broadband deals in Manchester:
Package
Broadband
Monthly price
Upfront price
Contract term
Fibre 2
60Mb average
£25
Free
24 months
Superfast Fibre
38Mb average
£21.99
Free
12 months
Offer: Money off for 12 months
Fab Fibre
36Mb average
£24
£10
12 months
Offer: Now TV membership at reduced price for 12 months. Price may change again during the minimum term.
Unlimited Fibre
66Mb average
£24.99
Free
24 months
Offer: Reduced price + No setup fee + Exclusive offers and discounts for Plusnet customers
Unlimited Fibre + Line Only
35Mb average
£23
Free
18 months
Offer: £75 Bill Credit (existing SSE energy customers only) + 60-day Happiness Guarantee
Fast 50Mb (24 months)
57Mb average
£25
£19
24 months
M125 Fibre Broadband + Weekend chatter
132Mb average
£34
Free
18 months
Offer: No setup fee (was £35)
As we can see, there are a number of broadband deals offering connections for less than £25 per month and superfast broadband is now the frontier for cheap broadband deals as copper services begin to be phased out.
It's interesting to see a couple of energy providers offering broadband in Manchester too. Both SSE and Shell Energy Broadband (formerly First Utility) have priced their offer competitively against the traditional communications companies, so are probably worth a look.
With prices so closely grouped for the same speed broadband, it's important to look at other factors when making a choice.
Customer service is a crucial element of the broadband puzzle, especially when we're looking at budget providers.
For instance, TalkTalk have performed badly in complaints handling many times in the past, but other providers like Vodafone and Plusnet also remain high in the complaint rankings.
Overall, your choice of broadband provider (if cost is more of an issue than speed) will probably come down to the other services you use and your household's circumstances. If you have Sky TV, for instance, it will probably be convenient to pay one company for both services, even if you pay slightly more for the privilege.
There are also a few options out there if customers are worried they'll fail a credit check on their broadband such as Direct Save Telecom.
Short term broadband
Winner: Now is cheaper per month, although set-up fees are high.
If you don't want to get tied into a broadband contract for any length of time, perhaps because you're planning to move or want an interim service while you decide on a long term provider, one month contracts are available in Manchester.
However, there are not too many options on the table. Here are some of the cheapest options:
Package
Broadband
Monthly price
Upfront price
Contract term
Fab Fibre (No contract)
36Mb average
£24
£70
1 month
Offer: Price may change again during the minimum term.
Fast 50Mb (Monthly Rolling)
57Mb average
£30
£39
1 month
Superfast Fibre 35Mb (No contract)
35Mb average
£41.95
£33.90
1 month
Offer: Loyalty Discount Club (worth £50)
Now makes a point of keeping their monthly price the same whether customers take a 12-month deal or a rolling contract but watch out for the higher set-up fees. This convenience could be worth paying for, especially if customers are in short-term lets and can't commit to a 12-month deal.
Again, for Manchester broadband customers in a Hyperoptic building, they're well worth a look. Their rolling deals are more expensive than those with minimum terms but not by much and they don't bump up their set-up costs either.
Direct Save are something of a specialist in zero contract broadband. Coupled with their no credit check requirement, this makes them a great solution for people who move around a lot or who have financial issues stopping them from getting into a mainstream contract.
With most providers, you do pay a premium for the privilege of not being tied into a contract. You'll always find better deals if you're willing to sign up for longer, but if you need something short term then there are solutions available.
The best for TV
Winner: Sky remains the clear winner for TV services in Manchester.
Manchester broadband customers can bundle TV services from three major sources: Sky, Virgin Media and BT.
Out of these options, Sky has the most comprehensive TV service and bundling it together with broadband can lead to customer savings.
Here are some examples of their broadband and TV bundles:
Package
TV
Broadband
Monthly price
Upfront price
Contract term
Sky Ultimate TV + Broadband Superfast
401
61Mb average
£43
Free
18 months
Offer: No setup fee
Sky Ultimate TV + Broadband Ultrafast
401
145Mb average
£52
£29.95
18 months
TV from both Virgin Media and BT must be taken alongside broadband services, limiting customer choice.
However, Sky TV can be taken on its own by households in Manchester, leaving them free to then take broadband services from a faster provider like Virgin Media or a budget provider like Plusnet.

---
Broadband speeds in Manchester
The goalposts on what counts as fast broadband have shifted in recent years and now many homes in Manchester will consider superfast connections of more than 30Mb as the bare minimum.
According to Think Broadband, the Manchester metropolitan area has 96.7% superfast coverage at the time of writing. This is in line with the UK average but slightly lower than the England average of 97.5%.
As we've seen above, cheap superfast broadband deals in Manchester (and their more premium counterparts) are available to customers across the area, but the picture on the ultrafast packages we discussed is more mixed.
Ultrafast broadband
Virgin Media is the biggest provider of gigabit-capable broadband in the Manchester metropolitan area, offering almost 60% coverage according to figures from Think Broadband.
Here's how that looks on a map:

Virgin switched on their Gig1 broadband in Manchester in October 2019, making it one of the first locations in the country to receive the top broadband speeds on offer from the company.
According to information from the BT exchange, the areas of Manchester currently within Virgin Media's coverage zones include Didsbury, Manchester East, Cheetham Hill, Mercury, Central, Chorlton, Rusholme, Broughton, Collyhurst, Wythenshawe and Ardwick.
Yet there are still large swathes of Manchester without coverage as the map above demonstrates. Plus, even within areas where there is good coverage, there can be pockets of homes which are not covered, so it's best to use our checker to see what's available in your specific postcode.
For those customers in Virgin-ready areas who don't want the absolute top speeds of Gig1, here are some alternative slower packages:
Package
Broadband
Monthly price
Upfront price
Contract term
M125 Fibre Broadband + Weekend chatter
132Mb average
£34
Free
18 months
Offer: No setup fee (was £35)
M250 Fibre Broadband + Weekend chatter
264Mb average
£40
Free
18 months
Offer: No setup fee (was £35)
M350 Fibre Broadband + Weekend chatter
362Mb average
£46
Free
18 months
Offer: No setup fee (was £35)
M500 Fibre Broadband + Weekend chatter
516Mb average
£52
Free
18 months
Offer: No setup fee (was £35)
There is some distance between Virgin Media's gigabit-capable rollout and the Openreach FTTP network rollout across Manchester.
Figures from Think Broadband show this has only reached around 16% of premises so far and, as the black dots on the map below demonstrate, there isn't much coverage in the city centre:

The green dots on that map represent Openreach G.fast, a type of technology that boosts the speeds on fibre to the cabinet (FTTC) lines rather than installing fresh cables and upgrading homes to fibre to the premises (FTTP). This increases the maximum speed of G.fast properties to around 330Mb, some way below the 1GB speeds offered by FTTP.
In Manchester, there definitely seems to be a divide between G.fast areas south of the city centre and FTTP to the north as this wider map demonstrates:

G.fast coverage in the Manchester area is around 20%, but will likely be outstripped by FTTP in the years ahead since G.fast technology has largely fallen out of favour.
In September 2021, it was confirmed that a further 8,500 homes in the Manchester area are set to be upgraded to Openreach FTTP in locations such as Ardwick, Cheetham, Eccles, Failsworth, Moss Side, Pendleton and Salford.
Hopefully, these rollouts will plug the gaps where Virgin Media has yet to expand, meaning more customers gain access to speeds of up to 1GB.
In the meantime, compare the best broadband deals using your Manchester postcode.
---
Verdict: Which provider to choose in Manchester?
Choosing the best broadband in Manchester is a tough ask, as there are many good offers around designed to meet different customer needs.
Speed demons will love the offers from Virgin and Hyperoptic, but with limited services available in Manchester, there's a possibility these will be out of the question.
Low-cost seekers can take their pick of providers for under £25 a month and, if you just need a short-term connection, don't forget to check Direct Save Telecom for reasonable set-up fees and monthly costs.
Manchester seems to be behind the national curve in some ways when it comes to broadband.
While Virgin Media have a strong presence, it's still up to 30% lower across the metropolitan area than we see in other large city areas like Bristol and Birmingham.
Plus, the Openreach FTTP rollout is gaining traction but still won't reach many of the customers who want that speed upgrade for several years yet.
The superfast situation is much more uniform across the city, allowing customers to access a range of 30Mb+ deals from the likes of EE, Now and Origin Broadband.
Unfortunately, for a small number of homes in Manchester, basic copper broadband will still be the best that's on offer. There's a little more detail about the cheapest broadband deals on fibre and copper in our dedicated guide.
As always, we recommend using our broadband comparison service to check what's available when you're ready to switch.