Sky reduce fibre prices for TV customers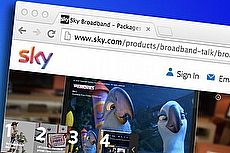 SKY have cut the price of their fibre broadband packages for new and existing TV customers, with fibre plus line rental starting at £20 a month for the full length of the initial contract.
The fibre plus TV offers come not long after the provider revealed that Sky TV customers - but not those with just Sky Talk or Sky Broadband - who join Sky Mobile will benefit from free unlimited calls and texts.
Sky say the lower bundle prices will be available until February 23rd.
Visitors to Sky's site will also notice that the minimum contract terms for all their TV and fibre broadband packages are now 18 months long - and that they've switched to advertising their broadband in terms of "average UK speeds".
Fibre bundle deals
The fibre plus TV bundles each offer a saving of £7.40 a month on the cost of the broadband with line rental; those with Sky Talk or Sky TV plus Sky Talk would usually pay £17.40 a month for that.
So whichever TV bundle customers choose or already have, they'll pay the following on top of that bill to add fibre with a Sky landline:
Sky Fibre: £27.40/mth £20/mth
Sky Fibre Unlimited: £37.40/mth £30/mth
Sky Fibre Max: £42.40/mth £35/mth
Bearing those prices in mind, here's what it'll cost to have each of Sky's fibre packages with and without the cheapest TV package, the Original Bundle:
Package
Broadband
Contract term
Upfront price
Monthly price
Fibre + Talk
Average speed 34Mb
25GB
18 months
£59.95
£20
for 18 mths,
then £28.99
TV Original + Fibre + Talk
18 months
£34.95
£40
for 18 mths
then £47.40
Fibre Unlimited + Talk
Average speed 34Mb
Unlimited
18 months
£59.95
£25
for 18 mths,
then £38.99
TV Original + Fibre Unlimited + Talk
18 months
£34.95
£50
for 18 mths
then £57.40
Fibre Max + Talk
Average speed 60Mb
Unlimited
18 months
£59.95
£30
for 18 mths,
then £43.99
TV Original + Fibre Max + Talk
18 months
£34.95
£55
for 18 mths
then £62.40
Note also the difference in upfront costs: new and existing Sky TV customers still need to pay £15 for their Sky Q setup, but the activation fee has been slashed to £10.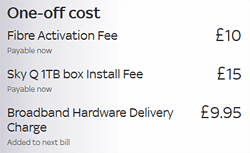 Fibre customers can usually expect to pay up to £48.95 for connection and activation, plus the standard router delivery charge - a total of £59.95.
New contract lengths
Sky TV has been through some major changes this year as the result of the introduction of Sky Q in February.
When the new platform was first introduced it was on 18-month terms; it was only in August that the initial term was reduced to 12 months, along with various other changes.
It's not all that surprising a move considering that of their rivals, only BT have consistently sold their pay TV with 12-month contracts.
The move back to 18-month contracts for fibre broadband also isn't that odd when we consider that most ISPs sell fibre on these terms.
Sky are selling the change as offering new and recontracting customers the chance to benefit from introductory prices for longer - and on the website they say they're fixed for 18 months.
While there's the usual caveat in the small print that prices may go up during the contract, it's worth remembering that broadband and landline customers can at least exit those contracts without penalty within 30 days of being told about the changes.
It's written into Sky's TV contracts, however, that they may increase standard subscription charges within our minimum term without giving us any similar get out clause.
When it comes to the basic bundles - the Original, Variety and Box Sets packs - customers within contract should only be affected by such increases once per term, and not within the first 60 days - but that increase can be by as much as 10%.
Sky also reserve the right to change the prices of their premium channels - the likes of Sky Sports and Sky Cinema - at any time.
Average speeds
Finally, Sky's decision to start advertising their broadband packages using "average UK speeds" seems quite brave.
Last month the Advertising Standards Authority (ASA) said they were once again looking into how ISPs advertise the speed of their connections, saying that the current "up to" model is misleading.
Displaying average speeds was just one of the suggestions they put forward, alongside showing minimum speeds or the range of speeds achieved by 80% of users, but a decision on which to use won't be published until spring next year.
When it comes to Sky's standard fibre packages, the difference isn't all that great - they're now advertising an average connection of 34Mb compared to the industry standard of "up to 38Mb".
But for standard broadband and Fibre Max customers, there's a much bigger difference: while Sky's rivals are advertising connections of up to 17Mb and up to 76Mb, Sky say their equivalent packages offer average speeds of just 9Mb and 60Mb respectively.
These are actually fairly standard UK averages for all the ISPs that use BT's fibre and copper network, and therefore far more honest than the usual quoted figure, which represents the speeds achievable by just 10% of an ISP's customers.
But as with the switch to all-in pricing, the providers who dare adopt a different approach before anyone else risk losing out - because potential customers often don't look much beyond the headline figures.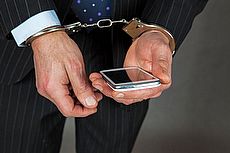 23 November 2017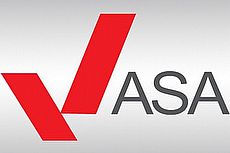 23 November 2017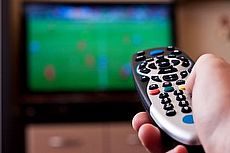 15 November 2017
Follow us or subscribe for FREE updates and special offers