Broadband to be sold under total monthly price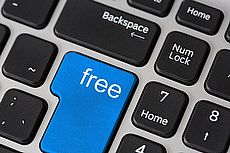 ©iStock.com/themacx
HOW we display prices for broadband and other products that require a home phone line will be changing over the next few months.
Following changes to the rules outlined by the Advertising Standards Authority (ASA), providers and consumer sites will no longer be allowed to advertise the price of just the broadband part of a package if it relies on taking a fixed landline as well.
They must also make the length of any minimum contract much more prominent, and when there are promotional discounts being offered, the full post-discount price must also be much clearer.
Additionally, any upfront costs involved - from installation and connection fees, to admin costs for postage and packing - will be made more obvious, so new customers aren't hit by a shock first or second bill.
Why broadband adverts need to change
The problem, as the ASA see it, is that adverts where the broadband price is the headline can be misleading for potential customers, even if all the other costs we have to pay are mentioned.
As we reported in January, when the ASA first said they'd be cracking down on the way broadband prices are advertised, it was following on from research they'd carried out in collaboration with Ofcom.
Worryingly, that research revealed that almost a quarter of people couldn't work out how much a deal would cost them each month, even when they were asked to look closely at the advert more than once.
And although most of us understand that while the broadband might be offered free, there'll be other charges, only 23% of those surveyed by the ASA and Ofcom could accurately say how much they'd be expected to pay every month after one look at an advert.
The good news for customers is that the guidelines the ASA came up with in January survived the consultation process with providers and consumer groups, and in May the regulator announced that ISPs would have until October 31st this year to implement them.
Those guidelines state that adverts for broadband must:
Show all-inclusive upfront and monthly costs; no more separating out line rental
Give greater prominence for the contract length and any post-discount pricing
Give greater prominence for upfront costs
Phasing in the changes
We're already seeing some of the ASA's changes filtering through to the providers.
At least one ISP - SSE - quietly started selling their broadband under the new system almost as soon as the ASA confirmed the details.
More recently, Vodafone made headlines when they announced that they were "scrapping" line rental for their fibre broadband deals - although as they're still selling their standard broadband using the "separate costs" model, their fibre looks horribly expensive in comparison at first glance.
This is why TalkTalk - who were the only ISP to publically back the changes, and who pledged to become the first major provider to switch to the new system - have held back from changing how they advertise their prices for as long as possible.
They've already adopted all-in pricing in York, at least as far as the ultrafast fibre optic (UFO) pilot scheme is concerned, and they did give it a go on a countrywide basis - very briefly - for their Black Friday sale last autumn.
Now, however, they've announced that they'll be advertising all their packages according to the new guidelines from the start of October.
Other ISPs are phasing in the move across to the new system.
Making broadband ads clearer
Virgin Media have told us that all their pricing will be compliant with the new rules "by the end of October". However, their existing customers will also have had a taste of the new system, as November's price rises have been communicated using the all-in model.
Those who only need consider line rental will see that rise from £17.99 to £19 a month.
Those who take broadband with phone, or one of Virgin's Big Bundles, will have been told of the price rise in terms of how much they pay in total per month at present, and how much they'll pay in total per month from November.
Broadband and phone customers should find they're paying an extra £2.99 all told each month; Big Bundle customers will see their total monthly bills rise by £3.49.
As for the other big two providers:
Sky aren't being drawn on when they're planning to bring in the new pricing, saying only that they are "reviewing the ASA's statement on broadband advertising and working with them to ensure our advertising continues to adhere to all industry guidelines."
We've yet to hear back from BT, but as and when we do we'll update this piece.
What Choose will be doing
As we said at the beginning, therefore, over the next couple of months we'll also be changing how we display prices.
We'll be updating our reviews so that we no longer separate out line rental, and where we don't already show the total monthly price of a package, we'll adjust them to show that.
From this point on, all our news items will show the combined cost of broadband and line rental (where applicable) - and if we need to explain how or why part of the price is changing, we'll do that in the accompanying text.
Our comparison tables (here) already show how long any promotional price lasts, as well as how much the product costs outside the discounted period; they also include a column showing the cost of each provider's line rental when that's necessary.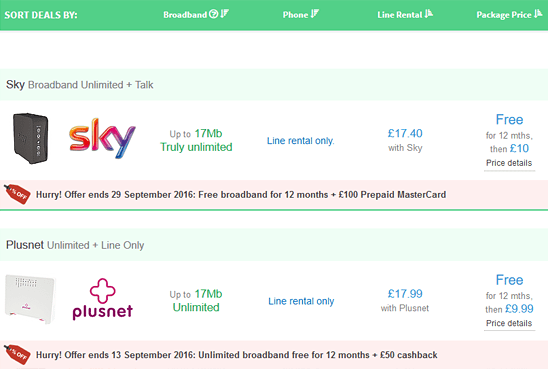 But at present users have to hover over the "price details" text to find out the total monthly cost, and any setup fees - so we'll be making that information easier to see at a glance.
Until all the ISPs have moved to the new system, then, the prices we display may therefore sometimes look a little different from those shown on their websites, but when all the monthly costs in each particular package are taken into consideration, they should be the same.
The exception will be when we have a special offer or deal that isn't available through the providers themselves.
15 November 2017
10 November 2017
9 November 2017
Follow us or subscribe for FREE updates and special offers