Sky have announced plans to launch a mobile phone service from next year, joining at least two of the other big three providers in the quad-play market.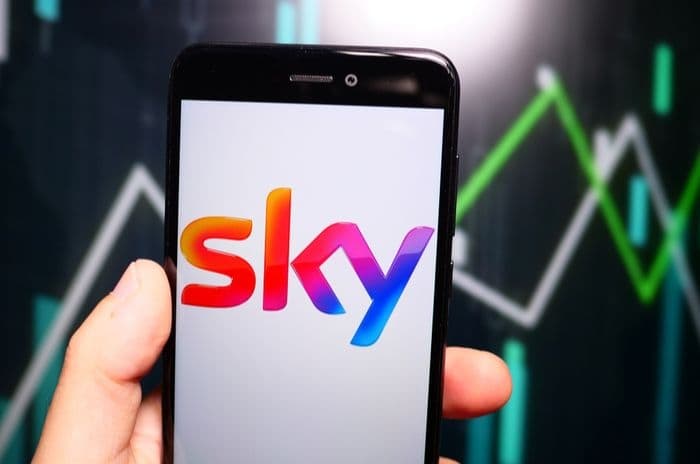 Credit: Shutterstock.com
The pay TV company will use Telefonica's UK wireless network - known better as the O2 network to most of us - to offer 2G, 3G, and 4G services from 2016.
Offering all four main media services - home phone, broadband, TV and mobile - is already popular in much of Europe, and it's considered the next big thing for UK providers.
The timing of the announcement is interesting, coming as it does so soon after Three's owners announced they were in talks with Telefonica over the fate of O2.
The rise of quad-play
Until recently, only Virgin Media and EE offered any kind of serious quad-play option. Both offer a variety of separate media services, but they allow a certain amount of bundling of all four.
Virgin's Big Bundle customers have the option of adding one of two low-cost sims to their package, while EE give customers who take both mobile and broadband the opportunity to add their TV service for no extra charge.
Then in November 2014, TalkTalk re-entered the quad-play arena when they relaunched their Plus TV package to include a "free" sim worth £5 a month, using O2's network.
They'd previously offered TalkTalk Mobile to some 350,000 residential TalkTalk customers, using Vodafone's network. But the deal with Telefonica enabled the ISP to offer 4G services - key if they're to be taken seriously in the mobile and quad-play sectors now and in the future.
While BT are yet to cement their move back into mobile phones, their talks with EE could lead to the creation of a mobile, landline and broadband giant.
And BT TV has received several shots in the arm in the past year, with the arrival of Netflix and Sky Sports on the Youview platform, while EE's TV service shouldn't be discounted lightly.
It may basically be Freeview, but it's Freeview for an increasingly connected home - the 1Tb box sports four tuners and is capable of streaming live or recorded content to up to three further devices.
The Sky's the limit?
Meanwhile Sky have made much of the fact that with more than five million customers, Sky Broadband is the second biggest national broadband provider just seven years after launch.
They also hold the triple-play crown, with some 40% of their customers taking TV, phone and broadband.
Given that the cheapest place to get all the premium content Sky have snapped up over the years is Sky, and that their phone and broadband are comparable in price with BT, this shouldn't be all that surprising.
They also benefit from the fact that their closest competitor for premium TV and broadband is Virgin Media - which isn't available nationwide.
We look at the difficulty of comparing the three biggest providers, their services, and prices here.
So while it's unclear as yet what Sky's mobile deals will be, they're aiming high.
Jeremy Darroch, chief executive of Sky, said the deal with Telefonica would allow them to offer "a range of exciting new services and exploit the opportunities for growth in the fast-changing mobile sector".
Vodafone customers have been told the deal won't affect the partnership that gives them access to Sky Sports and the pay-as-you-go NowTV service.
Competition
It had been suggested that as a result of that partnership, a tie-up between Sky and Vodafone could be possible, especially after BT and Three announced their plans.
But Sky appear to have been keeping their options open.
They bought O2 Broadband from Telefonica in 2013, and for a while in 2014 it looked like they might buy the mobile arm as well - which would have kept the number of UK network operators at four.
Instead they've chosen to go for what's being called a "strategic partnership".
This could make for a confusing situation regarding competition, transparency and regulation, although there are suggestions that the Sky-Telefonica deal could help the Three-O2 deal get past UK and EU regulators.
Both Ofcom and the European authorities have expressed concern that the loss of a mobile operator that would result from Three buying O2 would reduce competition and result in higher prices for customers.
Now consider, for a moment, that Sky are going to use O2 to provide their mobile network - like TalkTalk are in negotiations to do when their partnership with Vodafone ends.
Then consider that O2 could well disappear into Three if that deal goes ahead, leaving the UK with three mobile networks.
That would mean two of the Big Four media providers would be offering mobile services piggybacking on the one network.
The third - Virgin - offers a mobile service that piggybacks on EE's network, and the fourth - BT - are in talks with EE.
The third remaining UK mobile network, Vodafone, has announced plans to move into broadband in 2015, but it'll be the only mobile network without a serious foothold in the multimedia market.
Mix and match
How this will work out for customers is the big question.
On the one hand, the benefits and convenience of bundling should improve as quad-play competition increases.
But it's now virtually impossible to take broadband without also taking that provider's phone line - and bear in mind that Virgin's no-phone-line option costs only a little less than packages including the phone line.
It's not difficult to imagine that in the brave new quad-play world, customers who want to mix and match providers - or who only want or need one or two services - could face higher prices than those who take everything.